This is fresh air. A play so horrifically captivating that it fuses your eyeballs to every flicker of movement, melds your eardrums to every shock of sound, and merges your mind to every explosive thought and disruptive emotion as they occur. Dan O'Brien's The Body of an American seizes audiences of Theater J with captivating force, tumultuously upending their emotional equilibrium in the exploitative journey of a playwright and his relationship with Canadian Photojournalist Paul Watson. Directed by José Carrasquillo, this undulating eternity of darkened emotions crashing in succession one atop the next takes purchase on the shores of the theatergoers' hearts and souls with its visceral and wholly unpalatable descriptions; the imagery contained within O'Brien's dialogue is both putrid and graphic in its cankered poetic existence. Evocatively cathartic, the play bandies about in a whirlwind of pandemonius memories and emotional recollections that strike hard at the heartstrings.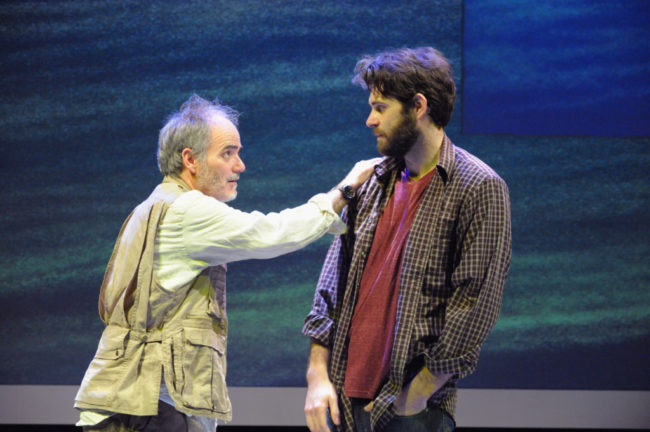 Albert Camus' quote "We used to wonder where war lived, what it was that made it so vile. And now we realize that we know where it lives, that it is inside ourselves." Is the only precursor to the show's opening scene. Projected simply in white lettering against a black screen, this powerful string of words sets the overall tone for the evening's theatrical journey. Further priming the audience and purposefully disorienting their senses, Sound Designer Brendon Vierra launches into a cacophony of helicopters and war-zone soundscapes as the theatre plunges into darkness and the play begins. Vierra's soundscape is created as an atmospheric augmentation, coupled with scenic brilliance illuminated on the screen by Projections Designer Tim McLoraine.
 Using flashes of real photographs for profound impact, McLoraine juxtaposes moments of intense emotional exposure against the pictures to fully ensnare the senses of the audience. Delving further into the creative art of projections, McLoraine captures the essence of a moving landscape once the story moves to the Canadian tundra; a perpetual snowstorm blinks its blizzardly conditions across the backdrop during the latter half of the performance almost completely uninterrupted. The projections serve as scenic landmarks, allowing for ease of travel through time, recollection, and spatial location as the production surges forward.
One of the most jarring elements of the production is the way Director José Carrasquillo handles the frequent and frantic pulsations of perpetual shifting energy in O'Brien's script. Both the opening scene and a scene quite close to the end blaze about in a mad-dash of heightened adrenaline-driven energies that are chaotically dizzying. The intensity with which these scenes are penned in addition to the way Carrasquillo drives them is mind-numbing to the point of intensity overload. It serves as a sharp contrast to other moments in the play where recall is slow and nostalgic, almost like moments captured on the glistening flecks of snow and sand in memories swept away by time. This turbulent ebb and flow of scenic discourse across the performance is both mesmerizing and mystifying.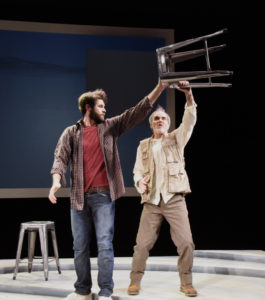 The audacious clarity with which O'Brien has fabricated these real life people into theatrical existence is astonishing. His characterizations of the many layers of both Paul Watson and Dan O'Brien, the character, are tenaciously vibrant and littered with dozens of points of articulation that fully formulate the dynamic existence of both people. The dialogue exchanges between the pair are sharp despite their moments of muddled interplay. Often Watson's responses are written in a fashion that clearly belays his aloof and distant nature— haphazard apologies for being out of touch, answering only what questions he intends to have answered, plowing through a thought process because it is his focus of the moment. All of these minutia stream together into a cohesive blur of fantastical proportions to create an immensely cohesive work that sits across a rigid timeline while simultaneously recollecting factions of the past into its existence.
A nod of immense praise is owed to Dialect Coach Neill Hartley for his work with both performers in cultivating and perfecting the various accents experienced throughout the performance. A great many of the foreign sounds of African accents occur during the rapid-fire exchanges in the opening scene and without looking at the stage, one would never know it to be just two non-African men portraying the different characters encountered therein. Hartley's accent work resonates through the piece in earnest, especially when the two characters arrive in Canada and the Inuit dialects come into play.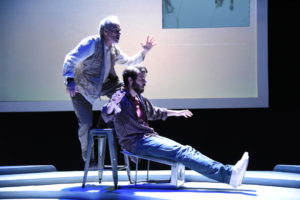 Eric Hissom and Thomas Keegan are a pair well matched in this production. Carrasquillo's blocking during their email exchanges, which features Hissom constantly moving his stool-chair hither and thither as his character traverses the globe between correspondences, heightens the dynamic way in which they relate to one another on stage. Not afraid to interact, particularly when it comes to existing as other characters in scene with one another, there is a firm bond between the two actors that carries an honesty to it and keeps the play moving along without ever missing a beat. The script possesses too many profound quotes to list, peppered like bullets throughout every scene, piercing each and every tenant of the constructed reality therein like shrapnel from a roadside bombing and both Keegan and Hissom handle these shatteringly beautiful yet equally harrowing lines with the utmost reverence.
Thomas Keegan, as Dan O'Brien, approaches the character from an eager and motivational standpoint, making the transition of his character arc one of "settled and certain" to "discovered anew." There are indeed captivating moments delivered by Keegan throughout the production, many of which are light-hearted. The script exists with liberal handfuls of humor to keep the audience as well as the characters from drowning in the emotional mire that is the reality of the situation. Keegan handles these moments as well as the gravity of the more serious ones with equal vigor and impressive timing.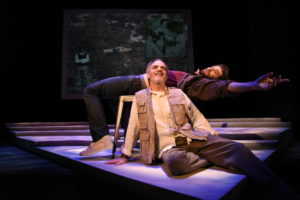 Hissom, who burns as a beacon of brilliance in the performance, finds dueling realities for his portrayal of Paul Watson. It is unfathomable to watch how he can so perfectly represent both sides of this dynamic coin, standing with one breath and professing the ego-driven root of his character's plight while falling to emotional pieces with another. Richly dynamic, Hissom's performance is exacting, every breath and pause precisely accounted for in his delivery, which makes both moments of sentimental recall as well as emotional detachment stirring to behold. An infinite emotional wellspring, Hissom's finest moment comes during the phone exchange just before the show's ending; the scene tearing through any emotional boundaries still left standing at that point in the production.
Remarkable in every sense of the word and utterly impossible to describe with any sense of justice toward its brilliance, The Body of an American is gut-wrenching, heartbreaking, learning lesson that will not easily be forgotten once experienced.
Running Time: Approximately 95 minutes no intermission
The Body of An American plays through May 22, 2016 at Theater J in residence at the Washington DCJCC's Aaron & Cecile Goldman Theater— 1529 16th Street NW in Washington, DC. For tickets call the box office at (800) 494-8497 or purchase them online.