There was a cabaret. And there was a master of ceremonies. There was a theatre called The Hippodrome in a city called Baltimore, and inside life was beautiful. The Roundabout Theatre Company presents, in conjunction with the CareFirst Hippodrome Broadway Series, an astounding production of Cabaret. The evocative music of John Kander paired to perfection with the lyrics of Fred Ebb, and a striking book by Joe Masteroff, come together as an invitation to leave your troubles outside and enjoy an evening of frightfully provocative and emotionally cathartic musical theatre. Directed by BT McNicholl, the show will have you have you demanding an encore and screaming to all your friends that they come to the Cabaret.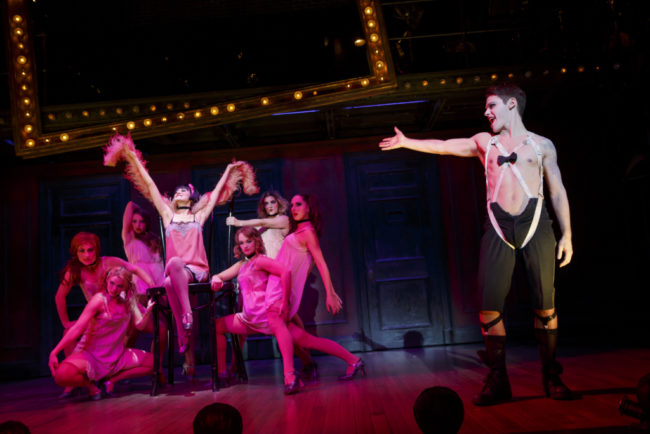 Visually stunning for being a tawdry and terrible nightclub in Berlin on the precipice of New Year's in 1929, The Kit Kat Club is erected to life with the aesthetical brilliance of Set Designer Robert Brill. Though simple in nature, the scenic layout lends itself to the vulgar nature of the clientele and dancing denizens therein. The crooked picture frame, which is lined with decadent blinking chaser lights, is a clever symbolic effusion of how life inside is viewed a little askew. This concept is reinforced every time the Emcee watches the scenes unfold below through the frame. Brill's three-door inclusion across the main back wall also allows for a hint of farcical play during the exchange with Fraulein Kost, Fraulein Schneider, and Herr Schultz, adding a delicate dose of sexual levity to what is ultimately a dark story.
Illuminating the set as well as the performers with exacting precision, Lighting Designers Peggy Eisenhauer and Mike Baldassari capture intimate moments as well as broad ones and highlight them with emotional visualizations. Flushing the Kit Kat Band at the top of the second act in that hauntingly distorted fuchsia or the Emcee in the faded lounge blue when he sings for "I Don't Care Much", are striking examples of Eisenhauer and Baldassari's versatility. Drop down lighting fixtures, be they shaded lamps, a mirror-ball or tropical glowing pineapples, adds to the myriad of lighting effects that the design duo brings to the show's appeasing aesthetic.
Costume Designer William Ivey Long and Hair/Wig Designer Paul Huntley bring forth some curiously questionable selections in their craftsmanship. On one hand it is easy to see how Long's basic and rather filthy bedraggled rags featured on the Kit Kat Girl dancers would be a reflection of the impoverished times still suffered in Berlin as it struggles to rebuild after the Great War and the Inflation. The derelict and haphazardly grungy approach to this flavor of couture fits the earnest apathy delivered in a few of the dance numbers as well. But on the other hand, a nightclub in post Great War Berlin, even in the seediest of locations down on its last leg of luck, is expected to have a bit of sparkle for its clientele and the lackluster approach to these costumes begs the question of where it is. Long's baby-doll couture featured in "Don't Tell Mamma" spins the number in a whole new fashion, one that is unsettling and rather disturbing but this bold choice works to the way the character is being portrayed. Huntley's Hair and Wig Design for both Sally Bowles and Fraulein Schneider are a bit off-putting as the latter makes the salty old broad appear younger than she's meant to, and the former forces a bizarre disconnect from the rest of Sally's physical appearance.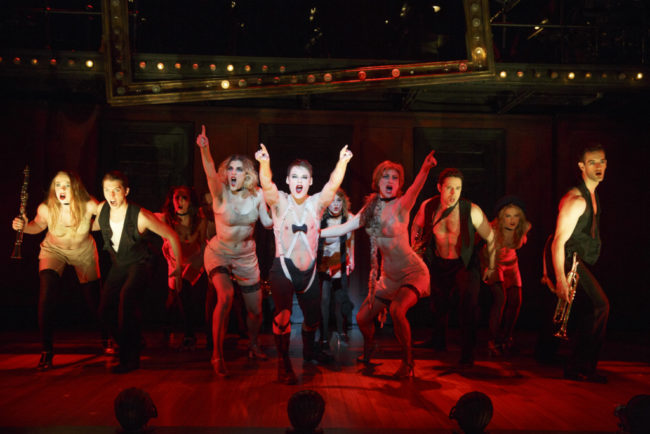 Associate Choreographer Cynthia Onrubia, responsible for recreating Rob Marshall's original choreography, does an exceptional job handling the dance routines from the top of the second act through to the end of the show. The showcase "Kick Line" has a ferocious intensity behind it and pleases the crowd immensely with its militaristic precision. The marching dance line featured at the engagement party is also praiseworthy for similar qualities. Onrubia delivers a great deal of Marshall's original movements, however the energy among the Kit Kat Club dancers is less than present for numbers like "Don't Tell Mamma", and "Money." It is again difficult to say if this is an intentional choice intended to reflect the apathetic nature of the girls being trapped in a vicious cyclical scenario of their world in Berlin or an overall lack of energy in the performances themselves.
Director BT McNicholl keeps the production moving. While there are points where the energy slumps somewhat, this never impacts the show's overall pacing, which moves fluidly from one scene to the next. The principal characters have strong accents, well suited for their points of origin, though both Ernst and Herr Schultz' German sounds meander hard and with more than a bit of inconsistency throughout the performance. This would ultimately go unnoticed if it wasn't for the fact that when their sounds did wander it made their articulation somewhat muddled. McNicholl presents a harsh and gritty rendition of Cabaret doing the severity of the show's dramatic and dark overtones a great deal of justice.
Not without a sense of balance, McNicholl finds ways to infuse healthy humor into production in little nuanced moments, like when Herr Schultz silently celebrates his victor after delivering the pineapple. These little nods keep the performance feeling fresh and giving fans of the show who have enjoyed it before something exciting and new to discover. McNicholl's vision for the Emcee character is a fascinating one. Having him constantly present, watching and observing from above or passing through as a narrative moving force, creates a richly fulfilling framework lens for the show as a whole.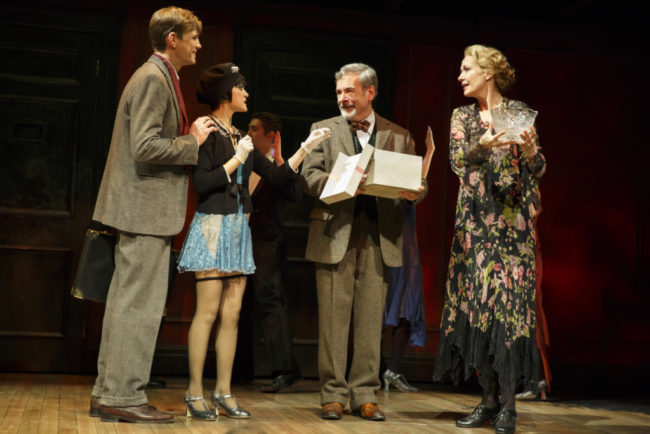 Herr Schultz (Mark Nelson) and Fraulein Schneider (Shannon Cochran) have delightful chemistry between them. Though the line says they are "no Romeo and Juliet" their coy and preciously awkward flirtations are reminiscent of exactly that. Nelson's portrayal of the character is firmly grounded in character presentation. His vocal affectation carries firmly into his singing voice for both "Married" and "It Couldn't Please Me More." Cochran delivers Fraulein Schneider in a similar fashion, her thick German accent carrying well into songs like "So What" and "What Would You Do?" Both numbers are an exemplary show of how fully emotionally grounded Cochran is in the character's grit and tenacity. With a fully supported belt in both numbers, Cochran delivers leading lady quality in this supporting character role.
Clifford Bradshaw (Lee Aaron Rosen) is often dismissed as a throwaway character in the grander scheme of Cabaret. Rosen's delivery of the great American novelist keeps Clifford alive and functioning as an integral portion of the story. Rosen crafts the character in earnest, finding the delicate balance between ambitious and cautious when it comes to interacting with everyone, but particularly with Sally Bowles (Andrea Goss.) Rosen's voice is strong and sturdy of pitch, clear in its emotional expression as well, this is best evidenced in "Perfectly Marvelous." The on-stage chemistry between Rosen and Sally Bowles, as well as the more clandestine chemistry with Bobby (Leeds Hill) feels intrinsically magical.
Andrea Goss as Sally Bowles lives up to the label, "the toast of Mayfair." Presenting a popping pip of personality, Goss has an exceptional voice that delivers intense belts and durables sustains during both "Maybe This Time" and "Cabaret." Traversing the emotional spectrum and showing a fully articulated character arc, though it sweeps more like a chaotic whirling dervish, Goss creates Sally Bowles inside a vacuum of delicious insanity. The emotional extremes, though occasionally off-kilter and out of synch with one another, are harrowingly evocative and deeply cathartic. All over the chart with the influence of raging emotions and cocaine-influenced hysteria, Goss' Bowles is the never-ceasing carousel that is Cabaret.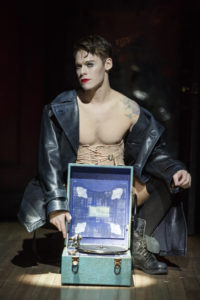 Master of Ceremonies, Master of the show, Randy Harrison steps into the role of Emcee and simply owns the show. A phenomenal sensation with his singing voice and character portrayal, Harrison makes the Emcee uniquely his own whilst still paying homage in nod most subtle to Alan Cumming. Harrison's willingness to play with the audience is inviting and welcoming, the true cabaret experience. His crass and crude attitude is uproarious and perfectly fitted to the nature of the character. Juxtaposed against his stellar operatic sound, Harrison's coarse representation of the Emcee is flawless. "Two Ladies", a trio featuring Lulu (Dani Spieler) and Bobby (Leeds Hill), is disgustingly delicious and absolutely hysterical. Harrison's versatility in handling the character is astonishing, his rendition of "I Don't Care Much" fully channels a destroyed lounge singer in character but is delivered with resounding vocal clarity. Striking, outstanding, and nothing short of impressive, Harrison is the toast of Cabaret, and should not be missed in this performance-of-a-lifetime role.
In The Hippodrome, they have no troubles. Life is beautiful. The performers are beautiful. Even the orchestra is beautiful. This is a must-see show of the season, and it is encouraged that you leave your troubles outside while you come in and enjoy Cabaret.  
 Running Time: 2 hours and 35 minutes with one intermission
Cabaret plays through May 1, 2016 at The Hippodrome Theatre in the France-Merrick Performing Arts Center— 12 N. Eutaw Street in the Bromo Seltzer Arts District of Baltimore, MD. For tickets call the box office at (410) 752-7444 or purchase them online.