We are constantly reminded that there is nothing new under the sun, and yet we seek novelty. Seek no further as The Interrobang Theatre Company sets out to please the palette, whet the whistle, and sate the appetite of the ravenous theatergoers of Baltimore with their second annual production of Heavy Hors D'Oeuvres 2: 3 New Bite-Sized Plays. Presented as a fantastic opportunity to showcase new works, three brief one-act plays with a live guest storyteller weaving this year's theme— intimacy— between them (and there's a different guest storyteller every night so consider seeing the performance more than once) The Interrobang Theatre Company is serving up a scrumptious selection of new works featuring local playwrights, directors, and performers. Remarkably delicious and beyond satisfying, these three new plays are invigorating to the mind, stimulating to the emotions, and well worth examining.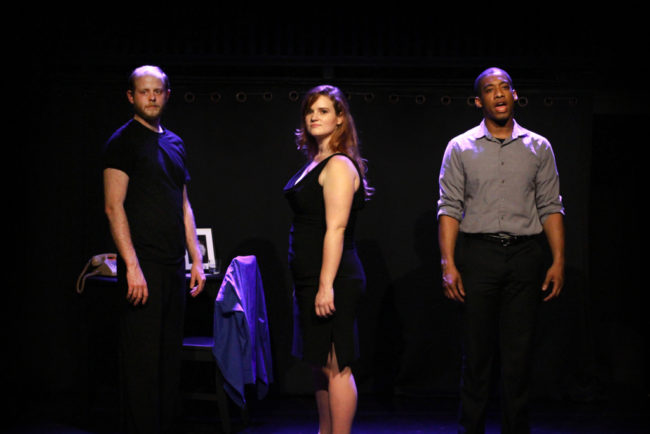 The evening's performances are "topped and tailed" with readings from Recherche Side Dishes, Comprising Hors D'Oeuvres Sandwiches and Savouries by Charles Herman Senn and How to Be a Gentleman: A Contemporary Guide to Common Courtesy by John Bridges. At this performance between the second and third scrumptious showing of the new plays, Storyteller Matthew Manning took to the stage to extrapolate a personal experience tale regarding what intimacy really is. Touching and heartwarming, if a bit lost in its nostalgic and meandering nature, Manning won the audience over with his openly tender tale of intimacy. The story served as a unifying thread to highlight the overarching concept of intimacy in the evening's three plays.
Pretty Like Normal by Jen Diamond
Directed by Courtney Proctor, Pretty Like Normal features three characters, two best girlfriends perhaps middle school or very early high school aged, and a dog named Pizza Crust. Diamond's writing is simple and succinct, but her ability to capture the epitome of these tween or teenaged stereotypes in her character creation is astonishing. Penning Melissa and Laura to be the exact opposite of one another— one bold and popular, sure of herself with confidence to spare, and the other meager and timid, meek and worrisome of her own shadow— Diamond flawlessly displays the essence of teenaged struggles through their personalities. Diamond's finest writing comes from Laura's description of anxiety, the way it grips the body in paralyzing fear, the way it washes over the mind until one feels smothered and drowned. These descriptions are striking and evocative. The only downside to Diamond's play on the whole is that it feels overly simplistic in its conclusion. While the play doesn't necessarily have a dramatic build, it's compelling to watch because of what the two girls discuss and how they discuss it, so the very simple conclusion leaves the audience craving a bit more.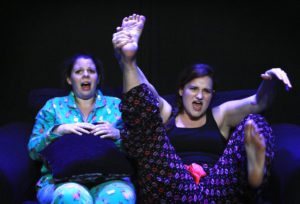 Diamond humorously puns an anthropomorphic monologue for Pizza Crust (David Brasington) about three quarters of the way into the story. The way Diamond articulates the internal monologue of a dog combined with Brasington's delivery makes for a particularly humorous yet impressive moment in the tale. Erin Hanratty, as worrisome Laura, and Jessie Poole, as brassy Melissa, have a natural sororal bond between them, as one might expect from two best friends. Their relationship dynamic is on point for that of two tween-teens and the pair of performers carry their roles and the way these roles impact that dynamic with great presence of mind and emotionally grounded focus.
Lighting Designer Katie Kudrick and Sound Designer Matt Pagan work in tandem to create the atmosphere for the little sleepover adventure happening in the scene. Back-glowing blue light mimics the television while keeping the girls faces well lit, while Pagan masterfully delivers the authentic sounds of the saucy program that they happen to have playing on the television. Though the design elements are simple, both Kudrick and Pagan ensure that they fit the play in a way that enhances the experience rather than pulling focus from the story.
Empty by Alice Stanley
Directed by Sean McComas, this edgy work by Alice Stanley begs the question of what is life really all about? With a disturbing soundscape, crafted by Pagan, before the play even starts, the audience finds themselves at the edge of their seats waiting to see just where we are and what is about to unfold. Stanley crafts a series of silences into the script, which Director Sean McComas works to heighten the sense of desolation between the two characters, who as it turns out, are trapped inside a spaceship which has broken down on the moon. Stanley's silences under McComas' direction speak volumes between the characters, establishing their dynamic before the first word is even spoken.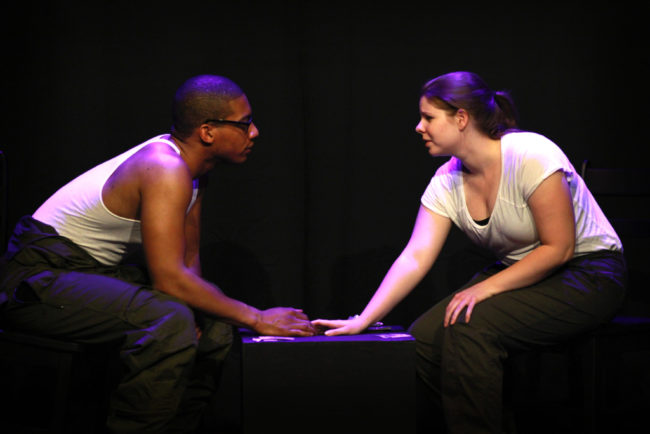 The construct of the play is riveting. What would you do if you found yourself trapped in space in a tiny, confined space, with just one other person, a year's supply of food, and a deck of cards? The emotional effusion and the language which Stanley uses to articulate these questions is stellar. Penning the character of Tom— which we're all hoping is a nod to David Bowie as they've lost communication with Ground Control— with perpetual optimism and infusing Emily with persistent pessimism, Stanley creates a striking balance within a short space of time among these characters. The language flows with purpose, the gravity of reality weighing heavily on both characters after a time.
Tim German as Tom keeps an enthusiastic energy about the character delivery. There is a spunky, upbeat nature to Tom, and this provides one half of the fully articulate yin-yang that Stanley has crafted in these characters. Erin Hanratty as Emily is defiant, moody, almost to the point of petulant when initially dismissing Tom's cheerful disposition. Though the dynamic between them is never upended, it does shift, and the softness that penetrates the show's ending is rather surprising.
Letters, by Justin Lawson Isett
Directed by Deirdre McAllister, this deeply engaging new work by Justin Lawson Isett is a compelling piece that examines the notion of Catfishing before the term "catfishing" was slang of the modern world. McAllister's thoughtful blocking of this piece, which more cannot be said upon for fear of spoiling the major plot point, is mesmerizing. This is particularly true of the way the dance scene and second letter reading is displayed. Katie Kudrick's Lighting Design enhances these smoothly sensual moments tenfold, delivering them with a smoldering and seductive punch, again particularly for the dance.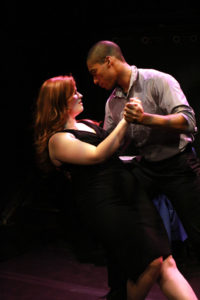 Isett's concept behind the show is brilliant. This was the reality in 1989, when accepting who you were and being publically open about it was not so readily accepted. This is still the reality today in a great many cases, however unfortunate that is, and thus it becomes something sharply relatable to the audience. Isett's language and ability to develop plot naturally is exciting and keeps the audience hinged on the edge of their seats to discover exactly how things will play out. The most tension-wound, nail-biting moment in the performance happens as the audience waits to see how Clyde (Tim German) will respond to the situation once everything has been exposed and all cards are on the table.
German's narrative voice, featured when reading the letters, is striking. But it's the facial features expressed during the play's conclusion— utter bewilderment mixed with anger, hurt, frustration, and a myriad of other uncertain feelings— that takes the cake for the performance of Clyde. Jessie Poole who plays Annabel delivers the epitome of a doting wife to the character of Derek (David Brasington) while bringing a rich depth to an otherwise two-dimensional character. The trio plays exceptionally well together even though they only have one moment of fully acknowledged interaction where they are all intentionally addressing one another.
Conclusion
An evening of perfect palette pleasers, a scrumptious sampling of sensual new works threaded together by the common bond of intimacy and it's varying levels and meanings, Heavy Hors D'Oeuvres 2: 3 New Bite-Sized Plays is the perfect opportunity for theatregoers to indulge in new works that are thought provoking and exceptionally well stages and performed. Bon Appetite!
Running Time: Approximately 85 minutes no intermission
Heavy Hors D'Oeuvres 2: 3 New Bite-Sized Plays runs through May 8, 2016 at The Interrobang Theatre Company currently on the stage of The Mercury Theater— 1823 N. Charles Street in the Station North Arts District of Baltimore, MD. Tickets are available at the door or in advance online.