Boxes. Bags. Doors. Sardines! How the bloody hell can anyone keep it all straight over at Otstar Productions Ltd. with their current production of Nothing On? How about a spot of rehearsal? That's exactly what you'll get and then some when you come to the real show— Noises Off— with Silhouette Stages this March. Well, all that and a bag of chips, barrel of laughs, and a hysterically zany three-act evening of epic entertainment. Directed by Conni Ross, this guaranteed laugh-a-minute madcap farce delivers sheer hysteria from curtain up to curtain down and every blessed second in-between. True comedic dynamite is blasting its way across the Slayton House Theater stage with this production of a play within a play featuring uproarious performances across the board all throughout the night.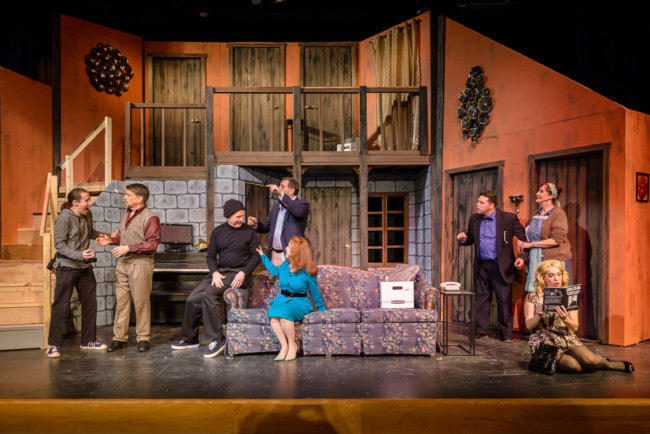 There could be an entire review written on the scenic construction and design of the most ambitious set to cross Silhouette Stages' stage since the last time the produced Noises Off. Set Designer Alex Porter has envisioned a fantastical two-story set, complete with full rotating ability to reveal a strikingly realistic "backstage" set piece which fits perfectly into the dual-meta nature of the play. Porter, and his double dozen construction team have made the set look impressive as well as stabilized it for all of the physical shenanigans and comedy that has to unfold upon its balconies staircases, and within its half dozen or so doors. In addition to this, Set Decorator Kirsten Jolly has modernized the interior design of the house with warm earthy wall tones complete with authentic mud streaking in the paint lines and hung reflective art-deco décor on the walls to give it that cozy yet trendy touch. Her nods to true theatre life are witnessed on the backside of the set with the "Keep Calm & Step in Time" musical theatre poster plastered to the wall.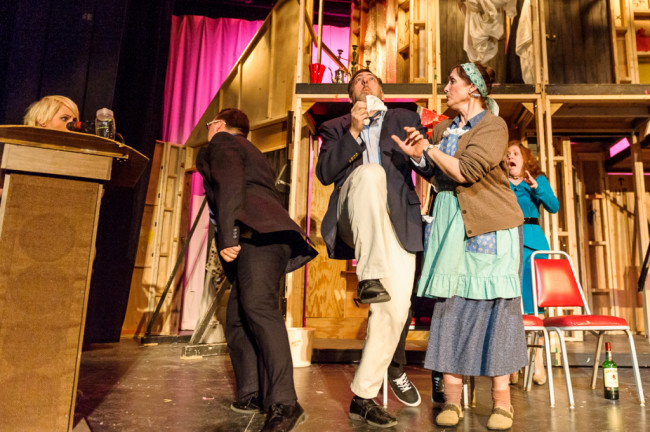 Props to the Props Designers— Nicolas Hargrave, Julie Press, and Donna Hawkes— who keep all the boxes, bags, sardines, telephones, and whatnot coming and going almost as quickly as the actors roll in and out of the scenes. The trio of Prop Masters also craft authentic backstage props— like the fire ax— and the never-ending bouquet of flowers for various and sundry, that really give the show an authentic pick-me-up in the visual aide department. Another nod of appreciation needs to be shot off in the general direction of Sound Designer Ethan Hogarty, who opens up the production of the all too familiar theme song from Keeping Up Appearances, a most appropriate precursor to the British hilarity that is about to traverse the stage over the following two and a half hours.
Director Conni Ross creates a bang-up team of physical comedians out of nine smashing actors. Ross' keen understanding of how important movement is in a farce is the crucial component of this production's success. Her ability to keep the tempo on high acceleration as the acts roll forward is astonishing, but what's even more impressive is her approach to the stunt and fight choreography as the actors move about in the second and third acts. Ross immediately imbues the cast with a sense of heightened urgency, creating a frenetic drive in their overall momentum, which rolls the show along a bit like a comedic snowball picking up speed and everything around it as it races down a hilariously oversized hill. The first few minutes into the second act everything within the meta play has gone to hell in a handbasket and it all just implodes downhill from there and Ross ensures that every blessed minute of that implosion if felt at full throttle out in the audience. Between the actors pantomime fight choreography, their accidental bang-ins and cock-ups, you won't be able to catch your breath from laughing so hard all the way through.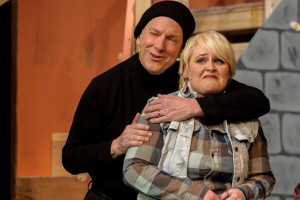 Poppy (Parker Bailey Steven) is a nervous nelly of a stage manager and every time something starts going awry it immediately registers on her face. Steven makes for an exceptional cameo performer in this production, particularly during her hilarious back-and-forth "front of house calls" bit gag with Tim (Adam Abruzzo.) Laying heavily on the exasperated facial features, Abruzzo delivers an equally wrecked character, though perhaps a bit higher strung and physically spastic than Steven's twitchy stage manager. The pair are priceless once the flowers start flying, and witnessing the two of them trying to keep Selsdon (Don Patterson) from getting his hands on the bottle.
Patterson, who plays the doddering old character codger, is a hysterical addition to the cast, which is already teaming with laughable and enjoyable caricature stereotypes of farce. Watch his "cat-got-the-cream" grin every time he does manage to get his hands on the whiskey bottle and you'll feel the giggles all the way down to your gullet. Pulling his rote-lines like an old-school has-been, Patterson really settles into the character with roots that reach down into the depths of comic genius.
The same can be said of Belinda Blair (Julie Press) though she seems to do very little when it comes to physical comedy. Press is perhaps the mildest mannered of the characters in the performance, but gets her digs in with vocal quips, quick-witted one-liners, and even gets to have a bit of pantomime fun during the second act. Constantly trying to shed some light on the murky situations of who's had a row with who and who's going round with who, Press takes her character quite seriously, and the comedic result is feathery and delightful.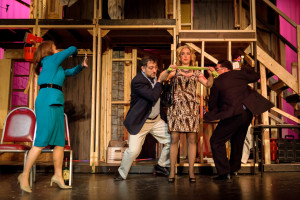 Appearing opposite Belinda in the meta play is Frederick (Jeff Dunne) who is about as questionably thick as they come. Dunne adapts a wonderfully stumblesome accent that purports his character's perplexities with acute attention to his confusion. Dunne's facial expressions are particularly vibrant once the whole "blood and violence" allergy comes into play. Being outdone only by Gary (Ryan Reichard) when it comes to utter expressed disbelief and complete bewilderment, he's quite the sight to witness when he's in the middle of one of his questioning fits. Reichard is equally amusing and prone to— well, you know. And he's just really sort of— well, you know. And when he's not being absolutely— oh, well, you know— he's simply hysterical. Trying to cover the various scripted flub-ups results in the most priceless looking exasperations written plainly all over his face, you know?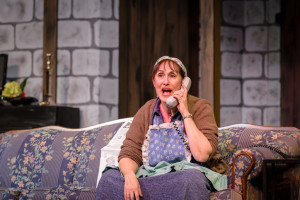 Dotty (Maribeth Vogel) lives up to her namesake by the third act. While Vogel is actively engaged in both the first and the second act— with the second act giving her a chance to really join in the epic comic shenanigans that are happening in mimed silence in the "backstage" scene, it's her third act textual delivery that hits the head on the nail of her performance. Her cockney accent as Mrs. Clackett is spot on and is the most notable of the accents, though all in the production are impressive, particularly when it comes to it falling out of place in the final act.
Lloyd (Gary Reichard) is a social worker of theatrical repute. In layman's terms this means he's the pigheaded, albeit hysterical, director of the trainwrecking disaster unfolding upon the stage. Reichard finds the exacting balance among the ratio of sarcasm to temper and deadpan to gusto in his delivery. There's a moment where he seizes the upstage spot and loudly announces in his flamboyantly foppish and blatantly overt fashion, "Gestures! It's what acting's all about!" the nearly steals the show if it wasn't for Allie Dreskin stealing every other blessed moment of stage time every time Brooke flitters in and out of a scene.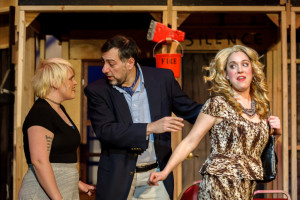 Dreskin is a true scene stealer. Reichard and Dunne have several mild interactions and moments of discussion that are lost entirely to her side-bent shenanigans, whether she's feathering her décolletage or floating in some vapid bubble of yoga and meditation. Her facial expressions are priceless and she delivers the epitome of a wind-tunnel blonde character. The lights are on in Dreskin's pretty face but not a blessed soul has been home for decades. Hysterical, absolutely uproarious, hands down every time she falls into the "What?" or "Sorry?" of her character the audience is busting their guts with laughter. Her character's determination to stay on track with the script is unwavering and only furthers the hilarious heights to which the production scales. Dreskin's aesthetic is striking and adds its own flavor of entertainment in addition to everything else she's doing, which is nothing short of spectacular.
A remarkably entertaining performance where every performer has their moment in the laughable limelight, this is one for the books as far as Silhouette Stages is concerned. Noises Off will have you laughing your backside off in the audience before the final curtain falls, you will not want to miss it!   
Running Time: Approximately 2 hours and 25 minutes with one intermission
Noises Off plays through March 20, 2016 at Silhouette Stages in the Slayton House Theater of Wilde Lake Village Center— 10400 Cross Fox Lane in Columbia, MD. For tickets call the box office at (410) 637-5289 or purchase them online.