There is life outside your apartment, I know it's hard to conceive. But there is life outside your apartment! And you're only gonna see it if you leave! There is cool shit to do, but it can't come to you, and who knows, dude, you might even score— tickets to Phoenix Festival Theater Company's production of Avenue Q if you're lucky! For a limited two-weekend engagement, the zany Off-Broadway musical sensation is eking out a home on Thomas Run Road and is providing barrels full of laughter for everyone in attendance. Directed by John Desmone with Musical Direction by R. Chris Rose, this riotous romp of adult puppets and Broadway style musical numbers will give you the best end-of-winter entertainment you could hope for in Harford County.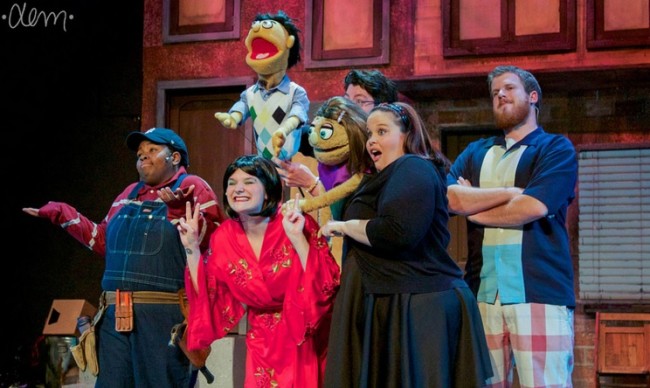 With an urban set that looks like it was transplanted directly from the filth-soaked streets of New York City's lesser boroughs, The Phoenix Festival Theater Company's design team perfects the aesthetic needed for this delightfully mature musical by keeping it simple. Director John Desmone, Lighting Designer Thomas Gardner, Sound Designer Terry Edwards, and Technical Director Lee Kahle work together as one super-power to bring the show to vibrant life. Clever show-themed projections are filtered in on the jumbo-tron screens that flank the stage, in true Avenue Q fashion, and focused spotlights illuminate the characters' moments of full emotional potential. By not falling into trappings beyond their means, as if often expected when shows have made widely successful runs Off-Broadway and touring the country, it allows the production to focus on what really matters, telling the story— however hilarious— of these brilliantly crafted characters and their fantastical songs. A special nod should be given to Costume Designer Stella DiPeso for her outrageous wedding dress featured on Christmas Eve late in the first act, it simply must be seen to be believed.
Desmone has a strikingly clear vision for the show, making it his own production that suits the company rather than a replica of what has previously been performed in other spaces, venues, and locales. Really honing in on the emotional integrity of the characters and their journeys, specific choices fall into place to augment these moments of pathos and overall ultimate emotional connectivity to the character's story arcs. This is most clearly witnessed in Desmone's approach to Kate Monster, really having her follow a u-curve trajectory of heightened feelings rather than starting her in a heightened state of dejection. The pacing of the musical moves swiftly along and Desmone plays a great deal of the character interactions for truth, resulting in hilarious moments for the audience to enjoy. Keep your eye on little moments of action like during "There's Life Outside Your Apartment" where the ensemble rides the subway and enacts street life of the busy big apple.
Though Avenue Q is not a dance-intensive musical, Choreographer Amanda Dickson finds little moments of musical interlude to incorporate a few clean and solidly executed simple dance routines that help the songs pop off the stage. These moments occur most often during group numbers, like the singular kick-line appearing at the end of "Everyone's a Little Bit Racist" and the back-crossed shuffle step routine featured at the end of "The Money Song." It's little touches like Dickson's basic dance steps that keep the production focused on what's important rather than going for big and showy presentational elements that all too often drown out the core of a performance.
Though credited as "ensemble" Amanda Dickson, Samantha Murray, Josh Schoff, and Matt Wolffe each bring little bits of clever character work to the show. Wolffe and Murray serve as the Bad Idea Bears when they aren't performing as background voices or singing boxes and their chipper, albeit raunchy, existence is quite amusing. Dickson, in addition to being the show's choreographer, performers as the dour and cantankerous Mrs. Thistletwat, a hilariously performed character cameo that drives forward a major plot point of the show's major story arc. Schoff, who seems to wear many hats, arrives in cameo at the end as a 'fresh-faced newcomer' but should also be noted for his vocalizations of the gruff and grumbly Trekkie Monster.
While Schoff may be the show's endcap newcomer, William Meister as Princeton starts the show off as a newcomer to Avenue Q. His voice is clear and pretty, which is a little unconventional for Princeton, but he's not without charm and awkward moments of confusion that suit the character throughout the performance. Watch the animation of his puppet carefully as his lips are the closest to being emotive when it comes to transferring the physical motions of actor to Muppet.
Taking the iconic role of Gary Coleman, Tigga Smaller brings some funky fierce dance moves to the floor during "Loud as the Hell You Want" and really struts her body around to articulate the meaning behind this number. Blending voices beautifully during the group numbers like "Everyone's a Little Bit Racist" and her character's duet with Nicky (Will Poxon) "Schadenfreude," Smaller showcases her vocal follow-through quite soundly and consistently throughout the piece.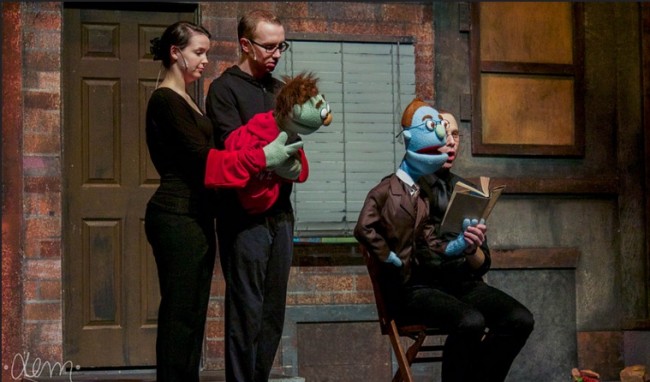 Poxon's performance is textbook Sesame Street. It's no secret that the character of Nicky is ripped lovingly in homage to Ernie— and at this performance that goes right down to the yellow-squeaky friend that gets stroked once Nicky finds himself mimicking the lifestyle of Oscar the can-dwelling grouch. Poxon affects a hilariously homely yet loveable voice that makes Nicky even more humorous than one can imagine and his featured number in the first act, "If You Were Gay" has impeccable comic timing and delivery.
Paired off in frequent spats and tiffs with Poxon is Kevin James Logan, who handles Rod, the uptight and rather closeted character. Affecting a nasally pinched sound as effectively as Poxon develops the dopey mopey sound of Nick, Logan takes Rod to new heights of annoying as the show progresses. Though his vocalizations are just the slightest bit muffled while tucked away in the bed for "Fantasies Come True" there is something serenely sweet about this solo song that really grounds Logan into the emotional existence of Rod's plight. Spastic and witty during "If You Were Gay," Logan punctuates his outbursts with apoplectic fits during this and other numbers that travel from his human face, down through his arm and up into the puppet with panache.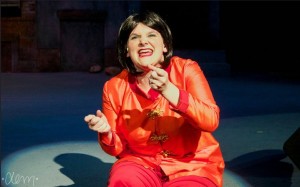 Brian (Matthew Peterson) delivers some thickened deadpan throughout his performance and serves as a reinforcing accessory to the scene-stealing Emily Boling, who plays his fiancée, Christmas Eve. Peterson has a full voice for his opening feature in "It Sucks to Be You" and his solo "I'm Not Wearing Underwear Today" but it's comic exchanges with Boling that really make his character work praiseworthy. Boling is stealing the scene every chance she gets between her wicked facials— many of which throw serious shade and fluctuate between severely annoyed and resting-witch-face— and insanely perfect mocking accent. Designed to be offensive with the L-R accented switch, Boling handles this with aplomb and works it into the songs to campiest of heights. "The More you Ruv Someone" and "Everyone's a Little Bit Racist" showcase her impressive vocal range and sustain in addition to all of her fabulous emotive expressions.
A bonus shout-out should be rolled out to Natalie Knox, who appears in cameo as Lucy the Slut for a smattering of scenes throughout. Written quite differently from the Christmas Eve character, Knox delivers a sultry rendition of "Special" as the tantalizing temptress and continues to serve up saucy strumpet sincerity when she reappears during "Life Outside Your Apartment" in the second act. Knox swishes her hips hard and translates that into her puppet ferociously and unapologetically.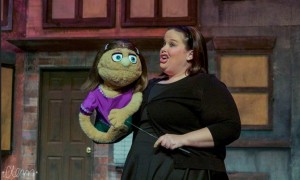 This production of Avenue Q is Kate Monster (Amy Haynes) story. Focusing intently on how her tale unfolds, Haynes delivers a vocally stellar performance in addition to adding a vibrant and vivacious emotional life to her puppet through the intense facial expressions on her own human skin. Transcribing the earnest emotional journey of what could easily be a tossed-away-caricature of a character, Haynes delivers impressive emotional grounding points consistently throughout the production, not only in her vivid facial expressions but in her open and fulfilling voice. "Fine, Fine Line" is truly heartbreaking and opens up a world of deeper meaning to the lyrics as she sings them. Little moments, like questioning the tracks during "Mix Tape" become the theatrical gems of the production as she seizes them, reacts and responds to them fully and presently, and owns them in their entirety. Haynes provides audiences with a refreshing approach to Kate Monster, making her the star of the show, and reminding us that everyone has a journey and a story to tell, regardless of how hilarious it is. Keep an eye on her during "The Internet is for Porn," because that may be the most unique and hysterical character choice of all.
Well worth the trek for audiences all across Baltimore, Avenue Q is being presented in a way that brings truth to the humor of the show, making it an enjoyable evening for all who are old enough/mature enough to attend.
Running Time: Approximately 2 hours with one intermission
Avenue Q plays through March 13, 2016 at Phoenix Festival Theater Company in the Chesapeake Theater at Harford Community College— 401 Thomas Run Road in Bel Air, MD. For tickets call the box office at (443) 412-2211 or purchase them online.