People say you can't get used to some things, but you do. Washington DC is used to the fact that there is a dedicated, professional theatre setting continual flight to the voices of women at Venus Theatre in Laurel, Maryland. But how much of what you hear is ever actually true? Hear this, Washington DC— the 55th script of Venus Theatre, Fur by Migdalia Cruz, which launches Season Sweet16: Groovy Young Things, is a strikingly evocative, unapologetically dark, and provocative one-act play that puts the vicious cycle of a love triangle through the most basic and primal instincts of the human condition. Directed by Founding Artistic Director Deborah Randall, this unsettlingly blazon story makes no apologies or excuses for its ripe material, raw pathos, and rampant sexual overtones. Nor should it. At the skilled hands and finely tuned artistic vision of Randall and her powerhouse team, this production proves that the 16th season of the female-fueled theatre is ready to pack a pretty pink punch.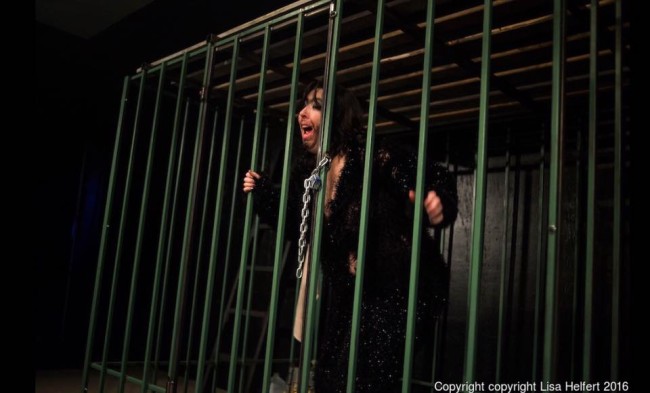 For a non-descript time and semi-subjective locale, the scenic layout feels simplistic. Scenic and Lighting Designer Amy Belschner-Rhodes fabricates a realistic and functional play space indicative of the lives that are led by the two resident characters of the script. The cage where Citrona spends her days is durable and sturdy both in aesthetic and structure whereas the desert-esque hutch that houses the Side Show posters on the opposite cross of the stage is more reflective of Michael's sheltered lifestyle. Belschner-Rhodes truly impressive work, however, is her Lighting Design. Playing smartly with elements of light and darkness, matching them to equalized moments outlined in the script, Belschner-Rhodes imbues a sense of emotional connectivity to the lighter and darker moments of the play through her illuminating designs.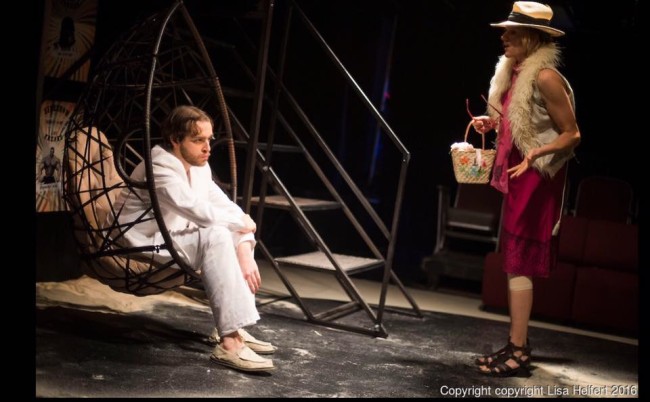 The potential for beauty is somehow related to the oddity of its substance, in which case the majority of Sound Designer Neil McFadden's work has great potential for being lovely to the ear. There is a recurring sound effect that is unclear— caught somewhere between burning fire, something being drug through sand, and waves crashing and crackling on the shore— that just sounds a hint out of place (and this may be due to its undefined actuality) but otherwise his unique layering of various mashed and mangled Beatles songs— both instrumental and uniquely vocal— are rather impressive and set par for the course along with the rest of the show's major design elements.
Wearing yet another hat in the production team, Director Deborah Randall crafts the costumes for the show and succeeds in creating echoes of depth in her design work. Michael is left in a hybrid of off-white and pure-white panama Jack explore-style threads, never shifting from these togs— a noteworthy impression as his character does little shifting emotionally on the whole. Various shades of over-sexed pink are fitted to the character of Nena and suit her accordingly. Randall hand-crafts a fur suit for Citrona, which Randall herself plays, mimicking that of a chimpanzee or other hairy and furry primate. The hirsute aesthetic wrapped around her person is laced subtly with sparkles, a symbolic representation of the beauty that refuses to be buried by the exterior of the beast.
Clarifying the emotional integrity of the piece, Randall's keen focus on the show's driving force is her hallmark as a director. Balancing how she moves each scene forward in this dynamic tangle of one-way-street-relationships while simultaneously existing as one third of the performance trio showcases her deeply impressive ability to multi-task effectively. There are perpetual tangles of tension that burst and erupt between each pairing of characters, though never all three at once, and these moments of disruptive explosion work like chains of dynamite, showering sparks from one moment to the next as the play is engulfed in its own tantric flames, arriving at the end in a smoldering blaze of sexuality, submission, and subversive expectations.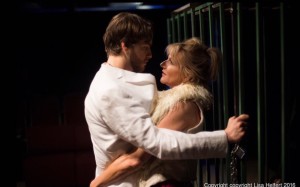 Grant Cloyd delivers the only male role in the production with a striking detachment that creates a gap between his character of Michael and the other two women, Citrona and Nena. Cloyd's intentional aloof state allows for the audience to more readily digest his own monstrous perversions so that when the emotionally cathartic climax is achieved by the show's end, there is an earnest gut-punch and jarring realization on his behalf. Existing in moments like a hollow shell because all of his innards were scooped out via his voyeuristic tendencies, Cloyd creates a void into which emotions are sucked and this is a crucially vacuous element of the triangular relationship structure of the show as a whole.
Oversexed, over-stimulated, and overt in her desires, Nena (Karin Rosnizeck) toes the line of love-obsessed and pathetically devoted when it comes to her interactions with Michael. Visually terrified of Citrona (Deborah Randall), Rosnizeck allows her jumpy physicality and expressive facial emotions to portray layer upon layer of discomfort when it comes to interacting with the side-show freak of a character painted in Citrona. Not shy in the least when it comes to exerting her sexual prowess physically against Michael, Rosnizeck unleashes a femme fatale sort of encounter, laced full with frustration, when her advances are not only unrequited but not even noticed.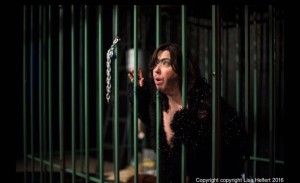 Randall brings new meaning to the phrase owning the moment with her delivery of Citrona. There is an unabashed brass present in the hirsute character that dominates most of Randall's active moments. Juxtaposing the spastic ecstasy in which the character perpetually lives (both of the excited and sexual variety) against a childlike naiveté, Randall proudly displays her performing prowess refusing to back down from the more explicit moments that Cruz has penned into the play. Visceral, carnal, lust-driven, Randall runs a gamut of seedy and unsavory emotions and behaviors throughout the performance and tempers them with moments of fear, self-loathing, and utter bewilderment to the only world her character has known— that of a beast.
Certainly not everyone's cup of tea as not so many of us animals are willing to accept that we so often kill the thing we love by caging it in an attempt to preserve it, Fur is for the true believers of active, involved theatre and should not be missed by anyone wishing to have an honest theatrical experience.   
Running Time: Approximately 90 minutes with no intermission
Fur plays through April 10, 2016 Venus Theatre— 21 C. Street in historic Laurel, MD. For tickets call the box office at (202) 236-4078 or purchase them online.