War always takes a piece of something. And it's very easy to talk about dying for your country when someone else is doing the dying. The Woodbrook Players bring a pivotal work to the stage with their Baltimore area premiere of Rebel Yells, a confederate-focused Civil War drama written by Steve Warren. With evocative writing and a sturdy cast to mount the show, the play— Directed by Ron Oaks— captures the final moments of wounded confederate soldiers inside of an army hospital in Virginia just as the south takes its final fall. The reality is that war changes people, but just what about them does it change? In this gripping and fascinatingly realistic work, The Woodbrook Players endeavor to explore what makes a man a man when it comes to the duty and honor of his country.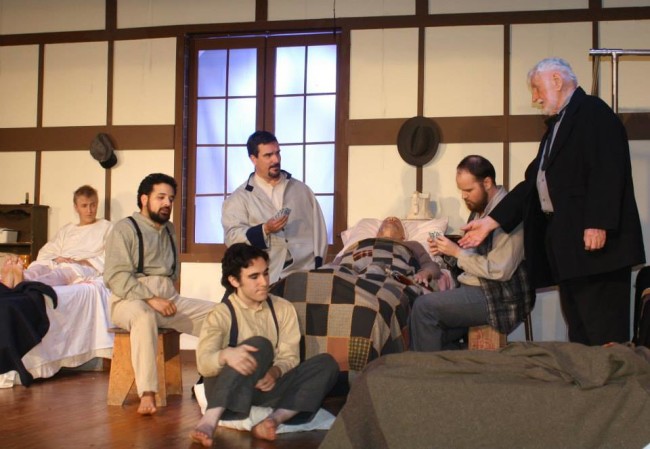 Wearing many hats, including that of the show's Set Designer, Director Ron Oaks encapsulates the world of 1865 inside the realm of the war hospital upon the stage with simplicity. Though the set is actually filled to brimming with furnishings, they feel natural in their existence against the stark and sterile white walls and wooden framework. This sense of authenticity helps ground the show in its locale and entreats the audience to travel back in time as the show moves to over 150 years ago with its story. Complimenting Oaks' design work is Lighting Designer Ron Zyna. Using tightly focused square spotlights to enhance dramatic moments when the soldiers have flashback recollections to their times on the battlefield, and also to hone in on Sergeant Gaines (also played by Oaks) when he pops up momentarily from his coma, Zyna enhances the natural dramatic tension of playwright Steve Warren's text tremendously.
Furthering the notion that time exists in 1865 is Costume Designer Sherry Peck. While one might expect to see a royal load of grey confederate uniforms, Peck focuses more on the civilian clothes and wounded hospital dressings of the soldiers in this production and this actually serves the characters a great justice, allowing them to be seen for what they are— human beings with souls and flaws rather than just a blue or grey member of a war. Peck does, however, have these uniformed colors available on the walls near the cots and reminds the audience that even though these characters are human beings, they are always just a coat or hat away from returning to being tools of the battle.
Playwright Steve Warren is a genius with a pen. Capturing dramatic tension in  his dialogue exchanges and balancing those with the monologues, presented in flashback memory, truly articulates the struggles of the battlefield for these confederate soldier boys. His most dynamically written character is Reverend Moses Malachi, and the way in which he ideates and articulates the internal struggle of faith and belief within this man is astonishing. The overall story arc is clear and consistent and there is a fluidity to the story that is both timeless and yet specific to the era. A true master with weaving plots tightly together, Warren delivers an exceptional piece of work that is truly stirring and captivating.
Director Ron Oaks, who starts off the top of the show with soloist performer Jocelyn Taylor— each performing a traditional song related to the era— keeps the pacing of the show moving. Aside from a few technical hiccups and a missed sound cue for one of the scenic transitions, Oaks runs a tight ship which helps further drive home the dramatic urgency that Warren has penned into the script. The special effects used to achieve certain war injuries, which for spoiler-related purposes won't be mentioned in specific, are simplistic yet very effective and serve the show in a manner that brings a hint of realism to the forefront so that the gravity of the war can be truly palpable for those watching.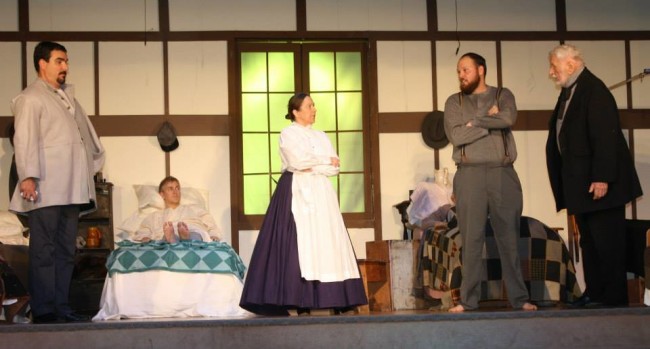 Though quite minor in words, Clinton Brodie (Yitzi Turniansky) has a sweet disposition to his silence. Turniansky portrays the character who has lost his voice with great attention, jumping to when things startle him, and delivering a great deal of unspoken understanding in his gentle facial expressions. A good deal of his interactions come from one-sided conversations with Samuel Chandler (Robert Scott Hitcho) who is also short of words, but does possess the ability to speak. Hitcho delivers an impressive portrayal of this young farmer turned soldier, affecting the character with a slight stutter that really draws sympathy to his situation. The pair are both crucial factors in the outcome of the story overall and both deliver their roles with certainty and solid presence of mind.
Spunk and pluck are just a few of the good words assigned to Nurse Alexander (Cristine Fluke.) An extreme retro-grade Florence Nightingale-Nurse Ratched hybrid, Fluke is the only woman featured in the show but her presence serves two-fold as both matronly and motherly, with a distinguished difference between the two aspects of her personality. Though her delivery at times is a bit slow and a bit over-the-top in some of the more emotionally deep moments, her accent is a solid Virginian sound that really carries her character through and her smart and sharp tongue does a world of good to the more wayward boys on the ward.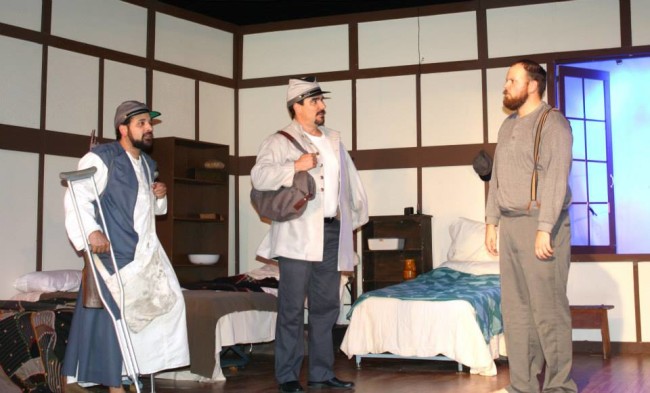 Mr. George Abernathy (Jonathan Scheffenacker) is a pistol of a character. Wild and somewhat crazy his sporadic outbursts are entertaining, albeit irreverent. Delivered with an accent that suits his questionable origin, Scheffenacker captures the attention and makes you ponder his story as it progresses. Playing against the deeply charming and extremely well-composed Yancy Templeton (Richard Pardoe), Scheffenacker gets his digs in good when it comes to verbal sparring with the gentleman of the Deep South. Pardoe delivers the cadence of a southern gentleman in his speeches and maintains a flawless accent of the deep Carolinas whilst maintaining his composure, even when others rile at him. His heartbreaking delivery of what went down on the battlefield is one of several moments that turn the stomach during this production.
Paddy Brannigan (Rafael Regales) may be more of a supporting character but his physical commitment to his war-acquiring affliction as well as the consistent delivery of his muddled Scotch-Irish accent is what draws the audience's attention to him. Regales exists in a world all his own which is simultaneously grounded in the show. Delivering earnest and raw truths about his character's wartime experience, Regales is compelling and versatile, switching easily from jokes to severity in no time flat. Crafting a remarkable stage presence, he is able to bend the minds and hearts of those listening when it comes to his particular plight and the ways he's willing to fight for his beliefs.
Padre, Reverend, Father, whatever the title, Ed Migol finds all of the subtle nuances that playwright Steve Warren has crafted into Reverend Moses Malachi. With humor and sincerity, light-heartedness and questionably darkened doubt, Migol really understands the arc of his character's growth, or as the case may be, the good father's demise. The doubt with which he delivers some of the more harrowing accounts of his war experiences is truly chilling. A solid man for the part, Migol does the good father a great justice in this production.
An exceptionally well-written play with good talent and great ideas behind it, the Woodbrook Players and their production of Rebel Yells is worth investigating this fall season.  
Running Time: 2 hours and 30 minutes with one intermission
Rebel Yells plays through November 21, 2015 at The Woodbrook Players in the Brown Memorial Woodbrook Presbyterian Church— 6200 N. Charles Street in Baltimore, MD. Tickets are available for purchase at the door, cash or check only.