Come to the garden for all that's good and true. Blossoming and flourishing with spectacular success the first musical of the 2015/2015 season at Centerstage is a rare and wondrous flower blooming up through the floorboards of Centerstage's Pearlstone Theater. Ripe with vibrant visuals, succulent sounds, and an overall mesmerizing aesthetic, The Secret Garden is a tragically beautiful and hauntingly gorgeous musical that spellbinds the audience from the moment it greets the audience with its tale. Directed by Marcia Milgrom Dodge with Musical Direction by Sariva Goetz, this astounding adventure with Book and Lyrics y Marsha Norman and Music by Lucy Simon will transport you to a world most fantastical filled with striking spirits, stirring emotions, and captivating characters that will have you marveling in wonder from beginning to end.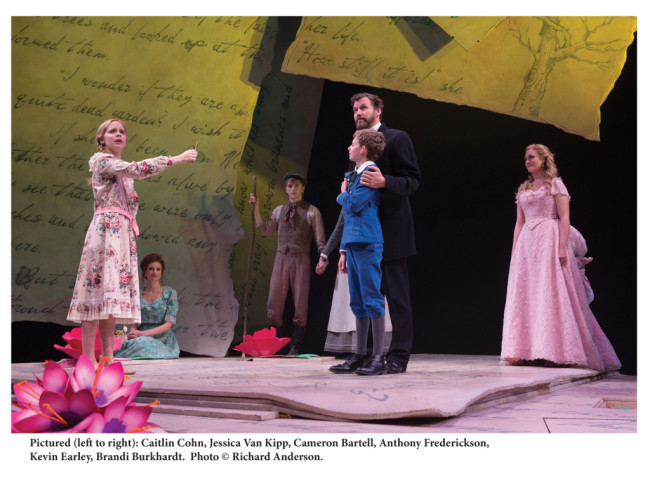 Scenic brilliance radiates from Set Designer Narelle Sissons' mind with the conceptual capture of illustrating a story's pages. Literally having larger than life pages of The Secret Garden swooping down to the stage as the show's backdrop brings a magical realism to the piece, as if the pages of the story have literally come unraveled and spilled onto the stage so that the tale can be told in live time action. Stacked and layered pages, like the book upended and opened make up the floor of the stage in Sissons' design, furthering this symbolic representation of stories coming to life. This remarkable simplicity is so striking in its baser beauty that it is easy to become engrossed in the fantasy of the musical itself without ever noting a lack of larger set elements.
Furthering the construct of allowing the audience to use the scenic skeleton as a connect-the-dots-framework tool to use their imagination, Lighting Designer Matthew Richards engages theatergoers all the more with his whimsical notions of colors and moods diffused into the work. Often are harsh pinks, bright oranges, or melancholic blues reflected onto the oversized storybook pages casting a wash of emotions over a scene as dictated by the shifts in the music. Both Richards and Sissons absorb the audience into openly activating their imaginations, as all good books should do, with their design work and should be commended as such.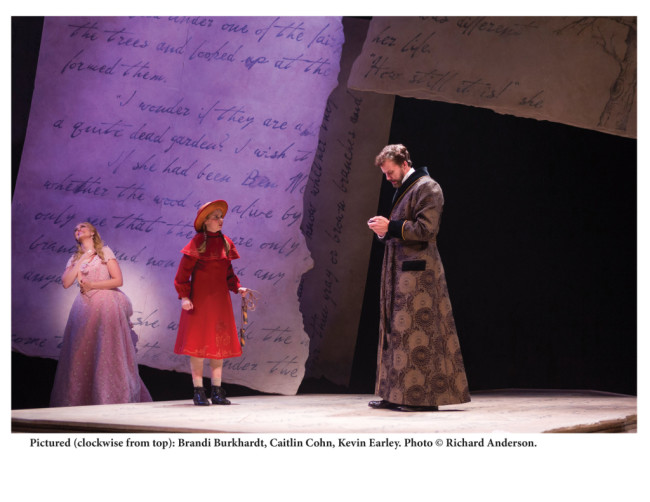 Whimsical fantasy meets couture reality under the sharp eye of Costume Designer Leon Wiebers. The floral shades that would populate a truly secret garden are reflected in the fabrications of Wiebers work, particularly in Lily's primrose dress, the vivacious warm teals of the ensemble uniforms, and the starkly contrasting drab grays of Misselthwaite's dreary inhabitants. The juxtaposition of the deadly monochrome against the sprightlier colors replicates the garden's death and life cycles resplendently. Wiebers adds a flourish of era-appropriate zest to the costumes as well in his stylizations particularly when it comes to the simplistic garb found on Dickon and the more polished threads of Mary Lennox and Colin.
The set's simplicity compounded on Director Marcia Milgrom Dodge's creativity result in fantastical elements that readily invite theatergoers into the world of imaginative pretending, which is exactly the sort of thing that should be inspired when a great literary classic ascends to life as a stage musical. Entrenching the ensemble as watchers of the tale around the outskirts of the stage, and having them serve as the hall of haunted portraits inside the manor of Misselthwaite, are just a handful of the ingenious ideas employed by Dodge in her staging of the piece. Incorporating larger than life puppets, conceived by Puppet Kitchen Productions Inc., to more thoroughly articulate scenes of nightmarish visions is another mark of excellence in the performance. Dodge's insistence on allowing the onlooker's imagination to create a good deal of the wonder in the show is a wonderful tool at use in the production as well.
Musically the show is stellar. Musical Director Sariva Goetz concocts sounds that are both striking and stirring, particularly when it comes to the eerie yet stunning music of Lucy Simon. Working complex and intricate harmonies into larger ensemble numbers like "The House Upon the Hill", Goetz masterfully commands the show's music to have a sensational operatic quality that sends chills of delight up the spine. Her work with "Quartet" during the second scene of Act II in Archibald's Dressing room is mesmerizing as well; her ability to pull each of the harmonious lines of that number into place creates quite the emotional impact upon the song.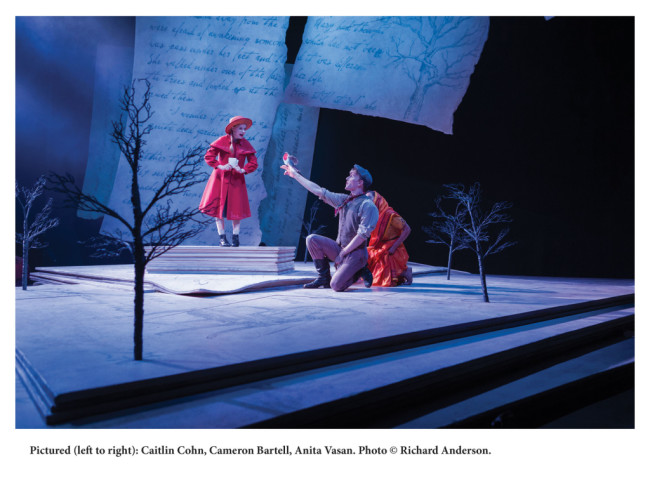 Nary a voice out of place in the production, even the subtlest of cameo roles like Rose Lennox (Jessica Van Kipp) and Captain Albert Lennox (Dan Beckmann) are well cast and portrayed in this production. Van Kipp and Beckmann both have exceptionally striking voices that blend well together in their momentary appearances in which the characters exist. This can also be said of Fakir (Vishal Vaidya) and Ayah (Anita Vasan) who are but shadows of Mary's past and occur mostly silently like the shades of her memory haunting the stage throughout the story. All four of the aforementioned produce high-quality classical singing voices that meld sublimely into numbers like "Come Spirit, Come Charm" and "A Little Bit of Earth (Reprise.)"
While the Yorkshire accents of Dickon (Cameron Bartell) and Martha (Charlotte Maltby) may sound foreign to our ear (thanks to Dialect Coach Kate Glasheen) their charming and boisterous personality are a breath of fresh air amid the melancholy and gloom of Misselthwaite manor. Bartell has a satisfying voice as refreshing as a crisp spring breeze, particularly when he gusts in for "Winter's on the Wing." Ignited with a passion that's fueled by pure sunshine his enormous sustains and bold personality are the perfect burst of life needed in the dreary gardens. Complimenting Mary Lennox in both "Show me the Key" and "Wick", Bartell continually radiates light into these numbers with his powerful voice.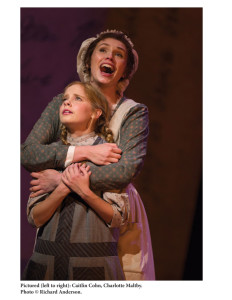 Maltby is a class-act character. Bursting at the seams with spunk and pizzazz, Maltby brings an equally vibrant life to her portrayal of Martha, particularly when it comes to young Mary Lennox. Her rendition of "A Fine White Horse" is a boisterous and bold outpouring of unbridled spirit. Delivering a playful spirit among the dreary somberness of Misselthwaite, Maltby is an active burst of color despite her drab attire, and carries an energetic enthusiasm about her, especially when engaging in even the most mundane activities of Mary Lennox.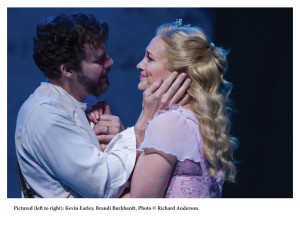 Providing deeply emotional conflicts to the tale both Dr. Neville Craven (Adam Monley) and Archibald Craven (Kevin Earley) contribute hearty robust voices filled with an incredible vocal and emotional range. Though Monley's character only receives one solo, the number, "Disappear" is an evocative ballad that unearths his perpetual turmoil. This, much like his verses shared in "Lily's Eyes" and "Quartet" are truly telling of his placement in the tale with deep emotional grounding that is terribly raw and unapologetic. Earley is an unyielding deluge of depression, articulated soundly in his initial solo of "A Bit of Earth." The emotional range and vocal sustains that Earley delivers are astonishing, particularly when it comes to his heartache so soundly delivered in "Lily's Eyes" and later in the duet, "How Could I Ever Know?" the song shared with Lily (Brandi Burkhardt.) A stellar soprano, Burkhardt lurks through the background like a memory lost to time and each of her moments both in song and in silence contributes to the show in a fashion most positive. Earley's portrayal of Archibald is both heartfelt and gut-wrenching, particularly in regards to the versatility of emotional grounding as displayed in "Race You to the Top of the Morning" and "Where in the World?"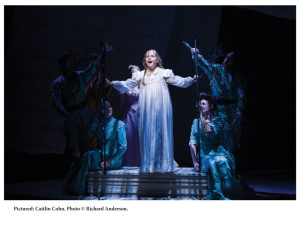 A haunted and troubled child arriving in an even more haunting and troubled place barely scratches the surface of Mary Lennox (Caitlin Cohn.) An impertinent tempestuous little bundle of explosive energy Cohn captures the epitome of the displaced child in her outrageous tantrums and sour disposition. Maintaining a perfect hold on her childlike voice both while singing and speaking, Cohn masterfully depicts the childlike nature of Mary Lennox while simultaneously bringing a matured song quality to numbers like "I Heard Someone Crying" and "The Girl I Mean to Be." Pairing with Colin (Anthony Frederick) the pair become an unruly bunch irksome little children particularly when they start sniping at one another. Frederick delivers a highly theatrical young child with a bitter edge sharp enough to rival Cohn's portrayal. Cohn, who shows both her ferocious and tender side to young Colin, is versatile, exceptional, and all around the perfect fit for the lost girl of the lost garden, keeping its secrets filled with mystery and intrigue.
Can it be true? Such a successful and evocative piece of musical theatre setting a blaze of passion and haunting wonder to conflagration upon the Pearlstone Theater boards at Centerstage? The Secret Garden has all of that and more wound up into this truly wondrous classic.
Running Time: 2 hours and
The Secret Garden plays through November 29, 2015 in the Pearlstone Theater of Centerstage— 700 N. Calvert Street in the Mount Vernon District of the City of Baltimore, MD. For tickets call the box office at (410) 332-0033 or purchase them online.