Brave Spirits' bold, ambitious, brilliant Henri IV continues its exploration of gender with Part II. Shakespeare often sadly limited the roles that women can play, both in their interactions with men and with each other. Brave Spirits asks, why can't a woman be a Chief Justice or a drunken sot, a warrior or a tailor? Where Shakespeare occasionally explores ways for women to be women, Brave Spirits explores ways for women to be people, in every aspect of humanity.
Henri IV Part II picks up where Part I left off. Northumberland must be told that her daughter, the valiant Hotspur, is dead. Claire Schoonover's heartbreak is palpable, the love for a daughter lost; her performance is both bold and nuanced. Brianna Manente briefly reprises her star turn from Part I, silently transitioning from Jill Coleville to Hotspur, doffing a skirt to don first a leather jacket, then a shroud, accompanied by a change in posture, an aspect that completely transforms her from a young lady to a stricken warrior, then a corpse.
Such transitions dazzle the Henri IV repertory. The cast of a dozen takes on a stunning array of characters. Jill Tighe is both the slow-witted, loose-limbed Girl, and the vicious, axe-toting, punk-inspired Prince Joan of Lancaster, among others. Amy Davis is the spluttering, shuffling Bardolph and the competent, confident Mowbray. Hannah Sweet is poignant as Hotspur's widow, and hilarious as the mousy Feeble. I have no idea how she pulled off being the quiet, thin-voiced, tailor while remaining completely audible, but she did. That scene brings out the whole company to show off their comic chops as country bumpkins for Jill Falstaff's army. Annette Mooney Wasno gets to show off her range, doffing the queenly robes to take on the braying Justice Shallow, long-time friend to Falstaff. Briana Manente is equally  hilarious as Mouldy, scratching her butt-crack and affecting the voice of a two-pack smoker. 
Hotspur is dead, but the plots against Henri IV continues. The ghost of Queen Rachel looms over this play, as both sides are acutely aware. Henri deposed her and took her throne, and as she nears the end of her life, that unorthodox (and maybe culpable) succession weighs heavily on her. Annette Mooney Wasno carries that weight, regal yet beleaguered. As Henri reaches her end, she must pass the throne off to her daughter Hallie. In Part I, Hallie shows off her potential to be Queen by killing Hotspur, but has returned to Falstaff's disreputable company.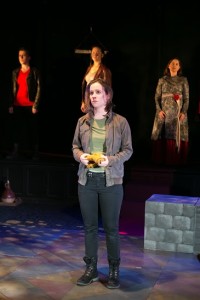 Karen Lange reprises Falstaff, larger than life both literally and figuratively. Lange embraces Jill Falstaff's low morals, flirting with both the hearty Dick Tearsheet (Carl Brandt Long) and twiggy Host Quickly (James T. Majewski). Long's Tearsheet is a remarkably masculine man, without changing the dialogue originally written for Doll. As Artistic Director Charlene V. Smith observes that the male roles could just as easily be women, various kinds of masculinity are woven into the lines given to women. Director Kevin Finkelstein and his cast have opened the women up to play roles that are lusty, shallow, disloyal, and bold. Lange's charismatic Falstaff greedily assumes that Hallie's accession to the throne means that she will soon be rich.
But Sarah Anne Sillers as Hallie, the new Queen Henri V, is having none of it. She has put off the foolishness of her youth. Sillers and Lange built up their connection through Part I, and when Hallie breaks it, Falstaff looks as though she's been punched in her voluminous gut. Sillers and Wasno are touching as they reconcile. As Queen Henri lays dying, she is surrounded by her daughters, a scene that takes on new overtones compared to a male Henry surrounded by his sons. This is a scene that could never occur in a more classically gendered production; we never get to see women interact that way. It's beautiful and tender, the cast deeply imbued with their characters even when the focus isn't on them.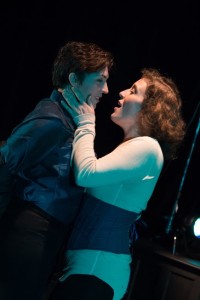 This play stands out among Shakespeare's histories for its deft mix of comedy into its drama. One particular standout is a comic fight scene between Jill Tighe's Girl and Nicola Collett as the bold, brash Pistol. The somber death of Henri is followed by the irreverence of Pistol telling Falstaff that the Queen is "dead as nail in door". Collett and Lange expertly handle the swing in emotional timbre. The cast keeps up the pace roller coaster of events careen from tragedy to comedy and back.
As if the challenges of comic and dramatic acting weren't enough, Finkelstein also adds music. His multitalented cast follow on a wide range of instruments, including Lisa Hill-Corley on violin, Long and Majewski cello and guitar, and Collett on trumpet (pestering Falstaff, reminding her of her age with a rendition of "When I'm Sixty-Four".) Sweet and Collett harmonize "Eli's Coming" while Hallie is overwhelmed by petitioners as she begins to take administration off Henri's hands. Sillers is silent, but her eyes speak volumes. 
Henri IV Part II is an ambitious achievement. The text isn't quite as enthralling as Part I; it takes a long time to finally get back to its core stories about Falstaff, Hallie, and Henri, and nothing fills the space left by the passing of the valiant Hotspur. The cast remains immensely talented, though the performances are a bit less polished and a tiny bit lower in energy than Part I. Still, their insight and creativity are just as potent, and the emotional payoff at the end is every bit as powerful. Dynamic and poignant, Brave Spirits covers every aspect of the actor's craft, with deep insights into Shakespeare, gender, and art.
Running Time: 2 hours and 40 minutes with one intermission
Henri IV Part II plays in rotating repertory with Henri IV Part I through November 22, 2015 at Brave Spirits Theatre at The Lab at Convergence— 1819 N. Quaker Lane in Alexandria, VA. Tickets are available for purchase at the door or in advance online.
Click here to read the review of Henri Part I