Football can be violent at times. Relationships can be too. Mix them together, add some beer and a little bit of Jewish humor, and you will get a taste of the Greenbelt Arts Center's Any Given Monday, by Bruce Graham. Directed by Ann Lowe-Barrett, this extremely dark comedy vacillates between amusing moments, surprising plot twists, and deep, philosophical ponderings.
The play takes place almost entirely in the den of a house in Philadelphia. Lenny (Bob Kleinberg) is the long-suffering husband of a philandering wife, Risa (Jill Vanderweit.) Fiercely loyal best friend Mickey (Mike Larson) is a crass subway employee who tries to push soft-spoken Lenny to express his anger about Risa's infidelity. Sarah (Sarah K. Scott), is Lenny and Risa's daughter and a college student trying to make sense of her family, her culture, and the world in general. With only four characters and a single set, there is always the possibility of the action becoming stale; however, with the tension of the story and the intensity of character relationships, this production avoids this potential pitfall with ease.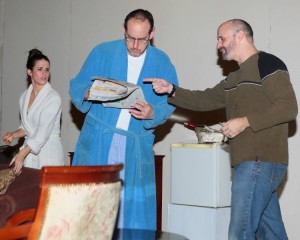 Bob Kleinberg, as the sorrowful but extremely kindhearted Lenny, does a wonderful job crafting his character with unexpected layers as the plot unfolds. As Risa, Jill Vanderweit adeptly portrays her character as a bored housewife who is finally coming to terms with the mistakes she has made in her marriage. With a gruff voice, a lot of nervous energy, and dashes of comic brilliance, Mike Larson masterfully brings the character of best friend Mickey to life. Sarah K. Scott, as daughter Sarah, is fascinating to watch as she winds her way throughout the play, at first full of youthful idealism, but then eventually coming to terms with her perception of how the world really works.
However, more than any one individual performance, what really makes this production shine is the obvious chemistry among the actors and their characters. The camaraderie between mild-mannered Lenny and loud, obnoxious Mickey is incredibly entertaining to watch. The love that Sarah has for her father is palpable and heartwarming. On the flip side, the connection Sarah has with her mother is somewhat strained and distressing. Lenny and Risa's bond is very complicated and could easily spin off into its own play. Navigating these relationships is the real meat of the play, and helps to keep the audience connected.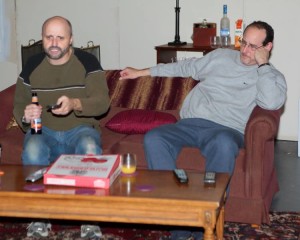 The set encourages this connection as well. Designer Katherine Andrefsky uses earth tones, muted and understated furnishings in the den – creating a prototypical "man cave." The lighting (designed and executed by Tommy Zanner) is warm and inviting, as well. The audience can feel at home there, and may even have the urge to put their feet up on the coffee table by the time the play is over.  
Final word? If you want to see a show with some depth that really makes you think about your life, the world, and your relationship to it, go see Any Given Monday. It's well worth it.
Running Time: Approximately 2 hours with one intermission.
Any Given Monday plays through November 22, 2015 at the Greenbelt Arts Center— 123 Centerway in historic Greenbelt, MD. For tickets call the box office at (301) 441-8770 or purchase them online.