Move over, Maleficent! A new breed of sinister sins and exquisite evil is sweeping into Shirlington as the world premiere musical Girlstar settles into Signature Theatre this fall.  A modern day fairytale with spunk and verve takes root in the Max Theatre of Signature's two-stage performing arts complex and is ready to entice the world into a new-wave experience when it comes to fairytale enchantment and modern magical realism. With Book and Lyrics by Anton Dudley and Music by Brian Feinstein, this zesty an electrifying new musical will wake up the girl-star in us all. Directed by Eric Schaeffer with Musical Direction and Vocal Arrangements by Adam Wachter, be prepared for the best voice will rise!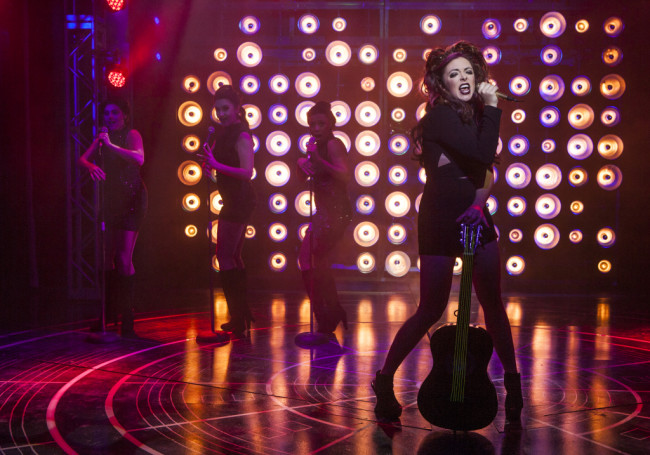 With a simple start of shadowy silhouetted video projections, designed by Videographer Matthew Haber, the story's groundwork is laid. A charming tale of sibling rivalry gone wrong through magic and explored in shadow against the sheer purple-lit scrims that shroud the stage in enigmatic mystery. Following this cleverly concealed expository narrative the show rockets into gear with the rip-roaring thunder of the show's score, a hybrid pulp of 80's rock modern pop and futuristic faces of music all blended into one stage-shaking sound. Thus begins the epic search for the next Girlstar.
Scenic Designer Paul Tate Depoo III sets the atmosphere for a punk-modern pop-retro concert, which is the best way to describe the bizarre but electrifyingly zesty music that fits into the performance vein of the show. In addition to the stark black staging with glossy reflective floors, Depoo adds posh flare into the New York-esque music studios of Daniella Espere and even more decadence to the sweeping pillars of the plaza suite scenery. The signature piece of Depoo's scenic work, however, is the villainous throne upon which Daniella herself takes up residence, a malevolent masterpiece that radiates evil fit for a wicked queen.
Enchanting the story with the essence of fairytale magic, Lighting Designer Jason Lyons creates two realities of illumination within the show— one that echoes the verve of a perpetual concert where the partying energy never dies, and one that is focused specifically on the whimsical, albeit nefarious, nature of the sorcery that flows through the show. With blinking strobing concert lights in wildly pulsating colors, Lyons carries the continual concert effect through a great deal of the high-energy scenes, driving the frenetic feel of the performances in these moments with gusto. Lyons' handle on the special effects lighting, especially in regards to the lurid green glow of evil that radiates from Daniella Espere herself every time she works her vile magic, is astonishing and exceptionally well timed. His ability to fuse lighting effects into specific moments for the exacting purpose of magical involvement creates a seamless harmony of reality and magicalism within the context of the show.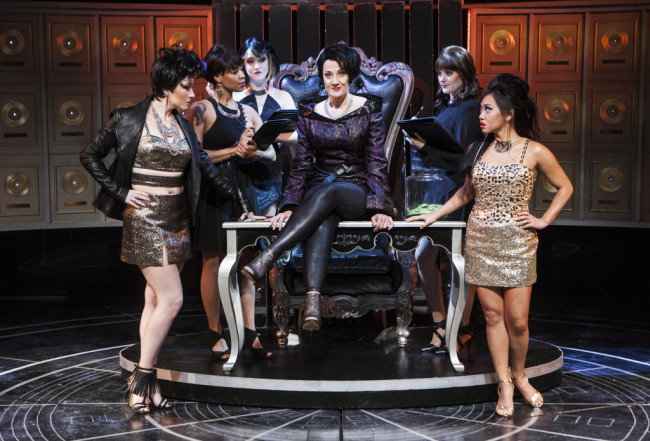 Defining diva style in radically evil couture has never looked so savvy until Costume Designer Frank Labovitz got his hands on the outfits for Daniella Espere. Creating shoulder accentuations at salient angles, each of the black and purple outfits fitted to the diva queen of darkness showcases her finest physical features giving the character both sexual appeal and an unsettlingly nasty appeal that is deliciously devilish. Labovitz also fits the glamourous pop-tart style of chintzy glitz to pop-persona Piper and the goth-queen glow to underground dancer Neela in their respective outfits. Overall the stylish costumes really fit the bill for this glamour-rock musical.
Brian Feinstein's music is edgy, delivering radical new sounds throughout the work. Anton Dudley's book and lyrics, however, are at times esoterically steeped in their own essence and some of the lyrics, particularly toward the end of the musical, feel somewhat trite. The concept of the show on the whole is unique and excitingly new, something that has yet to traverse the stages of musical theatre in this heightened age of screen-to-stage and musical-reboots. The love-interest angle, involving quirky character Jeff feels slightly under-developed, and the initial struggle between the Uncle Derek and Daniella Espere characters also feels slightly unfinished. These tweaking points aside, the show itself is a riveting journey of self-discovery, magical enchantments, and musical splendor from beginning to end with a dark and thorny twist winding through it like a devil's snare.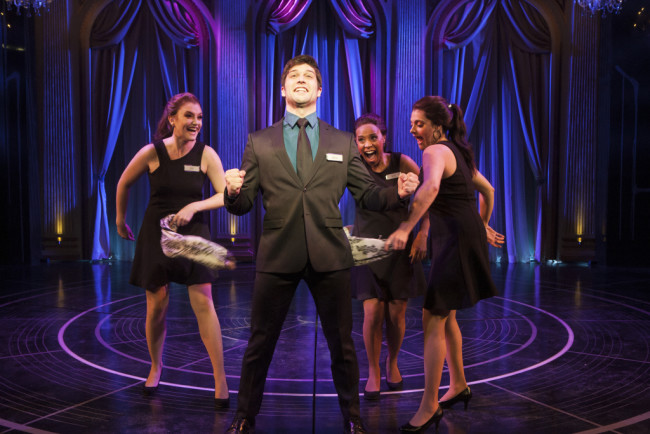 The one major disappointment in a show focused on finding a triple threat talent superstar is the lack of dancing. While Choreographer Lorin Latarro does have one number where the backup dancer girls are featured, though even in "What's the Word" the routine is extremely simplistic to the point of almost not-existing, there are dozens of other opportunities for Latarro to have infused scenes with her work. The style of dancing relegated to Neela (Jamie Eacker) as lacks vivacity. Eacker creates a brutal stage presence in her portrayal of the role, which is perfect for the tussles between her and the Tina character, however, given that her character is meant to be the best dancer in the country the moves assigned leave a bit more to be desired. Eacker's voice is vicious with a plucky bite for "Moves Like These" and her attitude sincerely covers the lack of Latarro's appropriate choreographic style.
Prissy Piper (Diana Huey) is a pungent little pop-tart that punctuates her moments on stage with deliberately darted zingers designed to drop Tina into her place. Huey, much like Eacker, possesses a frigid frost to her demeanor that makes her encounters with the starlet-to-be quite mean. Fulfilling her vocal duties with powerful bursts, Huey lays into her solo segments of "Your Espere" as well as "My Night." Accompanied by The Esperes (Kellee Knighten Hough, Nora Palka, and Bayla Whitten) for these numbers, Huey's voice definitely pops with pizzazz on some of the higher notes. Hough, Palka, and Whitten provide stellar backup harmonies for both the singing and dancing divas, and even serve as a cutesy trio of support for Jeff (Sam Edgerly) during "What's the Word."
Edgerly infiltrates the dark and tormented angst and villainous evil that dominates the plot of the musical with an invigorating infusion of delightfully dorkiness and sincere simplicity. The nerdy and nervous construct of his character is delivered to the epitome of quirky charm by Edgerly and it makes the romantic through-line of his character's tale radiate brightly amid the darkness that surrounds the show. Half prince charming, half word-nerd, Edgerly is all earnest in this role. "Get Used to This" his duet shared with Tina is sweet, albeit timid, but gives the audience a hint of his lovely voice. "I'll Follow You" and "New" are the duets that truly showcase his vocal power and emotional intent behind his singing.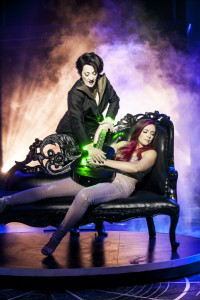 Blood is thicker than water, and it's even worse when it's tainted by evil. Masterfully delivering the most intensely villainous role to seize a musical stage in quite some time, Donna Migliaccio owns the role of Daniella Espere with rigorous gusto. Giving the role her all as far as ferocious feelings, terrifying tricks, and astounding attitude goes, Migliaccio inspires evil that puts Maleficent and Cruella De Vil to shame. Asserting power into her belted sustains for numbers like "One Eye Open" and "Your Espere", Migliaccio is a vocal blast of treacherous villainy and holds her own with sassy savoir-faire in sticky situations like "Isn't it Convenient", a duet shared with the disillusioned Uncle Derek (Bobby Smith.) Migliaccio puts the diva personality into this devil character and doesn't hold back, particularly when roaring out "Seal Your Fate II."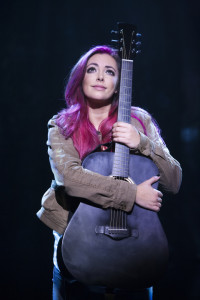 Transformed into a monster or turned into a star, one in the same for Tina (Desi Oakley.) The stupendously talented Desi Oakley not only sings the role with exceptional heart but lives in the moment of the tragically flawed fairytale protagonist. Surging through the changes of a teenaged orphan who just wishes to sing, to falling for the plaza hotel bellhop while contending with her evil-diva superstar aunt, Oakley successfully delivers a realistic portrayal of this storybook construct. Her voice is strong and well-tuned, delivering solid sustains that are bursting with emotion during solos like "Tonight" and "Brand New." Her eleven o'clock hour, "Who Would I Be?" is harrowing and soulful, filled with the vibrant resonance of her emotional and vocal range. Remarkably suited for the role she goes head to head with Migliaccio throughout the production for the title role of the show.
A fantastical new fairytale for the modern girl in the adult world, Girlstar is made of all that glimmers and will fast find its way into your heart as a new musical to enjoy.
Running Time: 2 hours with one intermission
Girlstar plays through November 15, 2015 in the Max Theatre at Signature Theatre— 4200 Campbell Avenue in Arlington, VA. For tickets call the box office at (703) 820-9771 or purchase them online.