Gotta bowl. Gotta whisk. Then there's nothing else but the recipes and chemistry and you. It's time for the 50th Annual Millberry Cake Off and the only missing ingredient is you in a seat at Signature Theatre this autumn to witness the spectacular new musical that is Cake Off. Debuting as a part of the Women's Voices Theater Festival, this stunning high-octane comedy is both hilarious and heart-warming, a true veritable rollercoaster of emotions in just 100 minutes of sensational singing and performing. Based on the original play by Sheri Wilner, with Book by Wilner and Julia Jordan, Music by Adam Gwon, and Lyrics by Jordan and Gwon, this delicious recipe for heartfelt entertainment will leave you fully sated after just one viewing. Directed by Joe Calarco with Musical Direction by Andrea Grody, evocative and exciting world premier musical is history in the baking!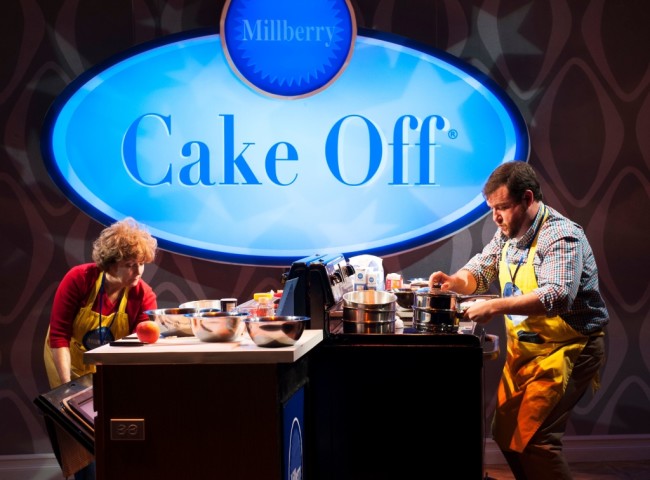 Playwright Sheri Wilner along with Julia Jordan have crafted a masterfully intriguing story about baking in the mid 90's that for all intents and purposes could simply serve as the fluffy icing of entertainment upon the large dessert cake that is theatre. However, much like more complex cakes filled with surprises and layers, Wilner and Jordan's work has a rich and fulfilling emotional depth and powerfully unique message embedded into the text that resonates throughout the performance. With earnest stories of emotional vulnerability folded delicately into the larger-than-life yet still completely believable characters of Rita and Paul, both Jordan and Wilner conceive a strikingly engaging piece of theatre in their tale, really speaking strongly of a woman's place in the world as well as the kitchen.
The simplicity of the music, as written by Adam Gwon, is part of what makes the production so impressive. Performed live by Musical Director Andrea Grody on a baby grand, Gwon's music wafts through the piece a bit like the aural equivalent of the scent of fresh baked goods rising from the ovens. Strong when necessary but ephemeral and airy in other places, the sounds synergistically blend into the words and overall aesthetic of the production, underscoring hints of palpable feelings during some of the more subdued solos and augmenting more intense emotions during bigger ballad numbers.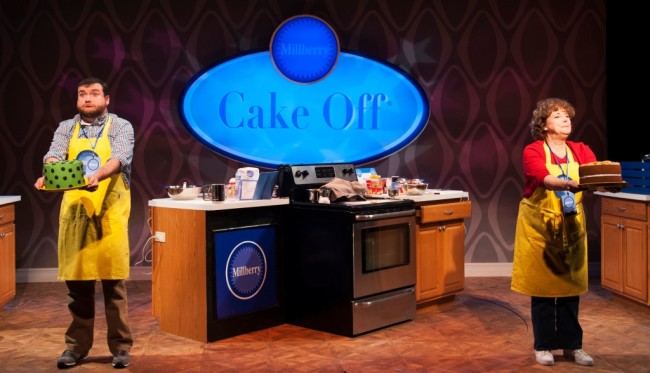 The authenticity factor of a live-televised-bake-off, or in this case "cake off" is drawn into the spotlight by Scenic Designer Jason Sherwood. With lots of warm family-friendly blue hues in the 'Millberry' logo, Sherwood sets an atmospheric vibe of quaint on the stove to simmer for the duration of the production. The rotating turntable just beneath the dueling kitchen construct is a genius move on Sherwood's behalf, not only because it allows the intimate house to view both sides of the kitchen catastrophes as they unfold, but because it creates glorious tension and emotional build-up while it rotates during several of the musical numbers.
Director Joe Calarco focuses on the emotional tensions of the characters, not only between each other as Rita and Paul face off in the competition, or with the obnoxious attention-whoring Jack DeVault, but with the relationships they have outside of the cake off. Calarco's keen vision of simply telling the story for what it is allows all of those moments ripened with humor, sweetened with victory, or soured with defeat to rise to the forefront of the audience's experiential absorption. Working alongside Musical Director and Pianist Andrea Grody, Calarco and Grody pair acting perfection with vocal amazement to achieve a stellar show. Grody's ability to accentuate deep harmonious blends and builds during various duets throughout the piece is a noteworthy component of her musical directorial abilities.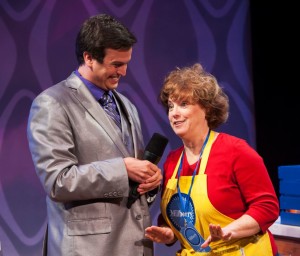 Stealing the show throughout the 100 minutes of entertainment with his three zany and wildly unique character portrayals is actor Jamie Smithson. Appearing first and repetitively as Cake Off host Jack DeVault, Smithson delivers an obnoxious personality that is a hilarious homage to the male-dominated program hosting of the mid 90's. It's his character work— first as Lenora Nesbit and then as Nancy DeMarco— that really turns heads to his astounding talents. Fully embodying the tangy sophisticated personality of 1962 Cake Off winner Nancy DeMarco, Smithson delivers "Be a Little Sweeter" with classy panache and an almost sultry voice. Appearing as a precious southern mess when portraying Lenora Nesbit, Smithson pulls faces that are just a scream, and goes gaga with girl-pride during "Fun." A complete hoot throughout the production, Smithson's singing voice blends brilliantly into the trio number "If I Won," but it's really the character work that takes the cake.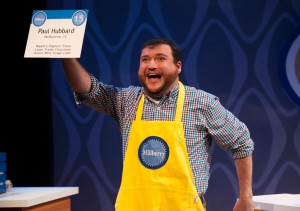 Paul (Todd Buonopane) wins the award for eager-beaver father of the year. Buonopane's enthusiastically driven performance paves the way for his gregarious nature as the show unfolds, making it that much more profound when his personal struggles are exposed in numbers like "Less Like Me." This heartfelt and haunting ballad unearths the deeply emotional and gooey core of his character's inner being in such a profound and beautiful sounding fashion. Blending decadently over and through harmonies with Rita during duets like "Simpler (Round Two" and the trio of "If I Won," it is easy to feel every emotion that Buonopane's character experiences as he delivers them so soundly. Comic but sincere, Buonopane's story comes to a perfectly packaged conclusion with all of the perfect sentiments echoed throughout his tale.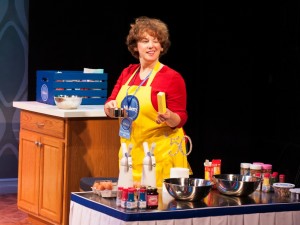 Rita Gaw (Sherri L. Edelen) isn't baking your mamma's apple pie. A surefire sensation in the role, Edelen owns every moment of her time spent on stage, whether it's in the tumultuous upheaval of her own personal pathos or the tension-wound experience of being a third-timer at the cake off. Delivering a masterful presence on the stage, Edelen owns the role with ferocious pride, especially when it comes to standing her ground— or in some cases rediscovering it. With a stellar voice perfectly suited to each of the musical numbers, Edelen sets a delicious blaze rolling all through the kitchen even when she's triumphant in her confidence and not spastically exploding over distractions. "You Can't Have This (Round Three)" is a thunderous roar belted out from Edelen's soul as she goes for the jugular with both barrels blazing. The resulting throw down is nothing short of astonishing. Juxtaposing that explosive moment against her earnest and dynamic rendition of "Transform" it is plain to see that Edelen is prize-winning choice for the role.
The heat is on in the kitchen and you won't want to miss it! Signature Theatre is rising to the occasion and delivering exceptional quality in this world premier musical. Don't miss your chance to see the showdown of the ages, the battle of the sexes— in the kitchen— and a deeply moving, wildly hysterical, and personably intimate musical that will touch your heart, tickle your funny bone, and move your soul.
Running Time: Approximately 100 minutes with no intermission
Cake Off plays through November 22, 2015 2015 as a part of the Women's Voices Theater Festival in the Ark Theatre at Signature Theatre— 4200 Campbell Avenue in Arlington, VA. For tickets call the box office at (703) 820-9771 or purchase them online.