You're going to have some kinda time at Red Branch Theatre Company this fall as they swing their way into the season with Dogfight, a musical with Book by Peter Duchan and Music and Lyrics by Benj Pasek and Justin Paul. Directed by Stephanie Lynn Williams, with Musical Direction by Dustin Merrell, this evocatively haunting and tragically beautiful musical shows the caliber of talent that RBTC possesses when mounting a show. With a gripping story that will tug fondly at your heartstrings, the reality of war and love comes to the forefront of the mind in this powerfully moving musical.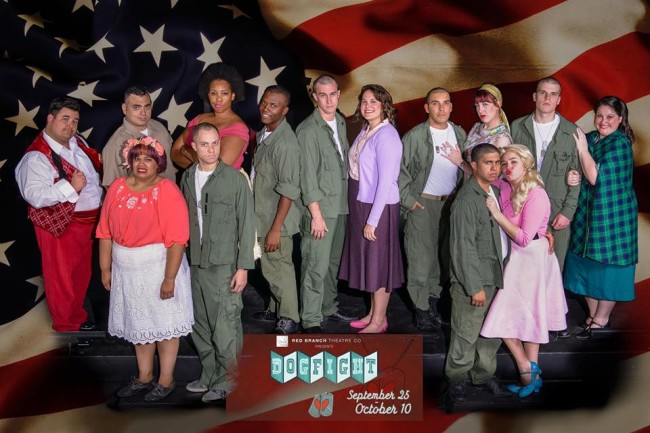 Working in the intimate proscenium of the RBTC space, Scenic Designer Heidi Castle-Smith really pulls out all the stops to make the musical maintain its locational functionality as well as have a subdued and pleasing aesthetic. Castle-Smith's most stunning piece of set-work is the elevated turntable that serves as a silhouette of San Francisco and the inside of Rose's bedroom. The wooden bridge like scaffolding that crosses the stage allows for scene elevations as well, creating a more dynamic play space for the character throughout the performance.
Lighting Designer Lynn Joslin follows through with emotionally dramatic lighting on Castle-Smith's well-crafted scenic work. Joslin captures the epitome of tragedy and terror during the war-blowout scene later in the production, with precision timing against the horrific matching soundscape that underscores the moment. Her subdued ghost-like lighting which teases in moments of memory and recollection are handled with a subtle touch and effuse natural feelings into the moment rather than forcing them with a harsher approach. A true gift to understanding the emotional undertones and overtones of a moment on stage, Joslin matches the thematic moods of each scene with simple uses of color washes and fades so that the earnest emotional resonance can radiate from the music.
The couture of the late 50's slides easily into place in the hands of Costume Designer Ashley Thweatt. Sharp marine uniforms for the boys who are about to deploy, and simple dresses for the women of the time clearly convey the story's time period. The plethora of dresses that are laid out for Rose to choose from are perfectly matched to the show's era and her lack of fashion sense, particularly the puffy maroon lace number that she wears to the party. Thweatt has a handle on how to keep the look simple yet period-appropriate and this enhances the overall aesthetic of the show.
Director Stephanie Lynn Williams has a keen understanding of how to block on a multi-leveled intimate stage. Williams keeps the show moving with simple scene changes and transitions of spaces so that the audience maintains their interest in the story as it unwinds. Serving as the show's Choreographer, Williams finds little places to work dance routines into some of the larger group numbers. Though the Choreography lacks in overall precision and clean execution, it's enthusiasm and intention makes up for its less than perfect formatting.
Musical Director Dustin Merrell finds gloriously harmonious sounds among the ensemble. Powerful, striking sounds that reverberate through larger group numbers like "Some Kinda Time" and "Hey Good-Lookin'" set the energetic tone and enthusiastic mood of the show early on. A master of harmonizing, particularly in smaller trios like "We Three Bees" or duets like "First Date, Last Night," Merrell showcases his ability to find the natural sounds of the songs, well imbued with emotional connections, and augment them through these blended moments as written by Pasek and Paul.
The ensemble is strong of voice and general character. The women of the ensemble particularly, who each take up their own cameo characters in turn, have stellar voices, which are showcased during "Transition: Take Me Back." Ellie Borzilleri, Erin Branigan, Hannah Fogler, and Kelsey Jenkins all work their characters throughout the performance, but none so hysterically as Jenkins during both "Hey Good-Lookin'" and the dance scene during "Blast Off" and "That Face." Jenkins becomes a scene stealer with her desperation not to dance and vividly animated facial expressions trying to resist all that is happening at the marine party. The male ensemble creates a rugged sound. James Haberkamp, Jonathan Miot, Michael Nugent, and Danie Rodriguez join the strong-arm sound of the Marine Corps during "Some Kinda Time" and "Come to a Party" as well as "Hey, Good-Lookin'."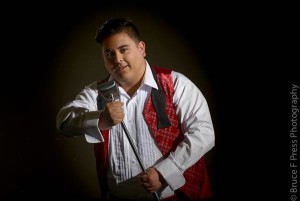 With a crooner's voice, Rick Westerkamp is the ideal casting choice for the Lounge Singer/Waiter role. Getting a moment to play out his lovely vocal ability during the party with tunes like "Blast Off" and "That Face", Westerkamp soothes the swooning into the atmosphere of the evening. The other supporting role featured in the show falls to that of Marcy (Tierra NiCole.) With a sassy attitude that radiates off her in zappy waves, NiCole owns her portrayal of the sniping vixen that is Marcy. Given a chance to show off her talented vocal ability during "It's a Dogfight," NiCole blares her sassy nasally sound through the upper register of this number, and really lands the intention of the way it impacts her character.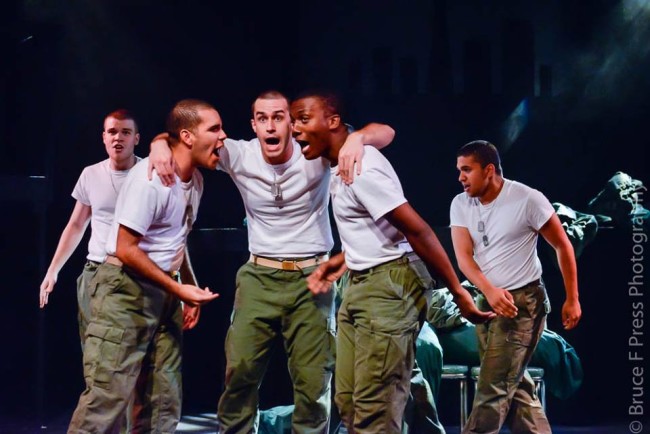 Two of the three bees, Bernstein (Javier del Pilar) and Boland (Solomon Parker III) bring sturdy harmonies to the trio when they get to singing with Birdlace (Christian Hoff.) Though never receiving solos outside of their trio songs "We Three Bees" and "Ticker Tape Parade" their voices are relentless in delivering perfect pitch, beautiful blends, and an overall sound that makes them fit the casting of this show with ease. Solomon Parker III adds a moxious uppercut to his character's delivery while del Pilar has a smoother and subtler approach to his jarhead nature.
Christian Hoff, as the leading man, has a sweet and sincere voice that does exceptionally well throughout the performance, particularly when paired against Rose (Courtney Branch.) His attitude shifts dramatically throughout the production, resulting in a moving and dynamic portrayal of Eddie Birdlace that really grounds the character in his emotions. Duets shared with Branch, such as "First Date, Last Night" and "Come to a Party" reflect in earnest the varying levels of beautiful chemistry articulated between them. His harrowing and heartfelt solo during "Prelude: Take Me Back" and "Come Back" are truly heartbreaking and showcases Hoff's ability to unearth the raw emotions of the character, making them readily accessible to the audience.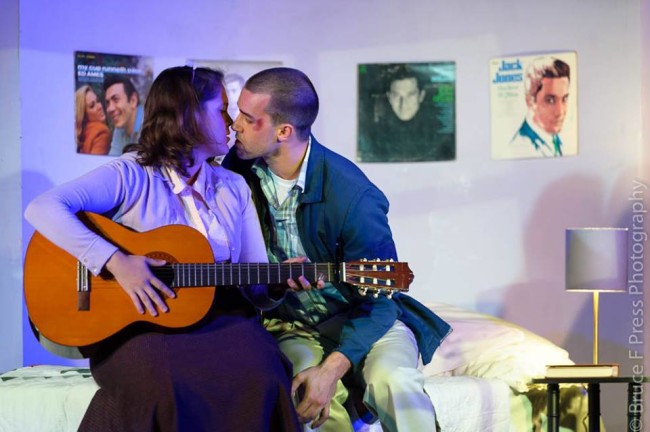 Branch, as the leading lady, takes the audience through her story and her journey with a rollercoaster of emotional expressions as well. "Nothing Short of Wonderful" is an exciting and thrilling song, delivered with sweet nerves and excited fear that really make her portrayal of Rose emotionally vulnerable. Branch's melodic voice never falters, even when infused with anger during "It's a Dogfight" or the bitter morose remorse that is so pristinely felt during "Pretty Funny." A remarkable talent in the role, Courtney Branch delivers an exceptionally honest Rose and makes the show well worth attending.
Truly beautiful, a haunting and stunning message that floats melodically along throughout the story, Dogfight is well worth seeing, and certainly worth enjoying with the astounding talent that finds itself upon the RBTC stage.
Running Time:
Dogfight plays through October 10, 2015 at Red Branch Theatre Company at the Drama Learning Center— 9130 Red Branch Road in Columbia, MD. For tickets call the box office at (410) 997-9352 or purchase them online.