To live you have to love. And you will love the musical odyssey that takes to the stage of The John F. Kennedy Center for Performing Arts this summer as Once lands in the Opera House starting July 7th. Based on the motion picture Written and Directed by John Carney with Book by Enda Walsh and Music & Lyrics by Glen Hansard and Markèta Irglovà, this strikingly beautiful performance captures the heart and soul of what it is to be a human being alive and in love. Possessed by music, driven by passion, and moved by emotion, Once is a journey that can only be experienced and never truly forgotten.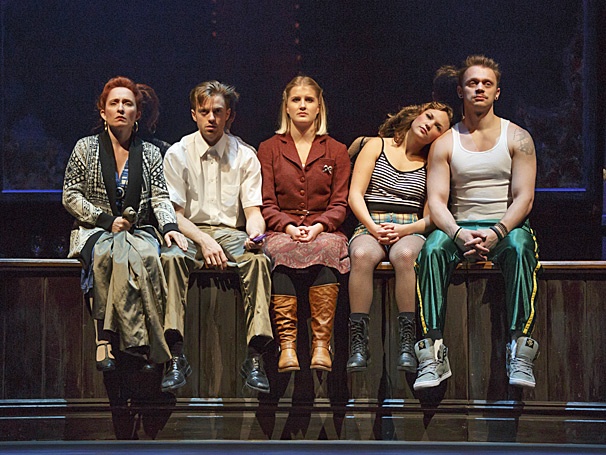 Like everything about the musical, there is a delicate fluidity that flows beneath the surface and this is no exception when it comes to the scenery or the thematically intensive lighting as crafted by Scenic Designer Bob Crowley and Lighting Designer Natasha Katz. Simplicity is their strongest hand when it comes to physical space, the rustic charm of an old pub arc serving as the main set piece upon which the show is built. Layering in a subtle hint of symbolic reflection the back wall of the structure is lined with mirrors, allowing for pensive contemplation over the reflection of life on the whole. Katz highlights moments of emotional intensity with a delicate touch and ensures that the audience is welcomed wholeheartedly into the journey by keeping the houselights at full until halfway through the opening number.
Deliberate fluid movement that defies description ensconces the piece. Poetry in motion, music as dance and dance as sound all come together under the choreographic visions of Steven Hoggett. There is something beyond words occurring when the ensemble takes to moving, particularly through the scenic transitions from one moment to the next. The ensemble move individually and yet simultaneously as a collective, a truly remarkable and fascinating phenomena to behold. Stories are woven seamlessly into their body language. Hoggett creates a synergy between music and motion, the result of which is what can only be witnessed in the production.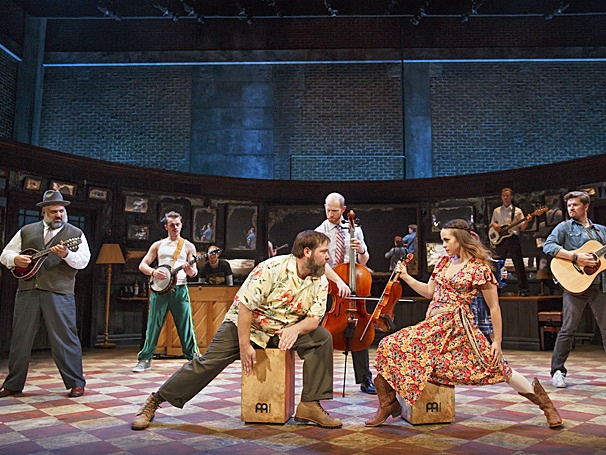 It may be the world's oldest love story, one guy and one girl, but the players that ultimately surround these two individuals bridge the gaps and fill in the spaces as the story progresses. Every member of the company is not only a singing performer but one with the amazing capability to play at the very least one instrument. With ten astonishing members of the company outside of the basic couple, the sound they create for numbers like "North Strand" and "Ej, Pada, Pada, Rosicka" are astonishing, filled with vocal strength and blazing with passion.
No love story, regardless of how tragically beautiful, would be complete without a comic shmuck to provide levity among the gravity of heartsick emotions. Once has Billy (Evan Harrington.) Vibrating with a larger-than-life energy, a great deal of earnest amusement is derived from his shenanigans throughout the performance, particularly when he attempts to strong-man his way into Girl's situations while simultaneously trying to shut down Guy's. Balancing his comic outbursts so that they find a settled nature among the bittersweet verve of the show, Harrington fits the bill for comic relief in the show.
Stoic and ferocious Baruska (Tina Stafford) also adds her own darkened sense of humor to the story. While Stafford has no featured musical solo her voice is easily recognizable when delivering deep sturdy sounds that echo in the ensemble numbers. Fine tuning her character delivery to a stereotypical portrayal of a serious matriarch— simply because she is Czech— Stafford is mesmerizing to watch in her rigid and yet somehow graceful sweeping motions during ensemble shifts of dance. Other noteworthy performances include the fiery and sassy Erica Swindell who plays the violin and the cheeky Rèza. Matt DeAngelis also deserves a nod for his zany character portrayal as Svec.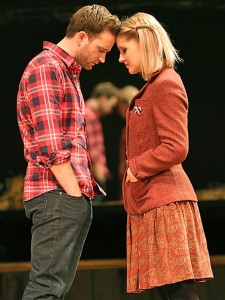 Dani de Waal carries the female lead role of this performance with grace and gusto, never sacrificing one for the other. Her accent (as coached by Stephen Gabis) is an endearing affectation that highlights the moments of humor in her quirky and displaced character. With a remarkably powerful voice that harbors a great many emotions, de Waal soars to sensational heights in the role. Her only featured solo "The Hill" is breathtaking and brilliantly sensual.
The sheer passion shared between de Waal and Ward is nothing short of hypnotizing. Her piano, his guitar; her joy, his sorrow; when their voices blend together for the first time in "Falling Slowly" it is sublime bliss blending through the ether. Emotions swell, chemistry blossoms, and the pair feed off one another physically, vocally, and emotionally. "If You Want Me" reverberates like a tragically beautiful lullaby with Ward's background harmonies charging the song with and unearthly yearning of souls that transcends the lyrics and emotional intonation of the song. "When Your Mind's Made Up" is another gorgeous vocal moment between the pair that unveils the broken shards of their shattered souls.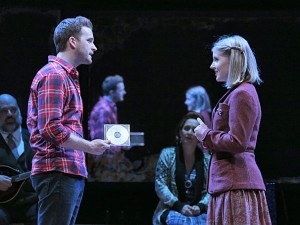 Stuart Ward as Guy is enchanting. He opens the show with a dam-burst of emotions surging out of "Leave." Every moment of every song appears to be driven from a deep well of emotional connectivity residing far within the unfathomable depths of Ward's soul. "Say it to Me Now" is riddled with soul-searing determination. Leading the ensemble into the Act I finale, Ward delivers the most mesmerizing infusion of music and movement during "Gold," a truly haunting and gorgeous moment. Stellar and striking, stunning, and sensational, there are simply not enough words to thoroughly describe Stuart Ward as the Guy in the popularized love tale that is Once.
Running Time: 2 hours and 30 minutes with one intermission
Once plays through August 16, 2015 in the Opera House of The John F. Kennedy Center for Performing Arts— 2700 F Street NW in Washington, DC. For tickets call the box office at (202) 467-4600 or purchase them online.