America is a promise. A promise of hopes and dreams and live theatre at your fingertips. The Vagabond Players are all American, not only because they're approaching their 100th anniversary season, but because they're participating in the 2015 Baltimore Playwrights Festival with an area premier of a political zinger. And as the play says— politics is theatre, all that matters is that you say "here I am! Look at me!" Mario Correa's Commander takes hold of the stage giving local stage manager Chelsea Dove her full-length Directorial Debut in this poignant dramedy of sexuality in politics. A pivotal script that poses the question— as America ready for its first gay president? The delight is in the acting.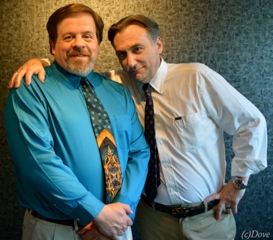 Scenic Designer Roy Steinman and Lighting Designer Charlie Danforth keep things exceptionally simple as far as their designer elements go. This is a two-fold service to the production as it allows for ease of transitions during scenic changes and for the focus of the production to be on Correa's story and the intricate characters he has written. Danforth does include several patriotic projections that reflect nicely against the all-too-American blue tone of Steinman's walls. The overall sharp execution of quick up-and-down lights for seamless crossfades between scenes works exceedingly well in the first act of the show, but falters somewhat in the second act.
Playwright Mario Correa delivers up a well-penned politically charged dramedy that calls for closer examination to the relationship of politics. While the play does focus around the notion of the first gay would-be president, the more dominating issue here is relationship acceptance in the public eye. Correa uses homosexual acceptance as a vessel to move his idea along without making the subject matter a soapbox platform upon which to stake a political agenda. Poignant and heartfelt questions arise in Correa's work: what sacrifices do we make in our personal relationships in order to pave the way for our professional cause? Very clearly displaying the notion that the personal life of an individual running for president is political, Correa's work sparks a great deal of interest just one year out from the presidential elections.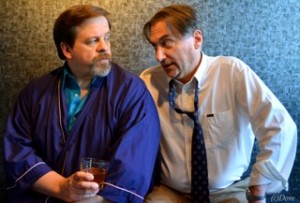 Correa has a knack for developing characters, particularly those in supporting roles. The way he pens the dialogue for the gritty and crass Frank DeSantis, the political campaign manager for the charming Ned Worley, is peppered with visceral zingers that really smack of backwards stereotypes. Correa's overall balance of inappropriately laced stereotypical humor falls perfectly in line with the heavier sentiments of the show, all of which arrive in their time without feeling as if they've been forced into place. Overall the construction of the show feels polished, Correa's work engaging the audience and keeping their attention throughout. Filled with ripe political jibes that encompass a shallow segment of our recent history, Correa has humors suitable for both parties in this work.
Making her full-length Directorial debut with Commander, Chelsea Dove sets to the task of articulating her vision of a new play on the stage. A solid attempt, which is mostly well-received, Dove's only faltering moments fall within some of the blocking. Though the stage is laid simply there are several moments when actors cross up or downstage and over the horizontal plane that feel clunky and occasionally arbitrary and at times the invisible scenic delineation that separates campaign headquarters from Ned Worley's home or living space is ignored when actively in one scene or the other. Dove does, however, keep an exceptional pacing througho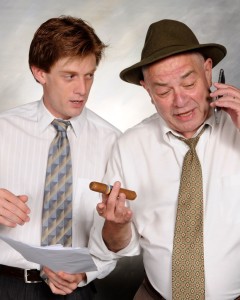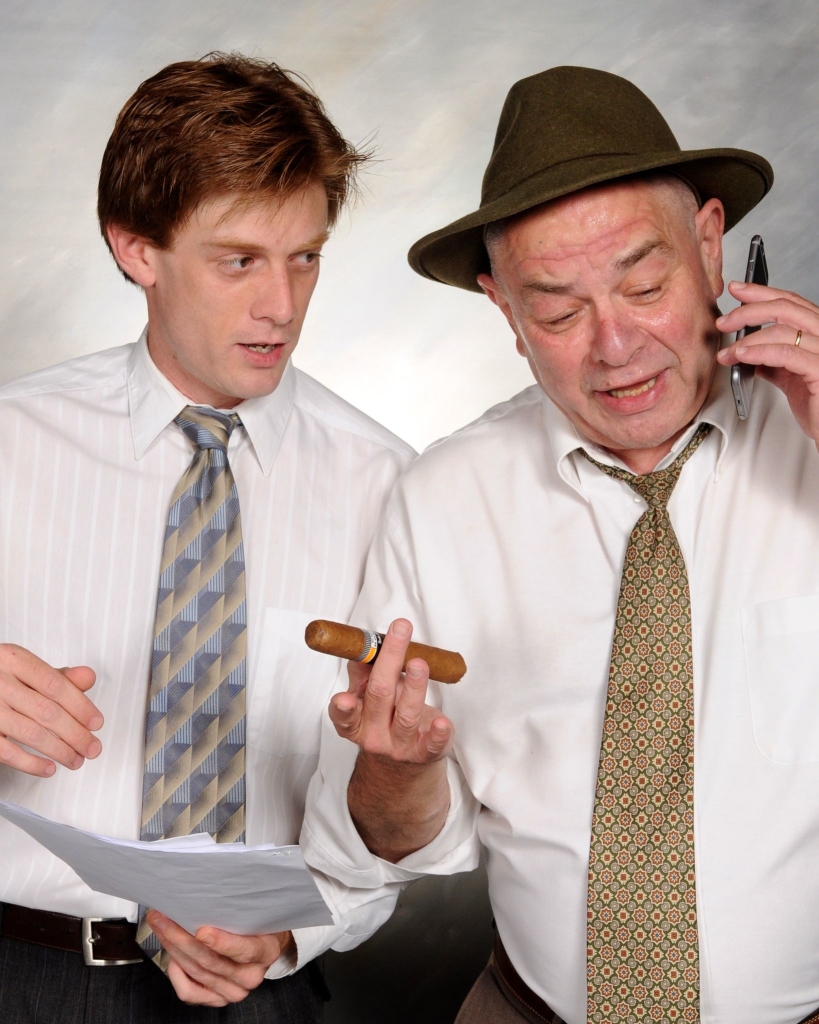 ut the performance particularly when it comes to the crossfades of the scene changes in the first act. Dove layers her vision of the flamboyant homosexual stereotype onto the character of Richard Gilly and in many places this works quite splendidly for the situations that arise throughout the show. A sturdy starting in the directorial realm, Dove achieves success with this production.
Though appearing only briefly as a member of the campaign team, Zack Maines (David Shoemaker) is a character worth noting, if for nothing else but the pivotal connection that Correa writes into his scene with Richard. Shoemaker has deliciously active facial expressions, which are crucial to his character as a great deal of his responses are silent and reactionary rather than vocalized and expressed through text. Connecting to the characters and the text on baser and more simplistic human level, Shoemaker tries to keep the piece throughout, developing a strong emotional bond with the Richard character early on.
The exact opposite of the PC-appropriate and mildly-mannered Zack is the bombastic blasting campaign manager Frank DeSantis (Jeff Murray.) A right slippery scum with a mouth and a temper rivaling for which is fouler, Murray owns the role and is often a scene-stealing explosion every time he roars. The epitome of an uncouth ball-basting ruthless political adviser, Murray delivers zinger after biting zinger when it comes to slinging around the truth of the matter. Right down to the flamboyantly executed mockery of the men he's representing, Murray owns the role with vigorous gusto and receives a good deal of laughter from the audience every time he spouts of with an F-bomb or some other outrageous thing.
The intimate dynamic between Governor Ned Worley (Mark Scharf) and his long-term partner Richard Gilly (Thom Sinn) is immediately established even though Richard isn't immediately introduced. There is a tenderness that exists between the pair, even in moments of anger, and especially in moments of doubt. Scharf and Sinn play exceptionally well off one another, reading each other for the precise moment of acceptance and response in their dialogue exchanges. Their emotional connection, even when its volatile, is unbreakable and both gentlemen carry the surging energy of their relationship high like unyielding torches in the name of what their characters believe in.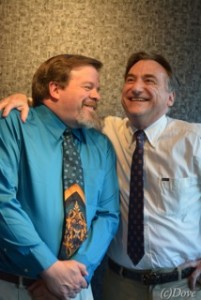 Sinn starts with just hints of flamboyance in his portrayal which grow exponentially as the situation unravels around him. Flippancy and irreverence become the tools of his delivery and he works the angles of his emotional turmoil when it comes to his opinions and feelings and wanting to have them heard and felt. Sinn presents a remarkably simple affectation to his voice, just enough to pander to the stereotype of a more feminine sounding vocalization without overdoing it to the point of being a mockery or caricature. Fully encompassing the weight of Richard's jealousy and insecurities, Sinn delivers a dynamic portrayal that serves the character a great deal of justice consistently throughout.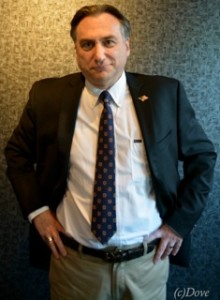 Knowing what it's like to fight for the American dream, Mark Scharf delivers a striking and stellar performance as Governor Ned Worley, the nation's first gay would-be president. Earnest and raw in his sensibilities there is a dramatic tension that frenetically burbles just beneath the surface of his textual delivery. There is a lyrical quality to his line delivery, particularly when pitching his perfectly polished campaign speech. Scharf eats Correa's sentences with a decadent silver spoon, oozing with glamourous charisma that dazzles the audience when he's putting on his political face. Juxtaposing the creation of this well-oiled political figurehead against his grittier internal side, Scharf delivers surprisingly brutal emotional outbursts, particularly against Richard and going so far as to hold his own in a shouting match with Murray's character late in the play. Laying all his cards on the table after the interview scene, Scharf captures the essence of Ned Worley's true existence in that scene, a harrowing confession of what really matters to the man.
An engaging work with superior talent to flesh the characters into living beings upon the stage, Commander is the show worth seeing at the Baltimore Playwrights Festival this season.
Running Time: 2 hours and 5 minutes with one intermission
Commander plays through July 26, 2015 as a part of the Baltimore Playwrights Festival at the Vagabond Players— 806 S. Broadway in the heart of Fells Point in Baltimore, MD. For tickets call the box office at (410) 563-9135 or purchase them online.
Click here to read the exclusive interview with Director Chelsea Dove and actors Mark Scharf and Thom Sinn.