Nunsense! It's habit forming! It's hilarious! It's a last ditch effort to get those poor nuns out of the freezer and into consecrated ground where they belong! A new group of characters comes along to the "Imaginative Interview" series. This time TheatreBloom is going to get to the bottom of what's happening with the Little Sisters of Riverdale (generously hosted by the Wolf Pack Theatre Company in their current production of Nunsense) and hear all about how those unfortunate nuns ended up in the freezer and just exactly how they'll be gotten out. TheatreBloom's first stop is with Sister Julia, Child of God. Hopefully she'll be able to shed some light on the matter.
Sister Julia, thank you for joining us today!
Sister Julia, Child of God: Actually it's Sister Julia, Child of God. But you're welcome. Happy to be here.
Right. So, Sister, tell us what you're doing with the Little Sisters of Riverdale.
Sister Julia: I'm a professional chef. I trained in France at the top culinary academy in the Rue de Toilette. That was when I got my call to become a nun. I joined the Little Sisters of Riverdale and became their cook.
You came all the way from France to be a part of the Little Sisters of Riverdale?
Sister Julia: Yes. The Lord works in mysterious ways. Don't believe me? Ask his holiness.
Alright then. I hear some things about your cooking. Are you a good cook?
Sister Julia: Oh of course. I just said I trained with the best. In France. Remember?
Right. Now you're here, you're the cook. And there was an unfortunate incident. Can you tell us a little bit about the incident?
Sister Julia: Well I'm sure you already know that a large number of our sisters very unfortunately passed away one evening. There are those who would say that it was because of the soup that they were eating, but that has simply not been proven, and I'm certain that it simply isn't true. I'm an excellent chef.
Was the soup that they were eating was a soup that you had cooked?
Sister Julia: Yes. I cook everything. I'm the only one in the convent who can cook. It was a most delicious Vichyssoise soup. Now, every chef knows that you're meant to eat that sumptuous puree cold. If those ridiculous— I mean…if my dear darling sisters heated it up and somehow met their unfortunate demise therein? That's not my fault. It's one of my convent specialties and I've never had a problem with it before. Perhaps Sister Amnesia took it off the stove and put it in the washing machine. She's forever forgetting what to do and what not to do.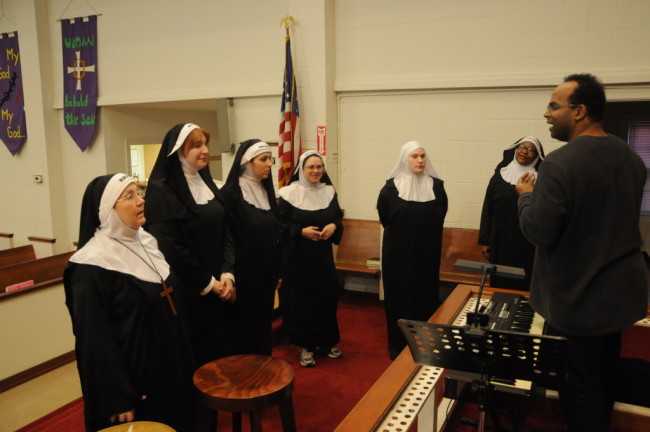 Do you like cooking?
Sister Julia: Oh yes. It is my specialty. It is my calling. Well, my other calling. The nun thing, that's my calling. The cooking comes second.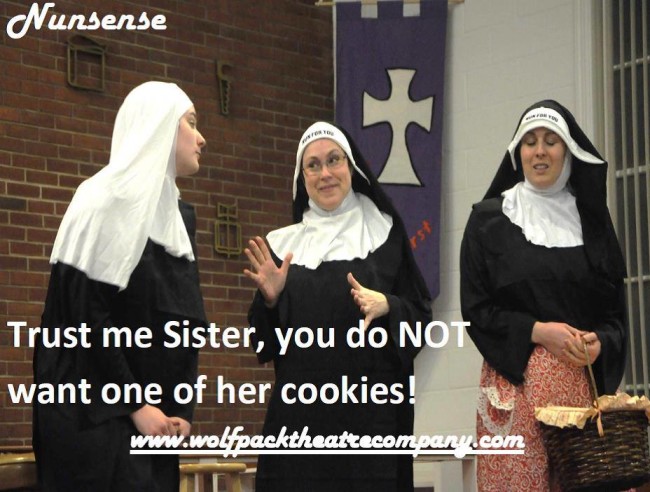 Now the other sisters teach classes, do you teach any classes, maybe home economics?
Sister Julia: Who still teaches home economics? But no. No, no. I don't teach. Those children have enough to learn with their physical education, and how to read the bible, and all that. There's no time to be teaching them how to cook. That's a skilled art that takes years of training! Not 55 minutes twice a week in the back of the convent kitchen.
You were out with the sisters playing Bingo the night of the incident?
Sister Julia: Of course. We always go to Bingo, that small contingency. And we're good at Bingo, usually. What nun doesn't like Bingo?
What does it mean for you to be a nun?
Sister Julia: Well it means to do God's will, which is the noblest goal that one can aspire to. Followed closely by cooking.
Not that nuns should have a favorite vow, but which of the vows is the one that really speaks to you?
Sister Julia: I would say Charity. It's just what I've been drawn to. I'm a giver. Which is why I give my gift of culinary perfection to the Little Sisters of Riverdale.
I see. Now, I understand that there was an unfortunate mishap with those unfortunate dead sisters, which is why you guys are doing this talent show. What happened?
Sister Julia: After the sisters turned up their toes, and we were in the process of burying them, Reverend Mother misallocated a portion of their burial money into a plasma television for the convent. This left four sisters unburied now— well, I don't know if I'm supposed to say where they are. Ask Robert Ann, she's good with gossip.  
What in the world does a convent need a plasma TV for?
Sister Julia: Well we certainly aren't getting the cooking channel, but we don't usually question Reverend Mother. If you wanted to know why she picked a big screen over four coffins and a grave digger you'll have to ask her.
Okay! So what are you doing in this talent show?
Sister Julia: I do a little singing and dancing in the group but mostly I'm here to provide refreshments. And I'm doing a segment— a cooking demonstration— with some of my favorite recipes from my favorite cookbook, the only cookbook I'm permitted here in the convent, Baking with the BVM. And for those that don't know, it's Baking with the Blessed Virgin Mary.
Reverend Mother told me that each of you sisters were provided a musical theatre instructor to help you prepare for the talent show. And you were working with Melanie Pinot-Elliot. What has it been like working with her?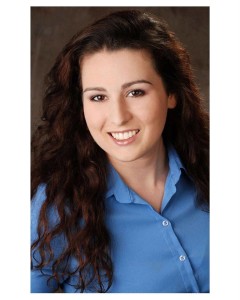 Sister Julia: Well, she can be demanding. She's very focused on the details, hitting the right notes, saying the right lines, that sort of thing. But it's not that different from cooking. Making sure you use the right ingredients and follow the correct instructions. Other than that, she and I are very different.
They tell me that if you guys raise enough money to bury the other four sisters, and there is money left over that it will be going to a few local charities: Bountiful Blessings and Men Against Breast Cancer. What do you think about that?
Sister Julia: I think it's wonderful. We did take a vow of Charity.
What would you say to people to help get them interested in coming to see this show?
Sister Julia: It's a very entertaining show. Nothing better than nuns singing and dancing. We're here to show the humor of the nun, you'll have to come and see. It's a mysterious thing but people seem to like it.
You guys are an order that still wear your habits. How do you feel about that?
Sister Julia: It frees us up to focus on other things. Like perfecting our recipes in the kitchen. Or whatever it is that all those other nuns do while I'm cooking.  
Nunsense plays through April 19, 2015 at Wolf Pack Theatre Company playing at the St. John Evangelical Lutheran Church— 5820 Riverdale Road in Riverdale, MD. For tickets call (240) 271-5471 or purchase them online.