It is always unfortunate when a sister comes down with an illness! Thankfully Sister Leo did not come down with a case of death like the other 52 sisters at the Little Sisters of Riverdale after the incident! Unfortunately, when TheatreBloom visited the convent to call on the sisters, Sister Leo was taken out with a case of extreme dancer's shingles and could not be seen at the time. However, through special arrangements with the ecumenical council, an electronic interview was arranged as we did not wish to leave Sister Leo out of the series.
Thank you for responding, Sister Leo, we appreciate it. Will you tell us who you are?
Sister Leo: My name is Sister Leo and I'm the youngest nun, a real novice, at the St. John's Convent.
And what do you do for the convent?
Sister Leo: I am a ballerina. Oh you mean while I'm receiving my training from Sister Hubert? I just focus on being the best nun I can be!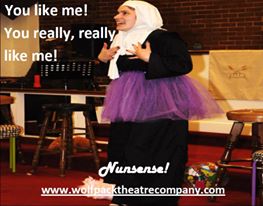 What is it that you like best about being a nun?
Sister Leo: I love that I get to serve God through my dancing. Not many nuns have the talent that I have and I love to show it off. Oh— all in the name of praise, of course! Nuns don't show off.
Right. So sister, tell us about the tragedy that happened within your convent.
Sister Leo: It really was rather terrible! Sister Julia, Child of God, she made stew for everyone. 52 nuns died almost as soon as they ate it! I'm just thankful I was practicing my ballet when all of this went down otherwise I would have been one of them! I've always wanted to turn up my toes— but not like that! Yikes!
So now you're holding a fundraiser to help— did I understand this correctly? Bury four of the nuns who didn't get buried?
Sister Leo: Yes. We need the money to do that. But the show is going to be really great. There's singing and dancing. Oh is there dancing! And I get to use the fundraiser as a chance to show everyone what a really great dancer I really am! In the name of the Lord, of course.
I see. Now, Reverend Mother informed me that your number is a little, how did she put it? Risqué?
Sister Leo: I mean I guess you could say that my numbers are a little bit different than what Mother Superior had in mind when she first decided to put on this show. But we are all given talents and assets from the Lord, and all I'm trying to do is show mine off. Not to be a show off, of course, because that's not the way of the nun. But the Lord gave us these gifts and assets and I think he'd be pleased with me using mine to help raise money to bury the sisters! I mean, I'm still wearing my habit while I'm dancing so I think Reverend Mother and I have found a compromise.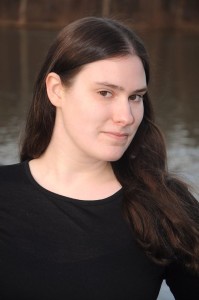 Wow. Alright then. So you are a dancer, and you brought in an outside dancing coach to help you with this? Joanna Matthews, what has it been like working with her?
Sister Leo: Working with Joanna Matthews has been really fun. We are the same age so we actually have a lot in common. As you can imagine we both love dancing. And we both love having the spotlight put on us. Joanna is a belly dancer! That's something I've never even thought about trying. I'm not too sure Reverend Mother would approve but it really looks like fun! Joanna actually showed me how to incorporate some of her belly dance moves into my ballet and I think it's a really nice touch! We'll see what Reverend Mother has to say once she sees it.
Oh my goodness. So what exactly are you doing in the talent show?
Sister Leo: I'm praising God through dance, of course! When Reverend Mother auditioned me and I showed her how well I can point my toes? She just knew she had to have me in the show!
Do you have a favorite vow?
Sister Leo: I wouldn't say I have a favorite vow exactly…but I have gotten a lot better with the obedience one!
They keep telling me this show is focusing on the humor of the nun. Do you know any nun jokes?
Sister Leo: Of course! I think every nun has their favorite joke. I'll tell you mine. How do you make Holy Water? You boil the hell out of it! Isn't that funny? It's my favorite!
Why do you think people should come out and support the talent show?
Sister Leo: Well, besides raising the money to get those last four nuns out of the freezer, people should come see the show because we're raising money for two other good causes. Men Against Breast Cancer, which is a great charity for Breast Cancer Awareness, and Bountiful Blessings. Everyone, even nuns, have been effected by breast cancer— whether you have it, have a loved one who has had it, or know someone who has suffered and lost or suffered and survived— it's extremely important to raise money to find a cure so that no one ever has to suffer from it again.
Thank you for your time, Sister Leo! Good luck in the show with your dancing!
Nunsense plays through April 19, 2015 at Wolf Pack Theatre Company playing at the St. John Evangelical Lutheran Church— 5820 Riverdale Road in Riverdale, MD. For tickets call (240) 271-5471 or purchase them online.
To read Part 1 of the Habit-forming Nunsense Interview series with Sister Julia, Child of God, click here.
To read Part 2 of the Habit-forming Nunsense Interview series with Sister Mary Amnesia, click here.