When the moon hits your eye like a  big pizza pie— That's BaltAmoŕe! Literally a Fairytale on Wheels, this exciting and unique production comes forth from Fluid Movement— a Baltimore-based performance art group that juxtaposes complex subject matter with delightful and unexpected mediums. Known for their summer-time water ballets and roller-skating shows throughout the year, the company sets out family friendly entertainment that is accessible to everyone. This uniquely fractured fairytale, Produced by Paul Dorr, Claire Molina, and April Pink, features over 100 involvees from the actual skating performers to th creative writers and designers that set the whole thing in motion. A truly exciting company doing edgy work that no other company in the Baltimore and Washington DC metropolitan area is doing; accessible theatre never looked so good as it does on wheels!
Kicking off the show as a "warm-up" at the March 21st early matinee, Fluid Movement shared the stage with the 29th Street Community Center's Jump for Joy performers. With amped up energy roughly a dozen young performers took to the stage to showcase their acrobatic jump-roping skills. Featuring crisscrossed double-dutch jumping with solo rope jumping beneath the crisscross and some out of this world in-rope tricks, the youthful performers really excited the crowd before the main show. Fluid Movement celebrates all forms of art and performance and their outreach to involve supportive community institutions is a testament to their place in the Baltimore performance community.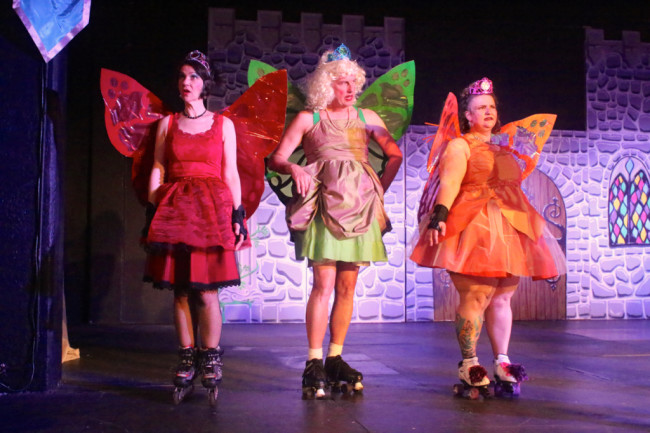 Once the show gets going, it's unlike any fairytale you've ever experienced. All the familiar hallmarks of princes and a princess and "hoping for happily ever after" are present— but there's a liberal dose of local Baltimore flavoring. And did I mention everything happens on skates? The show's script, Written by Ted Alsedek, Amanda Dice, Sarah Strayhorn, and Producers Molina and Dorr, features healthy doses of Ravens and O's as well as the pop cultural icon, Prince. They story may be a strange one, but it is laced with humor and keeps the audience's attention by melding so well into full-blown skating routines for every scene.
Nowhere in the program is there any sort of credit for costuming, and my guess is going to be that with over 50 individuals on skates in fabulously outrageous glittery costumes that each performer might be responsible for their own. That being said— Fluid Movement could consider alternatively calling themselves "The Glitter Factory" for as much glittery, shimmer, sparkle, and shine that comes out of these costumes. The most fantastical are the Fairy Costumes featured in "Fairy Godmother Makeover" the first skating intensive scene. With a whole range of unique and individual fairy looks from Hello, Kitty, to sleek referee, and a few gothic/punk nods mixed in-between, there are a great deal of eye-popping styles rolling around on the floor in this segment. Plus the wings; a gorgeous testament to individuality and self-expression as each fairy has a different set of wings that compliments her overall look.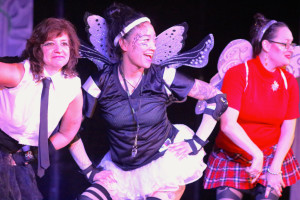 "Fairy Godmother Makeover" is Directed by Lisa Tolchin and Regina Shock, who play the Fairy Godmother characters of Franjelica and Amaretta respectively. This sketch also features a cross-dressing fairy named Mark, played by Mark Cameron. A delightful number about transforming features that really gets the flow of the show up on its wheels, so to speak. The first of four featured skating segments, this number really gets the glam pumping and is just a taste of what's in store for the rest of the fairytale.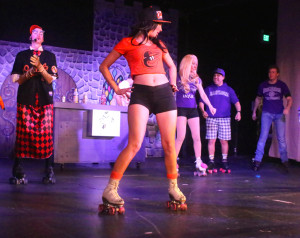 "Bro-Down with Prince MJCB3" is our first introduction to one of the three princes. Directed by Jane Shock Osborn, this skate series features Orioles and Ravens fans skating in and out of dance lines and really getting those chain-line skating movements under their wings. Featuring Mark Ward as said Prince, the whole sketch has a Bawlmer sports fever theme to it that is not soon forgotten.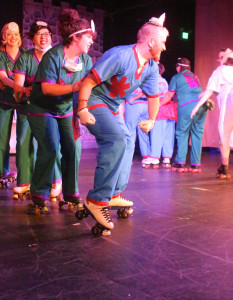 "Intensive Care with Prince Joshy Josh" features the most intense skating tricks and moves in the performance. Directed by Margaret Hart and Shannon McClung, this scene features Jean Buckles as the title prince, who ends up in a frantic emergency room skate-off after a collision with a car. The coupled routines as well as spins and full-out dancer skating in this segment is the most entertaining and the most intense; perfectly paired off given the sketch's namesake.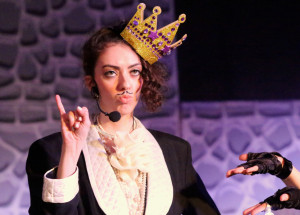 The final sketch, "Encounter with Prince Prince" is a golden throwback to the pop culture of the 80's. Directed by Angie Elliot and Ann Tabor, and starring Rachel Ellis as the Artist Formerly Known As…the show has a haze of 80's ether all about it. The costumes are reincarnations of Prince in all his various looks, including his days as a symbol, and the dance moves flow accordingly.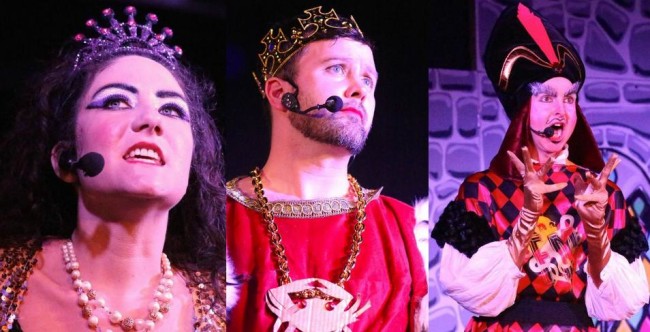 With three main through characters— Princess, played by Mary Shock, her father The King of all BaltAmoŕe, played by Victor Perez, and "Jafar, the royal advisor, played by Joe Meduza— there is a great deal of funny moments popping up between them. All three performers are well suited on their skates. Shock is a bad-ass princess with a real teen attitude. Her father a loving and kind, albeit dim, ruler who makes a hilarious bit out of never getting his advisor's name correct. Rolling through every "J" name in the book, Perez really works the humor of that gag, while poor Meduza just tries to work through the situation of getting the princess married. A great leading cast to wrap up the fractured fairytale.
The music is pumping, Sound Designers Eddie Chabot, Justin Sabe, Jon Freedlander and Claire Molina picking out the perfect tunes for each sketch. Combine these insane mashups that keep the wheels moving to the beat with Lighting Designer Eric Gasior's wild and crazy light extravaganza and you've almost got a live Discotheque rolling on your hands. Gasior has blinking lights in every color; whirling blue and red strobes for the intensive care scene, purple and orange blinkers for the sports number, and a whole rainbow of colors to celebrate the finale. Jamming the aesthetic with such luminosity ensures that the performers look their best.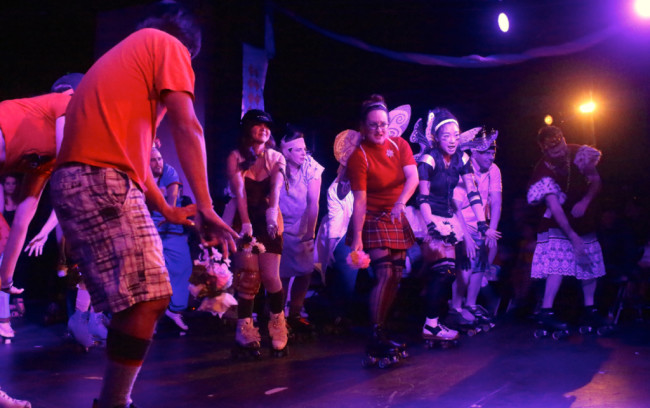 A truly unique experience, and perfect for kids; this is one show that is well worth investigating, as are all future performances flowing forth from Fluid Movement.     
Running Time: Approximately 60 minutes with no intermission
That's BaltAmoŕe! A Fairytale on Wheels plays a limited engagement through March 22, 2015 at Fluid Movement in their current pop-up location of 1727 N. Charles Street in Baltimore, MD. All remaining performances are currently sold-out.
For more information on future productions, please visit th Fluid Movement Website.