Jeezum Crow! Why aren't more of us living life like the nice folks up in Maine? You know, the way life should be? Well, the good folks of The Ruxton Players are doing just that. Back on their feet with an impressive production of John Cariani's Almost, Maine, the community theatre is embracing love in all its formats with this heartwarming series of stories. Directed by Bill Kamberger, these eight interwoven vignettes reminds us all that love is a powerful entity and that we should embrace it every chance we get, even when we're afraid of it.
Cariani's work is a masterful and poignantly touching piece of theatre; simple in its messages, yet deeply complex in its meaning. Physically representing the various stages and vessels of love— from letting a broken heart be mended by new love to falling in love for the first time to taking and giving a great deal of love— Cariani's stories are humorously heartwarming and touching. Life's lessons are threaded seamlessly into each story while also capturing the colorful culture of the Maine locals and simultaneously relating these seemingly unfamiliar characters with one another by overlapping their connectivity.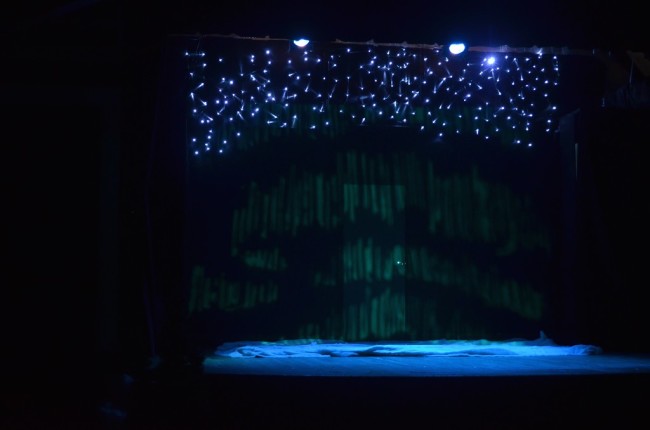 Credited as the show's Production Designer, Debbie Bennett brings a touch of the frozen north to Baltimore with her simplistic yet decorative set. The staging is cozy, little tufts of faux snow— which every person in Baltimore is blessedly relieved to identify as fake— with some quaint evergreen trees hint at the story's locale. What really puts the shimmer in the snowflake is Lighting Designer Charles Danforth's Aurora Borealis. Wavy green gobos that bubble and shift against the backdrop of the twinkling white-star lit sky mimic Maine's northern lights. Danforth also has acute symbolic usage of lights, like a hint of pink for a freeze frame at the end of positive love-focused scene. Both Danforth and Bennett succeed in bringing the crisp touch of winter to the production.
Director Bill Kamberger brings together a solid cast for the eight vignettes; double and triple casting always being a challenge. The pacing of the show moves along like a nippy winter wind, breezing through scene after scene without delay. Despite a minor transitory stall, and an opening night missed music cue between scenes, Kamberger effectively keeps the play lively so that it comes in well under time for the production's typical running length.
Seen only at the Prologue, Interlogue, and Epilogue, Tracy Hauser and Clay McNally make a cute cameo appearance to get the proverbial snowball rolling. It's McNally's pitiable facial expressions and silently mimed gestures that really add notable humor to the sketch as he tries to explain to Hauser about how two people next to one another are in fact the farthest away from each other as any two people can be.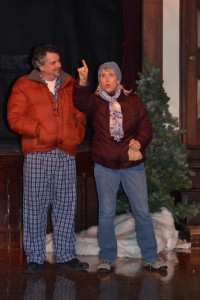 Her Heart
Introducing us to East (Larry Malkus) and Glory (Susan Schindler) this quirky little romantic number is a fabulous and quirky beginner's story to set the tone for the evening. Threading the lesson of mending broken hearts into the mixture, the tale unravels as Schindler's character ends up incidentally, serendipitously, accidentally, or otherwise on Malkus' front lawn. What makes this sketch so unique is the perpetually shifting dynamic between Malkus and Schindler's relationship. Almost as if perched atop a whirling snowball, they coast through a series of ups and downs in a very short period of time. Schindler is silly in this quirky character; enthusiastic but earnest. Malkus balances out her hysterics with a calmer and more relaxed persona. There is a curious connectivity between the two characters that Malkus and Schindler keep alive with a minimal but enjoyable effort straight through to the end of the scene.
Seeing the Thing
Malkus and Schindler bring the story full circle, only this time as Dave and Rhonda; two thick-headed rough-riding buddies. Again the instantaneous chemistry between them is immediately felt. Schindler is much more of a Tomboy in this sketch; a sharp and dynamic difference from her girly naïve character in the opening scene. Her brusque nature is manly from the way she pals around with Malkus' character straight through to her slightly bowlegged gait. Malkus is a bit more persistent in this scenario, though his character is vastly different from East. The congenial nature of his interest in her has strengthened exponentially and is delivered with astonishing conviction. Discovering love after a very long time of hiding it is the ultimate overarching hope in this sketch.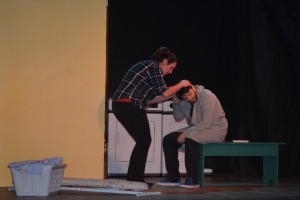 This Hurts
Steve (Jonathan Sachsman) can't physically feel pain. Marvalyn (Cassandra Miller) feels everything but wishes she didn't. A strange combination, as they meet in the group-residence communal laundry room, the scene is vaguely reminiscent of Penny and Sheldon from The Big Bang Theory, with much less science and much more awkwardness. Miller delivers the nervous character of Marvalyn with a task-oriented focus. This grounds her stage presence and makes her emotional confessions fascinating. Sachsman is inadvertently hilarious as he plays his character's situation with realistic truth in mind, the more serious it is for him, the funnier it becomes for us. The lesson learned here is that love can hurt but it doesn't have to and both Miller and Sachsman land that message with solidarity and beautiful clumsy klutziness, his physical and hers emotional.
Story of Hope
Sachsman and Miller reappear in the second act, though this time as merely a man and a woman trying to discover how destiny may or may not have thwarted or assisted their love lives. While the story has surprise after surprise tucked into it, the main through-line is that it is never too late to hope, even when it is too late for hope. Miller fills gaps in time by fussing with her appearance, a perfect nervous marker to express the character's anxiety. Her pattering cadence is like a hypersonic ice luge, bursting forward at an unstoppable and indecipherable rate. This jittery haste juxtaposed against Sachsman's calm and collected presence makes for a brilliant opposition that strikes just a hint of humor in the rather tragically beautiful situation.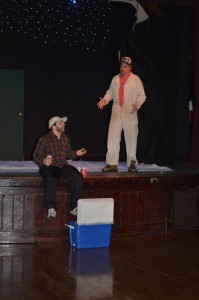 They Fell
Appearing in a third sketch, Sachsman takes on the most difficult but most moving and truthful sketch of all, paired up with Larry Malkus as Chad and Randy respectively. Two best friends; manly men just trying to figure out why their dates end up being disastrous experiences. Both Sachsman and Malkus live up to the masculine stereotype of bros chilling with their brewskies after a failed Friday date night. It's the honest and touching message concealed within the scene's ending that really strikes a chord with anyone who has ever loved, been in love, or been scared of love. Both Malkus and Sachsman find humor in their physical shtick bits at the end— falling over each other, as it were.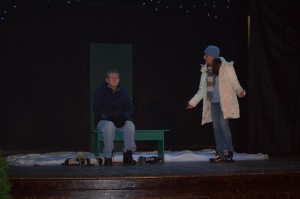 Where It Went
One of the slightly more somber tales in the array of eight, Phil (Mike Ware) and Marci (Jennifer Skarzinski) start off the evening ice-skating. A shooting star (compliments of Charles Danforth) can change a night, or reveal its honest intentions. The tension between them is palpable from the onset and only grows denser as the scene carries toward its conclusion. Skarzinski spends a good deal of the scene ranting and raving in a fashion that is strongly a kin to a bedraggled and stressed housewife. Ware, whose expressions are pitiable and truly tug at the heartstrings, simply wishes to find peace. Sitting around and waiting for the other shoe to drop isn't always the best idea, as these characters discover in this scene.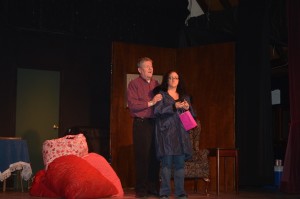 Getting it Back
Appearing as a different man in a different scene, this time opposite Kendra Sweren Keiser, Ware achieves a similar emotional depth in Get it Back as he does for Where it Went. The characters are similar and yet very different. The physicalization of love— both what is given and what is received— is where the humor fits into this sketch. Again Ware in his calm but melancholic portrayal is paired up against a spastic female. Keiser's character is edgy and an accusatory mess. Ware exists honestly and naturally while Keiser performs full-on verbal and emotional meltdowns. The juxtaposition of these two opposing forces is a beautiful thing in and of itself. Can you ever give back all the love you gave to somebody? Can they give back what you gave to them?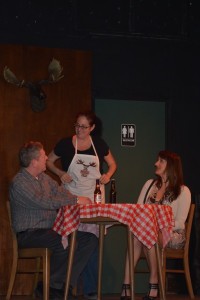 Sad and Glad
Reunites Ware and Skarzinski, with Keiser playing a cameo third-wheel sort of character. Dealing with loving and losing, as well as discovery and moving forward, this sketch plays out irony to its fullest. In the first non-calm role of the evening, Ware's little neurotic outbursts are so well-timed that they beg to be laughed at. Skarzinski shifts nervously about, trying to escape the scene while Ware sinks further and further into a completely pathetic state while trying to maintain the shredded remains of his dignity. A true story of pessimistic optimism being turned into a whirling dervish, this cute scene is a delightful piece for the three actors to share.
In the end, love will come full circle. In the end, it's love that really matters. So don't give up hope, say hello to the east, and you might just find yourself in Almost, Maine. Jeezum Crow! What are you waiting for? This thing is a limited time run!      
Running Time: Approximately 1 hour and 50 minutes with one intermission
Almost, Maine plays through March 29, 2015 at The Ruxton Players at The Church of the Good Shepherd— 1401 Carrollton Avenue in Towson, MD. For tickets reservations call (410) 823-0122. Tickets are also available for purchase at the door.