There aren't enough superlatives in the English language to describe the Shakespeare Theatre Company's spectacular production of Man of La Mancha, which opened on Monday to a packed house at Sidney Harman Hall.There is simply no need to travel all the way to Manhattan to take in Broadway-caliber theatre. It's right here, with all the fire, passion, and intensity of any show on the Great White Way.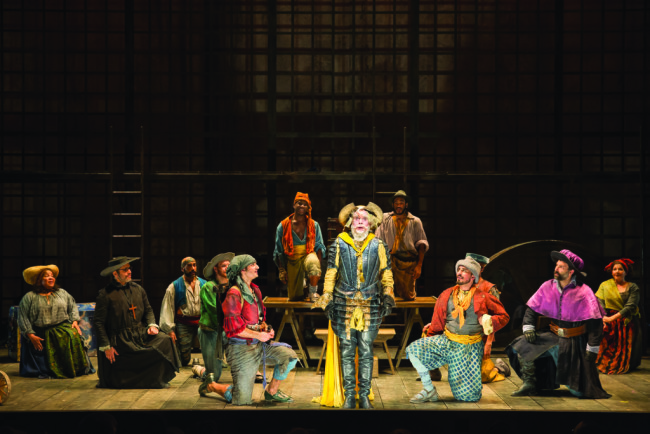 We bear witness to the opening as the prisoners in Allen Moyer's steel cage of a set mill about, caught in a trap from which there is only one exit. Into this claustrophobic cage are thrust Cervantes (Anthony Warlow) and his servant, Sancho (Nehal Joshi), and thus do we enter the insane world of Don Quixote, tilter of windmills and savior of whores.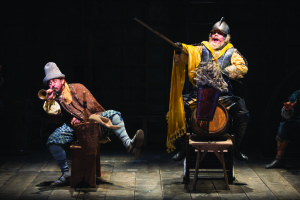 From the moment Cervantes manages to convince the Governor that it is worth the time to hear his story, until the very end, we are treated to a feast of pure stage magic. As Cervantes transforms into the Don, we watch as everyday materials on hand in the cage become the props which Cervantes employs to embellish his fantastic tale. And fantastic it is.
With music by Mitch Leigh and lyrics by Joe Darion, impeccably directed by George Fulginiti-Shakar, sung and performed masterfully by the entire cast, there is never a moment when these performers of Dale Wasserman's classic story within a story are out of character or out of line with our expectations. Celebrating its fiftieth anniversary, the musical contains such classics as "Man of La Mancha (I, Don Quixote)", "Dulcinea", and "The Impossible Dream (The Quest)", which could be theatrical chestnuts in the hands of less skilled artisans, but are absolute perfection in this production.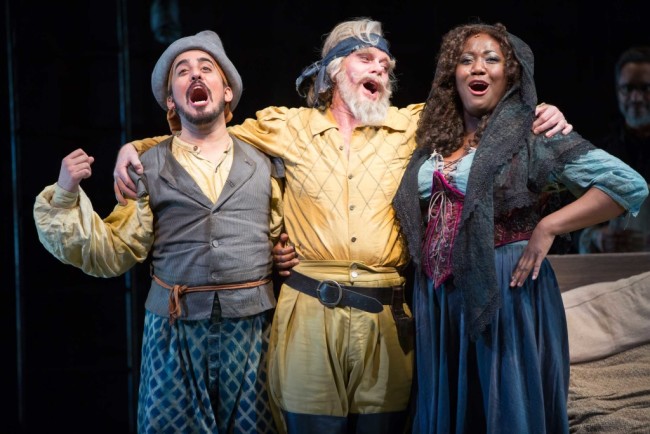 As Aldonza/Dulcinea, Amber Iman's stunningly soulful interpretation of the much-abused whore at the core of Don Quixote's madness, transcends the tawdry, malignant nature of her existence, bursting out all her agony in a palpable performance she makes all her own.
Joshi's delightfully wacky clown, Sancho, ever-optimistic and utterly loyal to his master, is so fantastically funny that it's possible to forget we are in the Spanish Inquisition's dungeon whenever he lights up the stage with his presence.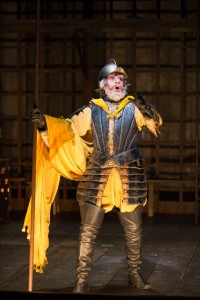 But it is Warlow's transformation and his charismatic leadership that makes this tale of impossible hope amid stark misery so very compelling in the role that made Richard Kiley a star in 1965. With a few strokes of greasepaint, addition of a beard and wig, and all the theatrical craftsmanship of extraordinary talent, he becomes Don Quixote in every conceivable way. 
Marcos Santana's choreographed perfection, David Leong's brooding, realistic fight scenes and Moyer's scenic canvas become a complete and complex portrait of the mad knight's domain with the addition of Ann Hould-Ward's deceptively simple costumes and Robert Wierzel's pivotal, spectacularly delivered lighting design.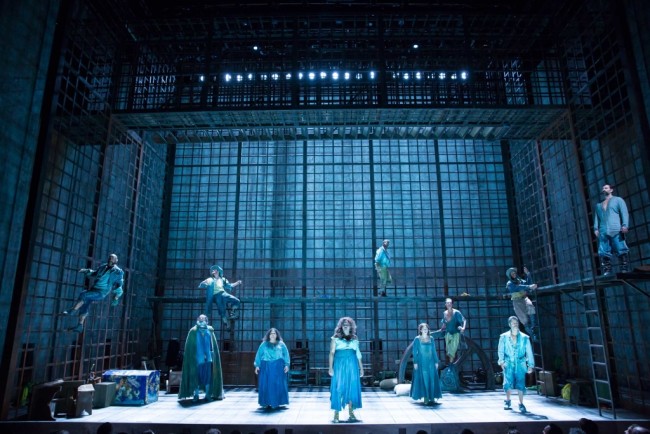 There are tricks employed here which defy description. The fluidity of movement from Quixote's world to Cervantes' is instant and complete, and yet we have never left the prison, not once in the hour and forty-five minutes of unbroken action (without an intermission) leading to the climax of the story.
A word of caution for anyone who has never read the book, seen the movie or experienced the play – there is some extraordinary violence which is inherent in the script. Director Alan Paul pulls no punches here, nor should he. This production contains violent and adult situations. This performance is not recommended for children under the age of 12, and parents of young children are strongly cautioned. Recommended for mature audiences.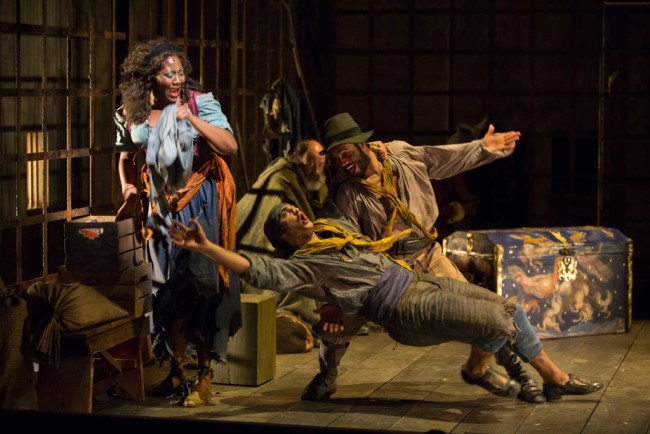 Man of La Mancha plays through April 26, 2015 at Shakespeare Theatre Company in Sidney Harman Hall— 610 F Street NW in Washington, DC. For tickets call the box office at (202) 547-1122 or purchase them online.