The night The John F. Kennedy Center for Performing Arts welcomed Gigi, the stars came out to shine! Thank heaven Alan Jay Lerner and Frederick Loewe, the clever masters of Book & Lyrics and Music respectively, have found their way to a stage adaptation through Heidi Thomas and the iconic film classic known as Gigi has made its pre-Broadway engagement in Washington DC! Directed by Eric Schaeffer with Musical Direction by James Moore, this alluring musical filled with whimsy and merriment has great possibilities flittering among it like the twinkling city of lights in which it takes place. A rousing good evening of silver screen gems turned live action musicals, Gigi will be the talk of the town from now until it makes its Broadway debut!
What a Parisian affair Scenic Designer Derek McLane is having with the stage of the Opera House for this production. McLane infuses the backdrop of the Eiffel Tower with a warm and welcoming gaiety, all of the charm that Paris possesses in one simple silhouette. Developing a delicious versatility from the main city to the seashore, McLane paints a pristine picture of the lively times captured in his scenic work. There is decadence displayed throughout as well, the gloriously luxurious peach-warmed and glitter-gauzy curtains that drape down through Alicia's home are just one of dozens of examples of this fine flare for fantastical fancy.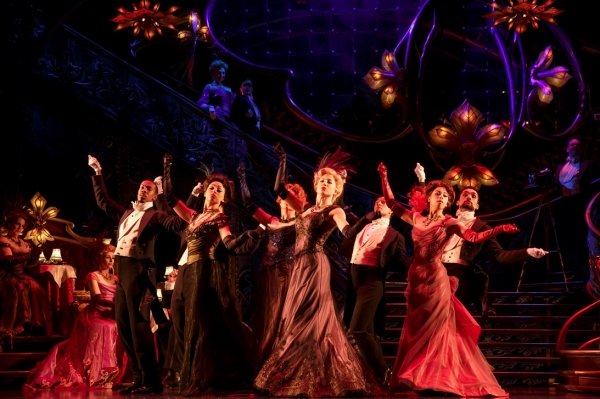 Matching beauty and elegance to the scenic artwork, Costume Designer Catherine Zuber finds pastels to be in favor of her working color palette. Warmed pastels in particular are featured in the opening number for the Parisian ladies and their parasols. Zuber also manages to make the title character look as childish as she ought to be with simple frocks and accoutrements that accessorize accordingly, but when it is time for the delicate flower to blossom into a woman, the stylistic shift is decadent and striking. Dapper and dashing are words thrown about that easily equate Zuber's vision of the men in the show to how they appear on the stage, particularly when it comes to sharp suits with perfectly pressed pants.
You won't understand the Parisians without the assistance of Choreographer Joshua Bergasse. Making magic in his routines, Bergasse infuses a great many of the musical numbers with solid choreographic routines that are both clean and sharply executed. Parisian couples that waltz around Gigi during "I Don't Understand the Parisians" are a telltale sign of Bergasse's ability to create choreography that is complimentary but not distracting from Gigi's main solo performance of the number. There is even a superfluous bit of fluffy dancing that occurs during scenes changes that in an ordinary production could easily be dismissed, but as it fits the highfalutin nature of society in Paris, Bergasse has made the right call by including it here. The pièce de rèsistance? "The Gossips" which is an ensemble dance routine featuring a peculiar peacock strut that is intriguingly amusing.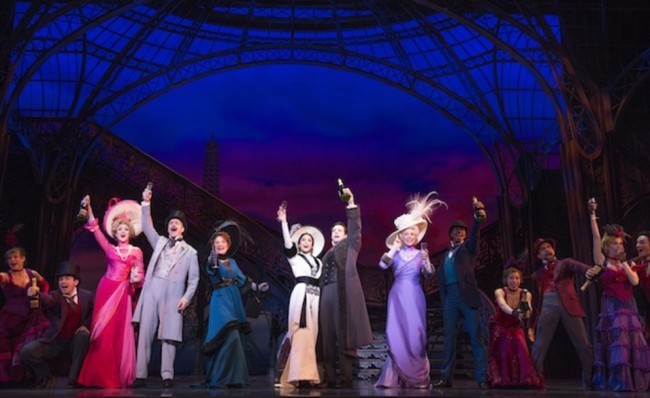 Director Eric Schaeffer has stayed true to the story of Gigi in the vain of familiarity. With certain iconic hallmarks from the film cemented in place, Schaeffer lets the performance take wind without too much of an individualizing stamp upon it, and in this case it serves the production well. The principle actors are well matched with one another in the arena of talent, and the overall concept of the show sits well within its bounds of fanciful entertainment while paying homage to its silver-screen start without mimicking it exactly. Schaeffer possesses a je ne sais quoi regarding the piece on the whole; a premise which is best described as a keen understanding of how to take this screen gem and make it translate cleanly and clearly upon the stage. With a talented ensemble, numbers like "The Gossips" and "Opening" as well as "Finale" become a whirlwind of engaging entertainment that is sung with boisterous enthusiasm and an eager excitement.
The immediate noticeable difference for true fans of the film is that one of the more iconic numbers, "Thank Heaven for Little Girls" is now a duet performed by the incomparably talented Dee Hoty and Victoria Clark, playing Alicia and Mamita respectively. This transforms the number into a duet of sisters and is rather suited for the overall aesthetic and experience of the stage production. Hoty, playing Alicia, delivers an austere and clipped character, which serves as the perfect foil to Clark's more expressive and tenderly compassionate matronly figure. Haughty and brusque, Hoty is of the perfect temperament against Gigi's much more flighty and airy nature.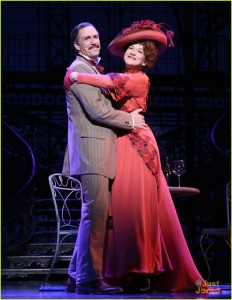 Clark, who gives radiant resplendence to the role of Mamita, is at the top of her game upon the stage. "I Remember It Well", a duet shared with Honorè (Howard McGillin) is filled with sweet moments. Clark possesses a jovial spirit as she fondly corrects his mismanaged memories throughout the number. McGillin's voice is well matched against Clark's; this proves true in their later duet "I'm Glad I'm Not Young Anymore." Paired well with one another not only vocally, both Clark and McGillin have sublime chemistry between them, even if it starts off a bit rusty. Their interactions with Gaston (Corey Cott) and Gigi (Vanessa Hudgens) respectively are also well-tuned to the emotional sentimentality of the performance.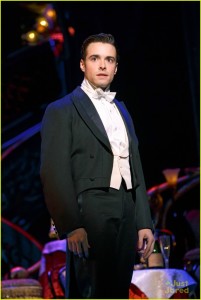 Corey Cott as the dashing and debonaire, albeit a touch too young, Gaston, is quite the charmer. Despite his physical closeness to Hudgens' age— thus dispelling the enormous age gape between his character and Gigi's (another major difference from those making film comparisons)— Cott is perfectly suited to play the mature, albeit doting, male figure in her life until she grows up. Delivery a brassy and cheeky attitude for "It's a Bore", Cott consistently showcases his versatility in the role as he goes from the aforementioned attitude to something much more endearing in his solo "Gigi." There is an earnest approach to his emotional outbursts as well, and although they are few and not nearly as childish as Gigi's, they fall naturally within the constraints that Cott has constructed for the character.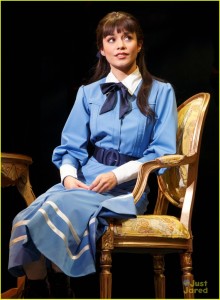 Vanessa Hudgens owns the title role of the musical as if it were scripted specifically for her. Consistently delivering an adorably childish and girly voice, Hudgens easily convinces the audience of her character's youth and naiveté. Showcasing an impressive range, particularly for the lower sounds of "The Parisians", Hudgens masterfully delivers song after song with a dulcet voice that is perfect for the show. Her ability to deliver the character as an obnoxious and spoiled brat that shifts through the changes of love and growing into being a woman is astounding. Driving everyone wild with her portion of "The Night They Invented Champagne," Hudgens continually displays her own performance versatility and vocal capability in this and every number in which she's featured.
You won't want to miss the Parisians! They won't stay for long before escaping up to The Great White Way. This is your chance to see classical stage history in the making of a fine musical adaptation direct from the silver screen to the stage. A rare glistening gem, a glass of perfect bubbly, Gigi is the perfect show to perk up these cold winter months this season!
Running Time: 2 hours and 40 minutes with an intermission
Gigi plays through February 12, 2015 in the Opera House of The John F. Kennedy Center for Performing Arts— 2700 F Street NW in Washington, DC. For tickets call the box office at (202) 467-4600 or purchase them online.