Let's get down to business! We'll defeat the Huns! But only if we band together and write our own destiny! Pumpkin Theatre is doing exactly that with their second annual "For-Kids-By-Kids" production. This time it's Disney's Mulan Jr. coming to the stage with all the wonderful things a Disney musical entails. Directed by Erin Confair, with Music and Lyrics by Matthew Wilder, David Zippel, Stephen Schwartz, Jeanine Tesori, and Alexa Junge, this children's adaptation of the classic film brings honor to all at Pumpkin Theatre.
Musical Director Mandee Ferrier Roberts lends her talents to an enormous group of children and gets them all to sing in solid harmony with one another. The strength that echoes through the group numbers, particularly "I'll Make a Man Out of You" and "Honor to Us All", is tremendous and makes for a solid resounding musical sound. Roberts works well with the soloists playing the ancestors for "Written in Stone" too, her knowledge of complex rhythms imbued upon these talented youth performers.
Costume Designer Karen Saar deserves praise for bringing honor to this show with her illustrious costumes. Looking as if the animated film had sprung to life upon the Pumpkin Theatre stage, Saar utilizes a variety of colorful kimonos for the females, and the traditional red and black garments for the ancestors. Even the soldiers look regal in their marching brown uniforms; simple green sashes making their mark of noble honor in this show.
Lighting Designer Helen Garcia Alton works with Scenic Designer Heather Mork to create a true cultural icon with this set. Mork decorates a Chinese temple with the golden characters gleaming against the glittery red and black background. It is Alton's work with the spotlights that highlight the ancestors in their place in the temple, giving them lively existences despite the fact that they must stand still like statues throughout the performance.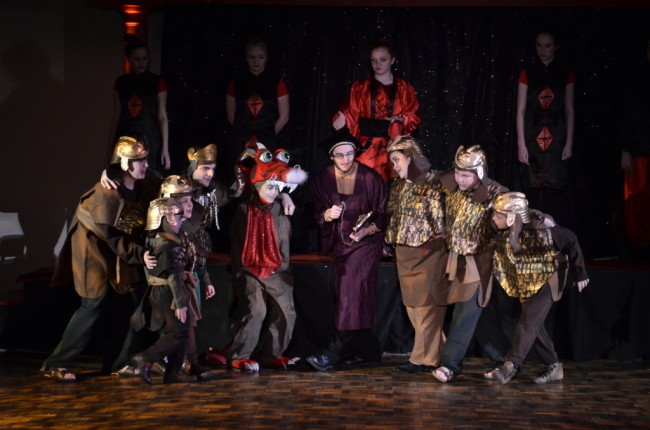 Director Erin Confair infuses the ancient tradition of Chinese culture into her production by making the ancestors an "active" part of the show. While they are rooted to their place in the temple, every time an action occurs on the stage in the realm of the world, an ancestor "guides" the action in fluid gesture, as if the spirits conduct the business of the living or at the very least have influence over it.
The Ancestors— played by Sophie Brodinsky, Will Foohey, Ruby Kinstle, Allison Mudd, and Madeleine Reeser— are a pivotal part of the production. With snappy wit shared between them, their discourse is responsible for a fair bit of the laughter that parents of little theatergoers find endearing and entertaining. This quintet of older youth performers showcases their voices throughout the production in various numbers, all with great strength. Ruby Kinstle shines out particularly with her extra sassy nature, the really snarky one among the five ancestors.
Both Chi Fu (Seth Herzog) and Shan-Yu (Conner Moore) create great stage presences, though neither are given much to song. The script simply doesn't call for these characters to sing, save for Herzog's one-liner in "Girl Worth Fighting For" but both of these performers give exceptional performances. Moore is truly a villain; bold and scary and really intimidating. The Emperor (Myles Muse) is also worthy of praise when he holds his own against the scary Leader of the Huns. Muse speaks with sage wisdom appropriate for his character's years.
The Fa family, composed of Mulan's Mother (Lindsey Farrell) Mulan's Father (Jaxon Goldsmith) and Grandmother (Kate Levine) are quite the group. Farrell and Levine have a witty banter between them that adds to the humorous nature of their quirky daughter Mulan, while Goldsmith delivers the sturdy branch of the family tree in his stoic calm and quiet nature.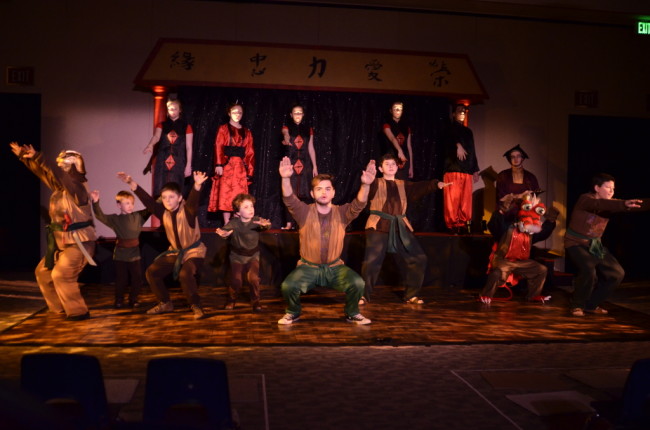 Leading the boys off to battle is Captain Shang (Jake Zeranko.) With a fierce determination, he marches them on to battle and leads a few Tai-Chi exercises into the choreography of "I'll Make a Man out of You." His leadership is well pronounced in "Girl Worth Fighting For" as well. Of course where would a Captain be without his soldiers and there are none quite so entertaining as Yao (Graham Rifkin), Ling (Steven Gross) and Qian-Po (Jules Einhorn.) These three comic kings add just the right amount of nonsense to their scenes to bring out a few laughs when things get silly.
Let's not forget Mushu (Noah Tunis) when it comes to mastering silly. Tunis takes on the role of the little dragon who has been cast out of the temple for a major mistake in history. Crackling with wit and an exceptional understanding of comic timing, he succeeds in snapping jokes off the tip of his tongue like firecrackers. Tunis does well in "Keep 'Em Guessin'," a number which showcases the subtlest hint of soft-shoe tap moves.
As for the title character, a role appropriately bestowed upon the talented Eva Hellerbach, the true blossom of beauty in the face of adversity is well represented. Hellerbach has a stellar voice, particularly for her solo number "Reflection" and when she does her parts for "Written in Stone" and "Keep 'Em Guessin'."  A richly talented performer, Hellerbach delivers the clumsy tomboy character with charm and poise, despite physically ending up on the ground a lot. A great addition to this cast, Hellerbach brings great honor to the Pumpkin family by completing this role so thoroughly.
A wonderful chance for children to be inspired by theatre and see how much fun it can truly be, the Pumpkin Theatre "For-Kids-By-Kids" production of Mulan Jr. is a great treasure to enjoy.
Running Time: Approximately 1 hour and 10 minutes with no intermission
Disney's Mulan Jr. plays through February 8, 2015 at The Pumpkin Theatre located at Har Sinai Congregation— 2905 Walnut Avenue in Owings Mills, Maryland. For tickets call the box office at (410) 902- 1814 or purchase them online.