The game's afoot! Well, the show is afoot at any rate! It all began, as these things do, with a brand new world premier production at Arena Stage. Ken Ludwig, the acclaimed comedic playwright, has taken his pen to Sir Arthur Conan Doyle's characters and adapted a brilliant comedy suitable for theatrical enjoyment of all types. Bursting at the seams with curiosity, wonder, and the element of surprise, this hysterical new work entices the audience not only with its morbid beauty and thrilling mysterious intrigue, but with its comedic charm, shocking wit, and delectable composure. A true theatrical gem twinkling amid the thick fog of the moors, Baskerville will have you jumping to the edge of your seat one moment and rolling in the aisles with laughter the next. Directed by Amanda Dehnert, this seductively brilliant production is a surefire hit.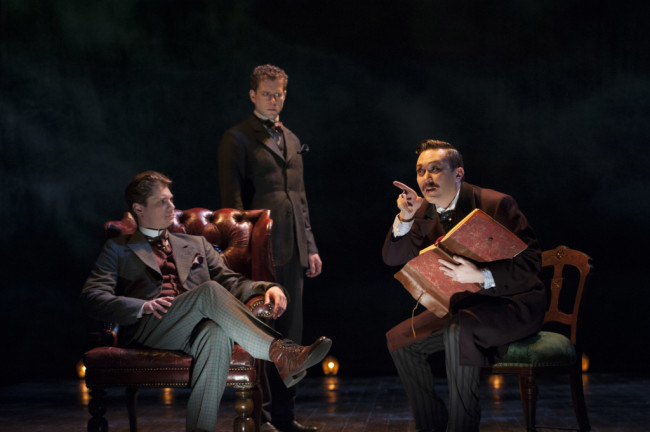 Capturing the essence of the tail end of Victorian England in all its parts, both bustling city life and the pastoral calm of the moors, is a Herculean effort mastered flawlessly by Set Designer Daniel Ostling. A blank set does the trick, let the mind and the imagination fill in the rest. But things aren't always what they seem, especially when it comes to Sherlock Holmes and Ostling's set is no different. With all of the enchanting and mysterious whimsy of London town melded into the creeping treacheries of the bucolic moors, Ostling creates brilliance with hydraulic platforms, magnetic gardens that thunder down from the fly space, and trap doors galore. Don't let the simplistic appearance fool you, there is true mechanic genius at work in Ostling's set.
True to form, Costume Designer Jess Goldstein makes a remarkable impression with not only her styles but her variety of outfits displayed throughout the performance. Not only are the costumes impressive to marvel at, but they are exceedingly functional in their ease of shifting on and off. The costume changes in this show turn three actors into some two dozen characters and the effect is achieved with impeccable timing thanks to Goldstein's work. Her subtle nods in the threadwork to the period are much appreciated, particularly in the bow-ties (after all, bow-ties are cool) and the finely pressed duds bestowed upon Watson and Holmes. The lavish colors, styles, and even accessories seen in the remaining two dozen characters are delicious icing on this mysterious cake as it were.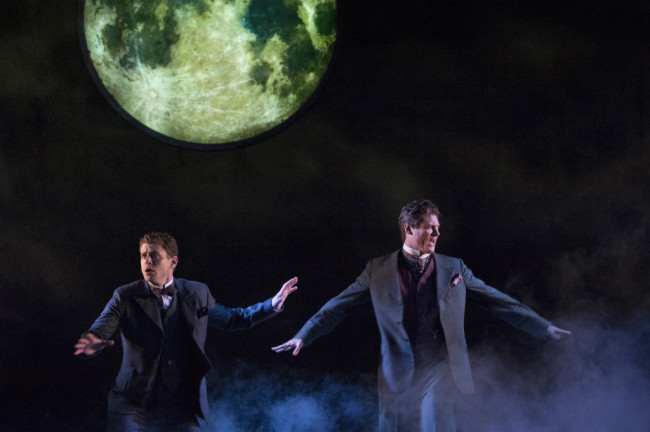 The vast array of noises comprised together to create a multi-faceted soundscape spring forth from the minds of Sound Designers Joshua Horvath and Ray Nardelli. With steam trains and the eerie sounds of the moors there's no telling where these designers might take the show. But a plethora of locations are covered by traversing Ostling's "blank set" with Horvath and Nardelli marking the aural trail. Complimenting the other design aspects of the production superbly, the foreboding score that opens the show is as mystifying and enigmatically engaging as the funnier more fantastical sounds featured later in the performance.
Tongues should wag at the impressive sounds that escape the actors' mouths, all guided by Dialect Coach Gillian Lane-Plescia. Whilst keeping Holmes and Watson sounding properly educated with a hint of refined London town in their vernacular, Lane-Plescia successfully masters a devilish train ride all across England, and even dips into Castile. The dialects are yet another marvel that makes this piece so thoroughly enjoyable; each distinctive character having not only their own individual look but their own unique sound.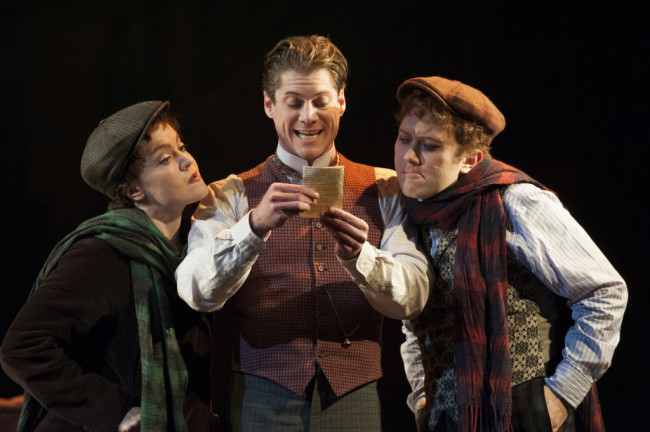 Director Amanda Dehnert works true theatrical magic with the blocking of scenes, placement of actors, timing of critical moments, and her exceptional understanding of how comedy works in a Ken Ludwig play. Dehnert exercises the comedic moments to their fullest potential; Watson being startled and dangerously confused every a blast of steam shoots up from the stage floor signaling a train or Holmes having to ask to see a character several times because the actor he's currently engaged with also plays that character. These finely tuned mechanisms fit like clockwork into the writing and make the show that much funnier. Dehnert also displays a seasoned hand with the dramatic and suspenseful elements of the performance; precision and order delivered in the heightened moments of tension. A true directorial gift, Dehnert's work results in an epic production.
Listed merely as Actors One, Two, and Three, Stanley Bahorek, Michael Glenn, and Jane Pfitsch carry the show along enhancing the Holmes' experience. Playing exceptionally well off each other as well as the other two performers in the production, these three well-seasoned performers work out the nuances of every scene and character in which they play. Their comprehensive understanding of comic timing is second to none and their ability to physically work a scene to its fullest potential, both comic and dramatic, is outstanding. Truer tradesmen of the acting craft would be hard to come by, and these three in particularly deliver sensational performance throughout.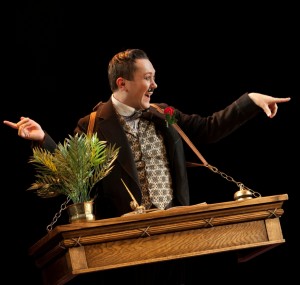 Bahorek, who among others plays the saucy and sassy Castilian desk clerk, is credited with the most impressive costume-character change in the production and deserves praise for that if nothing else. His ability to slide flawlessly from one character to the next, in physicality, energy, speech sound, and general mannerisms is striking. Taking on the rudimentary character archetype of the misshapen butler is a rewarding challenge to watch, particularly when Bahorek goes at it with his Matron-of-the-house wife, a surly stalwart type played by Pfitsch.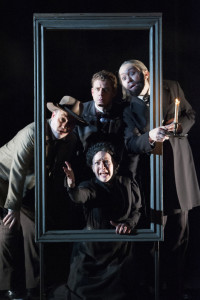 It's not easy being the only woman on stage, and although she is not responsible for every female character in the play, Jane Pfitsch holds her own fiercely against the cast of men. From delicate flowery ingénue Beryl Stapleton to brooding house mistress at Baskerville manor, Pfitsch runs a gauntlet of characters that vary in every way possible from one another. She spends a great deal of time playing the doting bell, Miss Stapleton, and succeeds in upholding her end of the mysterious plot twists throughout the performance.
Michael Glenn gets the distinctive honor of dabbling into the American accent department, specifically Texas. Glenn goes at his characters with gusto and vigor, the same amount given by his co-stars. His comic nature sidles easily along in his gait and his physical upright presence, regardless of which character he's embodying.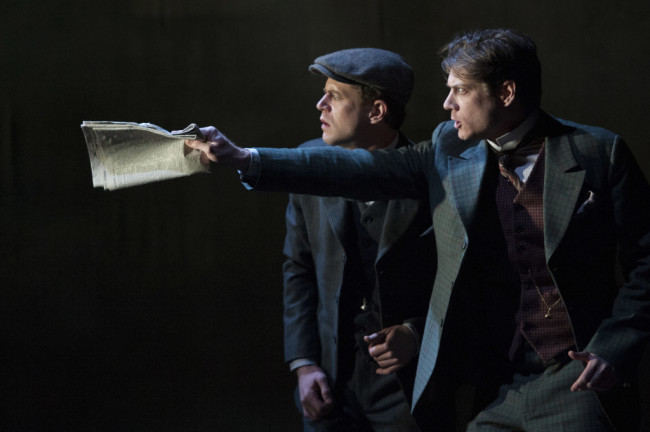 Our dear Watson (Lucas Hall) is a crafty fellow, but level-headed; a true doctor of sorts when it comes to solving mysteries. Hall is the epitome of the man that lives, however inadvertently, in Holmes' shadow. He delivers the expository and narrative elements of the plot with fervor and great ardor, but not in a melodramatic sense that would cheapen the writing. His genuine sense of reality ground his character down to earth, making him reasonable but excitable. Playing the man opposite the great Sherlock Holmes is no small task and Hall succeeds in this venture with the highest of marks.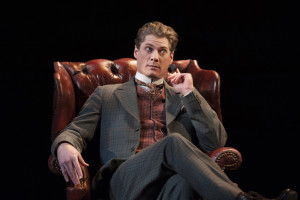 As for our dear Holmes (Gregory Wooddell) he is indeed as the books would have us believe. Wooddell masterfully embodies a living book character. The sheer madness which creeps into his persona just at the periphery is delicately balanced against his genius. There is a perpetual pensivity burbling just behind Wooddell's eyes and every so often a great bolt of lightning comes bursting through them shocking his expression into something twisted and fiendishly clever. There is something in the way in which Wooddell speaks as Holmes that causes the character's visions to take shape before our very eyes, as if his words were transporting the audience into a visual experience of all his thoughts. Between his condescending compliments directed at Watson, and his explosive moments of discovery, Wooddell has thoroughly mastered the portrayal of Sherlock Holmes. Cracking the case of how to do one of literature's greatest detectives a thorough justice, Wooddell is nothing short of dynamite in this role.
Exceptional story telling across the board, a mystery to be solved, action, adventure, romance, and of course comedy; what isn't there to love about this brilliant new production! But waste not time for fear you miss the train entirely and this marvelous theatrical wonder will disappear among the mists of the moors.
Running Time: Approximately 2 hours with one intermission
Baskerville: A Sherlock Holmes Mystery plays through February 22 in the Kreeger Theater of Arena Stage at The Mead Center for American Theater— 1101 6th Street SW in Washington, DC. For tickets call the box office at (202) 488-3300 or purchase them online.