Look at Olney's main stage, isn't it neat? Wouldn't you think that their season's complete? Wouldn't you think they're the theatre— the theatre that has everything! They've got singers and dancers a plenty, they've got talented performers galore. You want glittery costumes? They've got plenty! It's amazing, it's a big deal— and they've got more! Olney Theatre Center is giving audiences the chance to be a part of that spectacular magical world with the regional premier of Disney's The Little Mermaid. The treasured classic with Book by Doug Wright, Music by Alan Menkin, and Lyrics by Howard Ashman and Glenn Slater, contains all the whimsical wonder you need this holiday season. Directed by Mark Waldrop with Musical Direction by Darius Smith, it's an extraordinary musical that provides a fulfilling and satisfying Disney experience for the entire family.
Positoovity is the attitude that the production team for The Little Mermaid is promoting. With intense spectacle expectations the design elements come together in a surprisingly fascinating and functioning manner that makes the production a smashing success. Scenic Designer James Fouchard, working with Lighting Designer Julie H. Duro, creates two worlds of illuminating fantasy that bare the hallmarks of Disney resplendence.  With the aid of Duro's shimmering lighting effects, a simple raked stage becomes the ocean floor. Larger than life underwater aquatics are lit and add a magical touch of whimsy for the scenes beneath the sea. That same raked stage is a warm sandy shore in a warmer golden light for the scenes in the human kingdom. Ariel's grotto of treasures is decidedly wondrous treat, as is the bathtub in Prince Eric's castle; all articulated with cartoonish creativity that Fouchard works into the minutia of his design.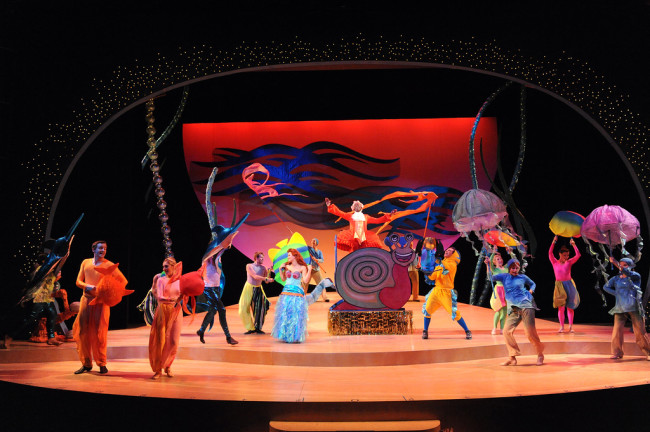 Glitter and gorgeous go hand in hand under the sea and up on land in this production as Costume Designer Pei Lee stretches her creativity into the fathoms below. The mermaid costumes alone are exquisite and truly unique; an illusion of seven sisters with tails for legs that looks striking against the watery waves. Lee's plethora of aquatic accoutrements is astounding; her fashionable head pieces for Ariel's six sisters looking eccentric and stellar. The vivacious color palette used is a veritable rainbow that is dazzling beyond compare. Ursula's outfit alone screams divine diva with enough shiny sequins to shake up the sea. The caliber and unique style of costumes experienced in this production create the feeling of seeing a show inside one of the Disney parks.
Every sort of fancy fish fathomable makes an appearance in the production at the skilled creative hands of Puppet Designer Andrea "Dre" Moore. From light-up lantern fish to blow-up blowfish, Moore brings further delight to the already enchanting production values of the performance. Many of Moore's creations are worked into dance routines and featured in the well-recognized musical numbers like "Under the Sea" and "Kiss the Girl," while others are worked in as clever distractions for shifts from scene to scene, adding a little underwater humor to the show.
Everything's hotter under the water and Choreographer Tara Jeanne Vallee is proving that with her sensational dance routines that truly electrify the performance. The animated tap routine featured in "Positoovity" is a brilliant combination of skilled tap moves and comic timing. Vallee's repertoire includes a wide variety of influences from ballet moves to more modern demonstrations, even acrobatics. "She's in Love" takes on a high-intensity aerobic quality featuring the mersisters and Flounder while "One Step Closer" is a dreamy series of romantic waltzes shared between Ariel and Prince Eric. Vallee stuns the audience into thunderous applause with the sensational showcase of wild and fancy-free dance moves in "Under the Sea" the delectable dancing delight of the show.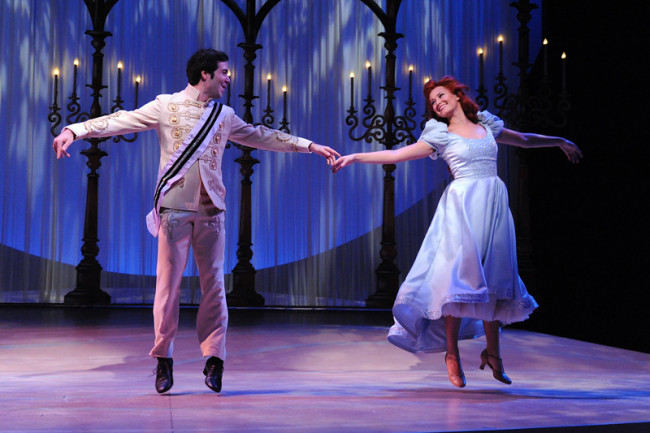 Musical marvels are making waves under the Musical Direction of Darius Smith. The sextet of mersisters harmonize to perfection for "Daughters of Triton" and "She's in Love," and the ensemble sound on the whole is sturdy and well-rounded. Balancing and blending the more romantic tunes like "Kiss the Girl" which is led by Sebastian (Troy Hopper), Smith showcases his firm hand on volume control. The ability to make a song sound gentle and delicate without compromising the quality of the number is an impressive feat that Smith consistently tackles when necessary.
An ocean full of talent is what's washing ashore in this production. From the most obscure of cameo appearances like Ethan Watermeier as Chef Louis to the big crowned roles like Nicholas Ward as King Triton, there is scene-stealing abound. Watermeier, who presents a rich robust sound as the pilot in "Fathoms Below" doubles as the insanely zany French chef and runs away with his solo number "Les Poissons." Ward commands a different type of attention from the audience with his serene timbre bellowing in the deep bass range; the epitome of the lower end for his part in the quartet of "If Only."
Flounder (Sean McComas) is an equally entertaining character with his jittery guppy routine. McComas gets one moment in the musical spotlight during "She's in Love" and blasts the audience away with his stellar sound and intense presence; a phenomenal belt with a sensational sustain that dazzles. His fancy footwork as a gliding guppy-fish is impressive, much like the unctuous eels Flotsam (Nurney) and Jetsam (Robert Mintz) who slink about on their very own wheelies. Nurney and Mintz serve as slippery sidekicks to the sea witch and ooze a terrifying charm for their solo number "Sweet Child."
But it's Scuttle (Clark Young) who is hamming things up whenever he drops in for a spell. Flapping his way through scenes, Young has all eyes on him whether he's strung up in the air or strutting across the sand. With a larger than life approach to the diminutive avian character, Young masters a supremely obnoxious voice which makes the gull even more entertaining. "Positoovity" is his feature number where he wows the audience with his tap-dance routine but it's his antics and shenanigans in "Kiss the Girl" that really begs noticing.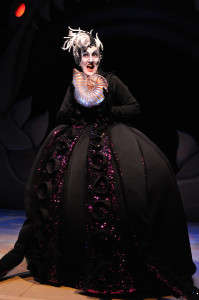 Being bad has never looked or sounded as good as it does with Donna Migliaccio playing the unstoppably villainous Ursula. Migliaccio is thunderous force to be reckoned with; her stage presence alone is the perfect hybrid of maniacal villain and comic crackpot. Vile, vicious, and vivacious, Migliaccio takes the stage by storm in this role; so comfortable wriggling about in those tentacles that one could swear the role was written just for her. Her saucy and wicked rendition of "Poor Unfortunate Souls" is striking with a belt at the end that stuns the audience. As far as villains go, Migliaccio is the epitome of Ursula in all her nefarious glory.
All stories that start with once upon a time and end happily ever after have a prince and The Little Mermaid has Prince Eric (Joe Chisholm.) Much more than just a pretty princely face, Chisholm creates an honest depth to the character; a rich and hearty eager young lad with substance to his on-stage existence. "Her Voice" is delivered with heart-felt euphoria that explores the emotional richness of Prince Eric as he first falls in love. Chisholm's voice is pristine; a clear bell ringing out across the waters, especially for his part in the quartet "If Only." Chisholm delivers charm and congeniality; his moments spent in Ariel's company defining true love for every fairytale lover.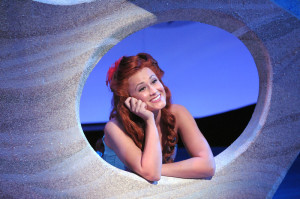 As for the little mermaid, Ariel (Lara Zinn) her voice is phenomenal. Hitting high notes as clear as ice and with pitch as pure as water, Zinn is Disney's The Little Mermaid in every sense of the role. Hearing her rendition of "Part of Your World" is like discovering the enchanted world of humans for the very first time through the eager and curious eyes of the young Disney princess. Her girlish smile and innocent charming nature is perfected in every moment she's on stage. Whether Zinn is discovering her legs or marveling over her human treasures she captures the very essence and spirit of Ariel with each gesture, note, and movement. "Beyond My Wildest Dreams" is as the title suggests, a song sung to perfection beyond the wildest dreams of even the most imaginative theatergoer. Zinn is a rare and superb treasure; a voice that delivers Disney perfection with every note she hits.
Don't become a poor unfortunate soul by missing out on this impossibly amazing opportunity to see the regional premier of Disney's The Little Mermaid, it's the must-see show of the holiday season, so see it before it swims away.
Running Time: 2 hours and 15 minutes with one intermission
The Little Mermaid plays through December 28, 2014 on the Main Stage at Olney Theatre Center— 2001 Olney-Sandy Spring Road in Olney, MD. For tickets call (301) 924-3400 or purchase them online.