Sunrise. Sunset. Do not let too many of those pass between now and when you attend the Arena Stage production of Fiddler on the Roof. An exceptional reboot of the virtually timeless classic written by Joseph Stein, with Music by Jerry Bock and Lyrics by Sheldon Harnick, this time-honored tradition is now being displayed under the Direction of Molly Smith and Musical Direction of Paul Sportelli. Featuring original choreography created by Jerome Robbins now adapted and restaged in Arena's Fichandler stage in the round by Parker Esse, the lessons of love and life captured within the moving tale resonate louder than ever to the modern audience. Filled with spirited performances, this treasure is only performing through the holidays bringing a wonderful cast to the stage, over half of which contains DC-area-based performers.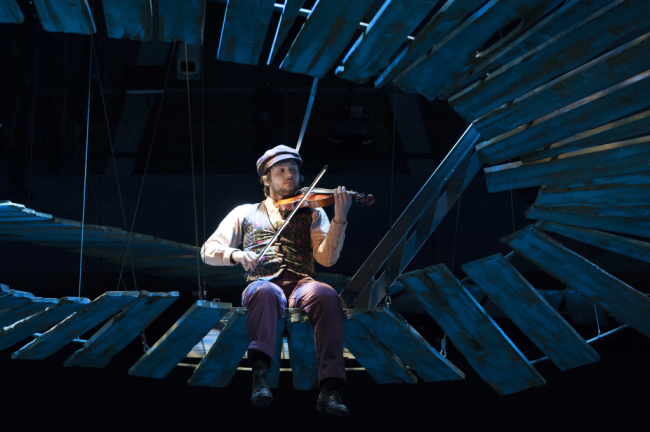 Anatevka has a natural simplicity to its looks compliments of Set Designer Todd Rosenthal. The wooden decking across the floor serves as every outdoor and indoor space in the village, with spiraling mossy stones that lead down below. Rosenthal's real prize in his design work is the spiraling plank that is suspended from above, mirroring the flooring below and serving as the rooftops of the village. When the Fiddler sits upon the roof there is a symbolic hint of being above while being a part of all that happens in the story wrapped into Rosenthal's clever spirals.
The performance exudes a sense of authenticity in the spoken portions of dialogue, particularly when it comes to some of the more minor characters. Dialect and Vocal Coach Lynn Watson hones her focus on the differences between outsiders from the village such as Perchik and Fyedka, making their accents stand out from the norm of that in the village. Watson's approach with Tevye smacks of a slightly more modern Russian Jewish sound, as if he were from present day and not the turn of the 20th century, but on the whole her work with the rest of his family is strongly grounded in the era of the show.
Jerome Robbins' original choreography is striking and sharp. Under the adapting and restaging forces of Parker Esse it is truly stunning. There is a fierce rhythmic drive leading "Tradition" which keeps the ensemble moving tightly and upright with a sense of noble pride. Esse's two finest numbers are "To Life" and "Wedding Dance" where a great deal of spinning and dance-kicking it witnessed. The technique executed in these numbers, particularly in "To Life" is not only sharp and crisp but it evokes high spirited emotions; the moments of elated joy that are worth celebrating. The precisely timed spiral into chaos at the end of "To Life" is exceedingly well done with all members of the number ending on the floor.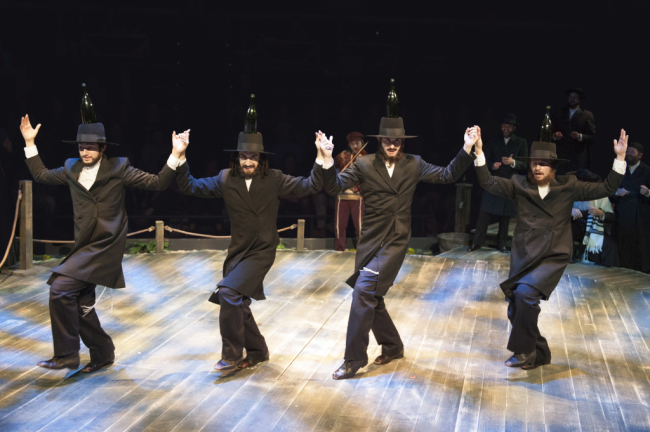 Musical Director Paul Sportelli grasps the meaning of tradition with this production. The rich robust sound of a full ensemble for numbers like "Tradition" and "Sabbath Prayer"— though the latter of the two takes a much headier and more somber tone— echoes the emotions laced into the score and lyrics of these numbers. Sportelli keeps both "Now I Have Everything" and "The Rumor" two numbers that are often cut from productions and shows their lyrical beauty with his work. Sportelli understands where voices are meant to blend, where they are meant to stand out, and how to find the epitome of balance between the both for this production.
Director Molly Smith reconceptualizes the notion of Tevye (Jonathan Hadary) presenting him in more of an everyman and modern light than the character is traditionally known for. Hadary's performance, while not wholly disappointing, leaves a bit to be desired in both vocal delivery and emotional connectivity. Under Smith's direction, the character plays up the subtlety of Tevye's comic shtick, nearly every line and aside delivered as a joke, and in places this works whereas in others it does not. Hadary internalizes an enormous character, making him outwardly meager and meek; a unique, albeit mildly unusual, choice.
His rendition of "If I Were a Rich Man," becomes more of an idealized patter-dream, as he speaks through the majority of the song without the holds and sustains that are written into the number. He carries the tune of the song, albeit casually, courting it rather than romancing and engaging with it. Hadary also struggles with a few of the upper and lower end range notes throughout the production. His emotional connectivity to the character is lacking, but what he misses in deep dynamic development he makes up for with comic presence and humorous sense of mind; a newly adapted Tevye who refuses to carry the weight of those that performed the role before him, making it curiously his own in a brand new way.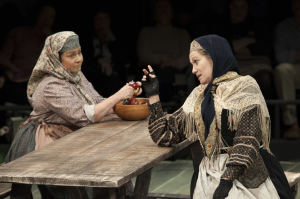 Golde (Ann Arvia) is hearty character from whom springs a sharp tongue, clever wit, and a gorgeous operatic voice. Her solos in numbers like "Sunrise, Sunset" and "Sabbath Prayer" are of a strikingly clear quality, showcasing her range and vocal technique. "Do You Love Me?" a duet performed with Hadary, is the epitome of how to infuse comic timing into a sentimental song, never once compromising her vocal clarity for a laugh-line delivery. Her emotional responses to everyone, though particularly to Yente (Valerie Leonard) are both engaging and amusing.
Leonard, who plays the nattering village matchmaker as well as Grandma Tzeitel in the dream sequence, makes her presence felt in her cameo appearances throughout the performance. Her voice blends to brilliance with five others in "Anatevka." Showcasing her unique versatility, the zany rendition of Grandma Tzeitel presented during "The Dream" is hilarious and shrill; perfect for the utter lunacy of the dream, much like the arrival of Fruma-Sarah (Tracy Lynn Olivera.) From her startling arrival, all eyes are on Olivera. Her enormous powerful belting voice matches the size of her character's moxious existence and although she only has a brief solo, much like Leonard's in this number, it is well worth commending.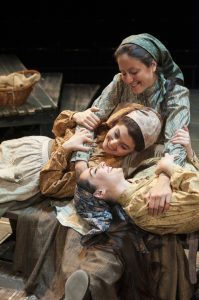 All traditions were once new, and the daughters of Tevye pave the way for these new trends to become traditions. Chava (Maria Rizzo) Hodel (Hannah Corneau) and Tzeitel (Dorea Schmidt) create charming harmonies during "Matchmaker," and play well in this time of merriment with one another. Rizzo, though having very few vocal solo lines, has an exceptionally pristine voice, much like Corneau, and brings a songbird quality to the show. It's Corneau's delivery of "Far From the Home I Love" that defines her character. Her rendition of the number is not weepy or forlorn or even laden with melancholy, but rather a bittersweet determination and tenacity that brings her love of Perchik (Michael Vitaly Sazonov) to the foreground.
Sazonov, as the rebellious and radical Perchik, delivers a surprisingly intense rendition of "Now I Have Everything," a song that rarely makes the cut for the show. His attitude is powerful, creating a heady stage presence, particularly when he engages his wit with Hodel, though Corneau holds her own against him and the pair make for an exciting and engaging couple. Dorea Schmidt as the eldest of Tevye's daughters has a voice suited for her only solo number, "Matchmaker," and her mockery of Yente in that number blends her ability to maintain vocal integrity while still infusing comedy into the song.
It's Tzeitel's Motel (Joshua Morgan) that one must keep an eye on, especially when he finally bursts free of his timid turtle shell into "Miracle of Miracles." Morgan is exceptionally shy and plays up all the gestures and voices of a mild and insecure character, straining to keep his natural vocal talent at bay for the first verse of his solo number. When he does burst through, perfectly timed with the clever lyrics, it is evident that he has a sturdy and well-trained voice. Other bursting voices of note include Misha (Curtis Scchroeger) the featured Russian soloist in "To Life," with an incomparable belt and blasting sustain.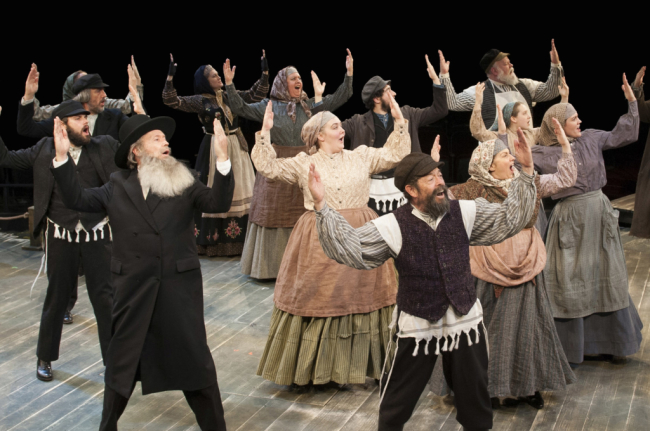 Be sure to catch the incredible ensemble and overall brilliant performance that can be found at Arena Stage with this newly adapted classic musical before time runs out.            
Running Time: 2 hours and 45 minutes with one intermission
Fiddler on the Roof plays through January 4, 2015 in the Fichandler of Arena Stage at The Mead Center for American Theater— 1101 6th Street SW in Washington, DC. For tickets call the box office at (202) 488-3300 or purchase them online.