TheatreBloom rating:
A mighty great adventure awaits audiences of all sizes at Adventure Theatre-Musical Theatre Center this fall! The 63rd season kicks off with a jubilant squeak as Stuart Little takes to the stage. Based on the award-winning literary classic by E. B. White and adapted to the stage by Joseph Robinette, the story of a shy and thoughtful mouse who lives with his human family in New York City is perfect for children of all ages. A wondrously magical tale that enchants younger audiences with its entertaining performers and engaging story; this exploration imagination is the perfect blend of nostalgia and modern relativity. Directed by Colin Hovde, this invigorating children's show is the perfect compliment for the back to school season.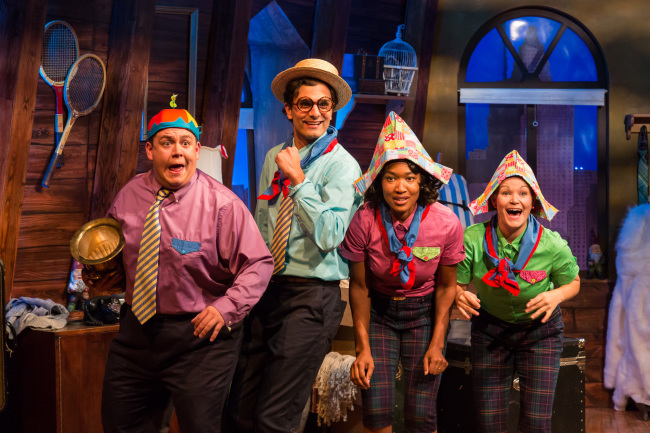 It is easy to immerse yourself in the adventurous potential of the story as soon as you enter the theatre. Set Designer Klyph Stanford has constructed a charming attic of sorts with just a hint of activity blended with the notion of magical realism. Simply looking at the quaint space inspires a tingling sensation that at any moment a great adventure might begin. There is something brilliant to explore in every nook and cranny of the set and it becomes many worlds throughout Stuart's journeys.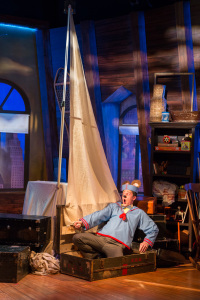 Prop Designer Dre Moore deserves a nod for the keen understanding of spatial relativity. It is utterly astounding to see Stuart's size— as a mouse who is meant to be much smaller than a normal human being— played up as a functioning device through the props. Moore crafts enormous sized props like ping-pong balls, keys and rings so that they make Stuart appear smaller. A quick slight-of-hand returns these marvelous props to "ordinary size" when they are given back to the humans in the show. The magic is seemingly endless in the minds of these creative designers.
Even Costume Designer Kendra Rai sprinkles a bit of fantasy into her work. Keeping the costumes simplistic but vibrant is the perfect way to captivate the audience without making lengthy or unnecessary scene changes. Rai provides adorable clothes for Stuart, making him appear sharp and savvy. The vivacious colors reserved for Margalo help to define her personality. Looking at the costumes is like looking through a storybook as they are animated in their own right once dressed upon the actors.
Director Colin Hovde creates a whimsical tale for audiences of all ages to thoroughly enjoy. With eager and energetic actors, the hour-long show breezes by and keeps right on moving from exciting thing to exciting thing. All-purpose performers like Tracey Farrar and Andrew Ferlo, who also play Stuart's parents Mr. and Mrs. Little, have the zippy enthusiasm for children's theatre.
The lovely and sweet Margalo (Emily Zickler) is truly enchanting, particularly when she and Stuart (Chris Dinolfo) become friends. It's nasty Snowbell (Philip Reid) that goes about mucking things up for everyone. Zickler, Dinolfo, and Reid have exceptionally vibrant personalities on the stage, really honing in on how to relate to the children of the audience and engage with them without really breaking the fourth wall. Zickler and Reid take on multiple roles as well as their main characters and are highly entertaining in all the characters that they play. Reid is particularly hilarious as both the mean-spirited Snowbell and the ferocious dog that chases Stuart all through the streets of New York.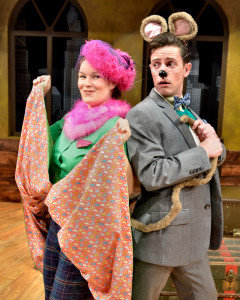 Chris Dinolfo embodies the character of Stuart Little with vigor. The balance of the timid and polite mouse shines through his eager nature to explore and go on adventures. There is compassion and wisdom in his portrayal as well; teaching morals and lessons as he travels from place to place. Dinolfo is wonderfully involved in being the mouse with the most and makes the performance delightful.
Be sure to jump in your little cars and race on down to see Stuart Little this is one little big adventure you won't want to miss!
Running Time: Approximately 60 minutes with no intermission
Stuart Little plays through October 26, 2014 at Adventure Theatre-Musical Theatre Center in Glen Echo Park— 7300 MacArthur Boulevard in Glen Echo, MD. For tickets call the box office at (301) 634-2270 or purchase them online.