TheatreBloom rating:
Follow me to a place where enchantment is real and fairytales thrive and grow. The stories are familiar and the characters are a squeal, it's the only place you can go— Pumpkin Theatre for a full season of princes and princesses in this their 47th season. Starting off with the classic tale of magic and a princess, Pumpkin Theatre is proud to present their production of Aladdin. Directed by Stacey Needle, this enchanting little tale is a little different from the Aladdin of your childhood, but just as entertaining and amazing.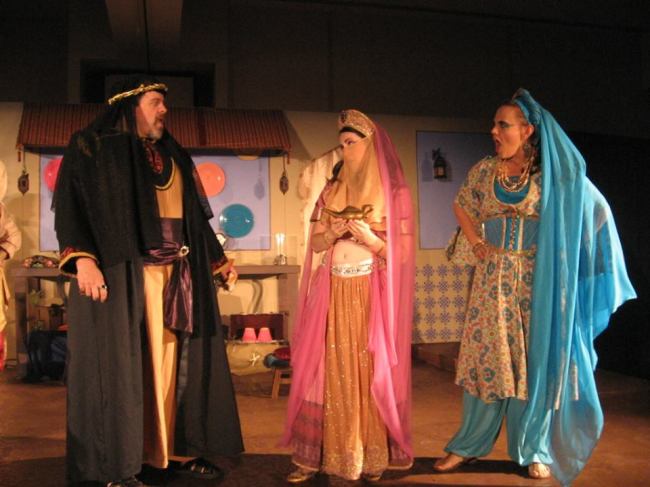 Scenic Designer Heather Mork makes quick work out of transforming the stage to an exotic location that speaks of wonder and far off places. Baghdad is the setting for the tale and Mork's warm sand-washed walls compliment that setting. Bright plates and accessories adorn the walls to create the bazaar atmosphere where Aladdin's tailor shop can be found. Costume Designer Wil Crowther lends his skilled hands to the gossamer threads reserved for Princess Opal. Like an opalescent butterfly decked out in gold and shimmery pink, Crowther's designs make her look like true royalty. Crowther gives foreboding black robes with sparkly gold accents to the vicious villain Malfi and even makes the Palace Guards look like royal glittering versions of the Pittsburg Steelers. The costumes are simply as fantastic as the magical elements of the story; Genie's white and gold outfit too!
Mandee Ferrier Roberts on keyboard provides wonderful orchestrations for the piece, but the show could benefit from even more music. There are slight pauses in the action or dialogue where a lovely underscoring tinkle of a melody would enhance what's happening on the stage. Roberts' current orchestrations sound culturally inspired and really help to transport the audience to that far away land throughout the performance.
Director Stacey Needle brings lively characters to the stage to entertain audiences of all ages. Whether it's the bumbling comic duo of Gitesh (Rafael 'Spike' Regales) and Mahesh (Bob Harris) or the sassy commanding handmaiden Sasha (Erin Confair) these characters keep the children engrossed in the production. Regales and Harris serve as brilliant comic relief to an enigmatic and intriguing tale of wonder and danger; their constant tomfoolery results in physical shtick that is highly entertaining for both children and adults. Confair, as the cheeky, albeit spoiled, servant to the princess gives a rousing good performance as well, primarily there for little one-lined innuendos that amuse the adults in the audience.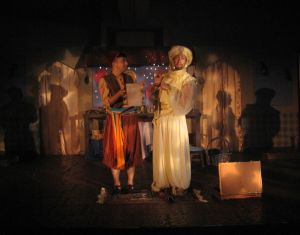 The wicked and surly Malfi (Thom Sinn) is practically perfect as far as villains go in children's tales. With a soothing tricky voice that carries notes of not-too-scary evil his enormous charisma and melodramatic style is perfect for the role. Sinn is a comic hoot on stage, despite being completely evil, and really engages with the children of the audience in a fashion most acceptable. Counteracting the evil comes the good, bottled up as it were in the all-powerful lamp. Genie (Anthony Scimonelli) is a burst of glittering entertainment when he twirls into existence on the stage. In true homage to the late Robin Williams, Scimonelli is all but channeling the intense comic genius of Williams' portrayal from the film. Rolling through accents, character voices, and other zany tricks, Scimonelli makes Genie a real class act; thoroughly enjoyable and entertaining for everyone watching.
Princess Opal (Amy Greco) and Aladdin (Sam Hayder) find that man or woman must make their own destiny. Balanced with equal parts humor and truth, both Greco and Hayder do a remarkable job of bringing these fairytale characters to life. Their voices are loud and deliberate, perfect for children's theatre and they engage with each other in a way that just hints at romance and love without being too much for younger audiences. The dream team must find a way to be together and forge their own destiny, and both Greco and Hayder do so in these roles with ease.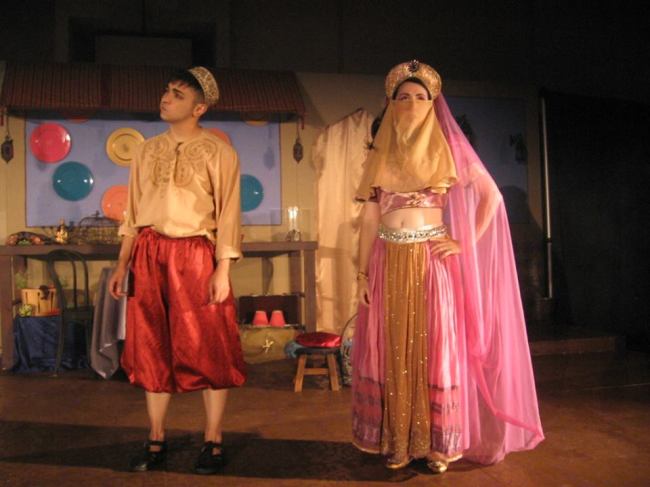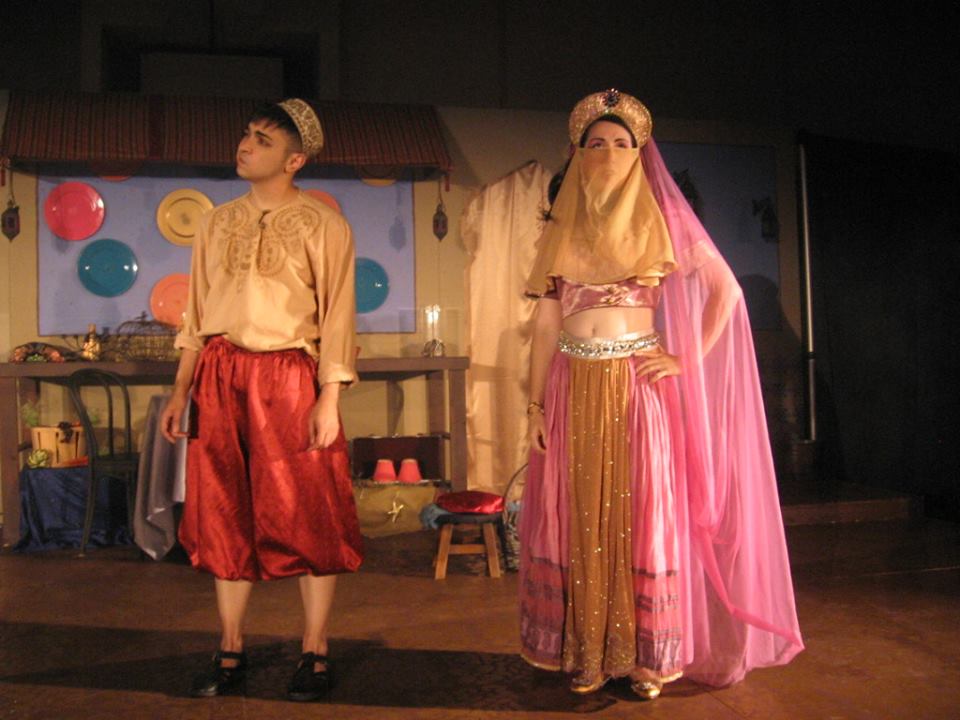 So come on down, stop on by, hop a carpet and fly to this production of Aladdin before it is blown away in the desert sands of time for good.
Running Time: Approximately 70 minutes no intermission
Aladdin plays through September 28, 2014 at The Pumpkin Theatre at Har Sinai Congregation— 2905 Walnut Avenue in Owings Mills, Maryland. For tickets call the box office at (410) 902- 1814 or purchase them online.