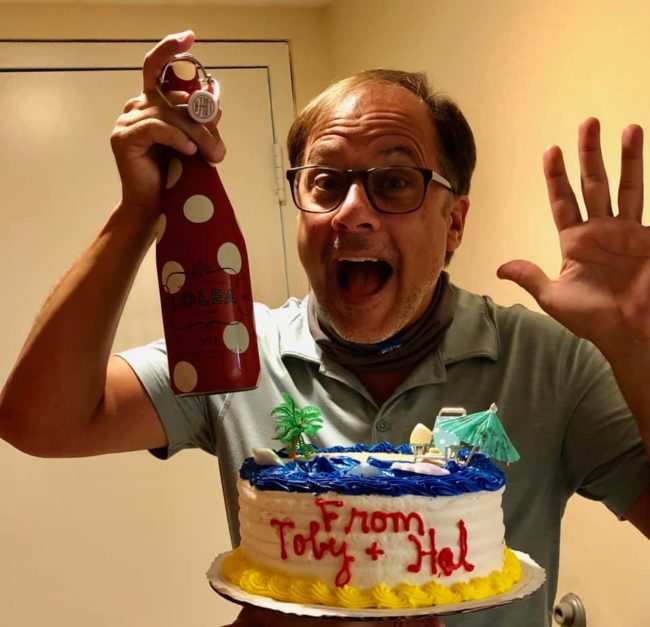 Celebrating his 52nd year on the globe, the critically acclaimed, Helen Hayes Award-Winning Choreographer and Director Mark Minnick took his birthday celebrations in stride this year amid the Global Pandemic. Despite the world being paused indefinitely, meaning that there would be no office desk at Toby's Dinner Theatre of Columbia overflowing with Cheezits or Gunthies, Minnick did his very best to keep a smile on his face. There were no deliveries of Edible Arrangements due to the Covid-19 Pandemic, but no doubt hundreds of his loyal friends and colleagues exploded his email-inbox with digital Amazon and Starbucks Gift Cards. As seen above, long-time employer and friend Toby Orenstein, sent him a cake and a bottle of Lolea red-fruit sangria, two things which have brought him immeasurable joy.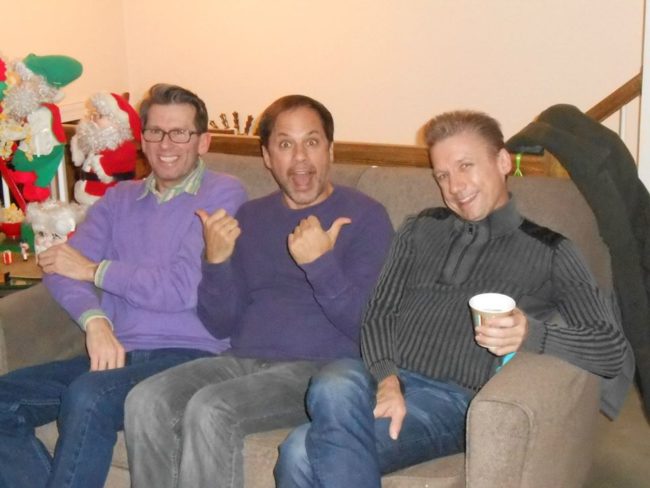 Minnick, who is known for his signature pinwheel in large-group choreographic routines, was flooded with well-wishes all over various social media platforms. Hundreds and hundreds of actors, directors, and other denizens of the theatrical realm all across the DMV sent him joy on his special day, with a few dozen more making belated wishes the day after. "Happy Birthday, Mark! Hope your day is amazing!" said friend Vickie Johnson, who followed her well-wishes with a half-dozen birthday-themed celebratory emojis. "I truly hope that today is as wonderful a Birthday as a person could have. All my love, sir." says Erik Cheski, adding to the over 200 well-wishes received on Facebook alone.

Always showing his genuine nature, Minnick gave humble and sincere thanks on his Facebook feed the day after he turned 52. "Thank you to all who took the time to send birthday wishes, some nice memories of friends who popped up and thanks Tricia for my collage! Cheers!" When asked about his age, Minnick reflected fondly and candidly on— as he says— "being old." When asked, he was quoted saying, "Yes, 52. I'm old."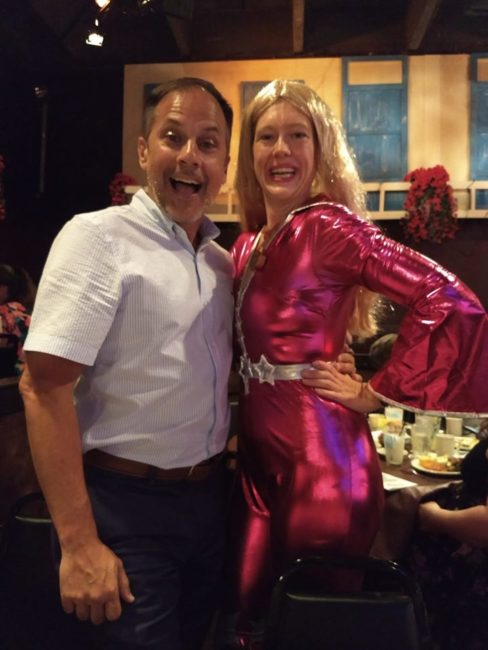 When asked about whether or not local celebrity critic-turned-baker, Mandy Gunther, would be needing to bring by any of her infamous Gunthies, he said "No need to drop cookies. You sent a sincere wish." As the Pandemic had shut down theatres across the world, there has been a severe lack of Gunthies since before February.
Respected by many, cherished by loads, and loved by even more, Minnick's 52nd year on the globe brings inspired joy to many. His tireless efforts during the Covid-19 shutdown to uplift spirits of performers who have had the privilege of gracing the Toby's Stage at any point during their career, has been instrumental in maintain both optimism and morale. When asked, he simply said— "Trying to support people in some small way."
Happy Birthday, Mark! Much love and joy— and FIVE STARS— to you always!