It's here— The Phantom of the Opera! Well, almost! In just a few short weeks, the newly imagined National Tour of Andrew Lloyd Webber & Cameron Mackintosh's critically acclaimed musical success will be landing in Charm City for just two short weeks! The Phantom of The Opera comes to Baltimore's Hippodrome Theatre from October 6, 2019 through October 20, 2019; the spell-binding masterpiece still has tickets available for sale! TheatreBloom has sat down with SarahGrace Mariani, playing Meg Giry on the National Tour, for an exclusive interview about what its like to tour with The Phantom.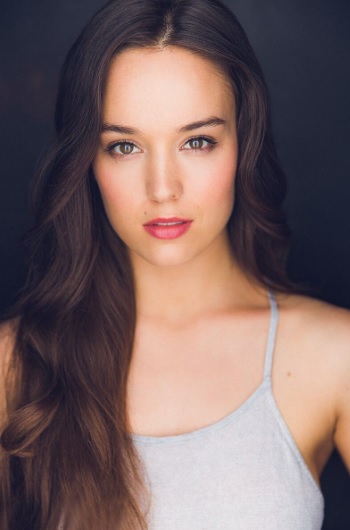 Thank you so much, SarahGrace, for giving us some of your time during your busy tour! We really appreciate it. If you can just tell us who you are and what you've done recently so our audience can have a better feel for where you've been, we can get started!
SarahGrace Mariani: Wow! Okay, we've already opened up with a complicated question because this is actually my first actual big gig. I was in New York for about two years after I graduated from college and I really didn't book that much. I was getting callbacks and things were going okay but nothing had actually hit until last summer. I did my first regional theatre gig, well the only one that I've done. I did An American in Paris at Ogunquit Playhouse, which is a theatre up in Maine. It was stunning. I had never been to Maine before and it was beautiful. It was a really great experience; it was a small town with a really great theatre community. That was a great first theatre experience for myself.
When I came back from that, I came back with a new found sense of confidence and had a lot of auditions that popped up all at once, which included Phantom, and my only other real credit— which is about five seconds of the first episode of Fosse/Verdon, the TV show. It was an incredible experience. It was a wild experience. I felt so grateful. I was actually rehearsing for Phantom, I'd been in rehearsal for two weeks, and then I left the tour, came back to rehearse for Fosse, and then moved the day after we shot Fosse. I went to Omaha, Nebraska and had my first show as Meg. (Meg Giry, Mariani's current role in the National Tour of The Phantom of the Opera.) Those are my only professional credits so far, which is kind of crazy but also a good thing. Hopefully it's only up from here!
Everybody who gets involved with Phantom tends to have some sort of long-standing history with the show. It was their first musical experience, they were in love with it from the first moment they ever heard it or saw it, etc. What is your long-standing history with Andrew Lloyd Webber's longest running Broadway musical?
SarahGrace: That's a great question. I think I saw the movie first, the one with Gerard Butler. I watched it with my family and my little sister was obsessed with it! And she was really young at the time! She was probably four or five. But she loved the movie and she would watch it all the time! And she would sing it all the time. So that is my main memory of it; my little sister constantly, constantly singing it in her room, and re-watching it over and over, and talking about it at a very young age. I first saw it on Broadway maybe in high school sometime, which is really funny because a lot of people who are on our tour now were in that Broadway production. And I missed Trista Moldovan, who plays Carlotta in our tour, she started two weeks after I saw it on Broadway. It would have been so funny if we had had a picture together, and I wish that were the case. She was playing Christine at the time. It would have been hilarious.
The real funny thing is that right before I got the audition for this tour, which was about this time last year? September or October, in the fall sometime last year, but anyway, my friend was in town from Florida and the only Broadway show that she wanted to see was Phantom. So we played the lottery and got front-row tickets. I ended up seeing the Broadway production two weeks before I got called in, and then I got to play Meg a couple weeks later. It brings my whole involvement with Phantom very full-circle.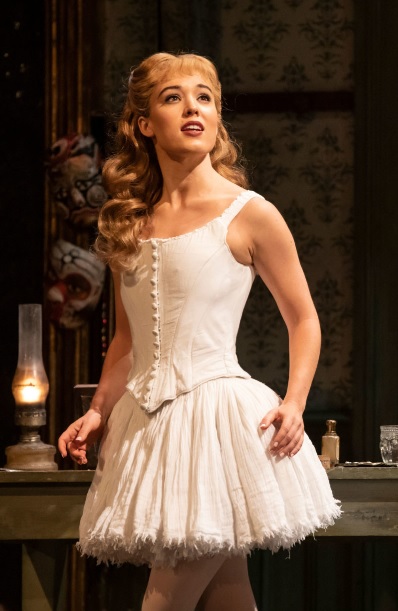 What is it like being Meg Giry?
SarahGrace: It's really fun! I think she is a very spunky character to play so I feel really grateful that I can kind of play every night and do different things and mess with people because she's fearless and always puts her nose in places where it doesn't belong. I think it's super fun. The fact that I get to act and sing and dance, do all of the things that I love on stage every night is really wild! I didn't think that it would happen this quickly for me, that I would get to do all of those things at the same time on stage right away. I truly have a great time every night. And I get to do all of those things every night in Broadway's longest running musical as it moves all over the country. It's completely legendary, which is again so wild! I keep saying that word, but it blows my mind when I think of all the things that led to me getting here. I get to be a part of Andrew Lloyd Webber and Cameron Mackintosh's history. It's just wild.
What would you say is the biggest challenge of taking on the Meg Giry role?
SarahGrace: You know, maybe it was the fact that I just hadn't done much before. I had to learn things really, really quickly. I had to be brave really quickly. I barely even knew how to pin-curl my hair for my wig. I think it was about the logistics of being in the theatre world and not knowing the rules and the etiquette and what people do. I think that was a little bit of a challenge in the beginning. But I'm also really lucky that this cast is filled with legends. I am one of the youngest people in the cast so really just having a host of people to learn from and to grow with has been amazing. Everyone has been really kind in helping me get my footing. I think that was the most challenging thing, just getting my footing.
How long have you been on the tour now? What's the official city count or the week count or show count or however you're counting?
SarahGrace: I really should count my shows! I think it's ten months now? It's almost ten months. I officially started November 29, 2018. That was my first show. I'm getting pretty close to the year marker. I can't believe it's been that long already!
So you must have been all over the country; what have been some of the more memorable stops along the way?
SarahGrace: Well our summer has been great! Pretty much everywhere leading up to the summer we were in cold places for a very long time. I mean I loved San Antonio, Texas and I loved Milwaukee, Wisconsin, those are some good ones despite being cold. But our summer was awesome because we were in LA and then Costa Mesa, California, and Hawaii. We made up for our tundra of a winter with some pretty fancy, warm spots this summer. That was pretty amazing.
What is the moment in the show— and maybe it's a moment Meg is involved in or maybe she isn't involved— that really defines what The Phantom of The Opera is for you?
SarahGrace: It's probably a moment that I'm not in. At the very end of the show when The Phantom has— and this is not a spoiler, everyone by now knows this— let Christine go from his liar, letting her go with Raoul, you see him in this complete state of shock and confusion and compassion and sadness. As he's saying his last, "Masquerade, paper faces on parade…" you see him crumple as a human. He's not a good guy— he murders people— but in that moment you just see him expose emotions and the complicated nature of his soul and I think it's really touching.
Do you have a "favorite" fun or silly moment in the show that reminds you of the joy amidst doing eight shows a week, living in buses, airports, and hotels, that keeps you going?
SarahGrace: Again, it kind of comes back to the cast. When we're in cities where we don't know anyone, we have each other. That's kind of the sacrifice of being on tour. This is a job where I get to explore cities and put on shows and make people happy, but you're sacrificing this sense of normalcy for your home life; you're sacrificing your community home in New York or wherever you're from; you're sacrificing a lot of that. You just sort of cling to each other and your tour cast becomes your home and your community. The fact that we actually like each other? It's a huge deal! I have friends that are on tour where the company does not get along as well as we do. We have game nights and we go explore fun places in all these different cities together. We actually want to be with each other.
I also really appreciate bowing at the end of the night. I love seeing little kids in the front row, smiling. I can't believe that this is what I wanted to do for so long and the fact that I'm here, now; that recognition is something I try to keep with me always. I never, ever want to get tainted. This job is a great job and I love it and I am grateful to be where I am with it.
Is there a "worst disaster" type moment that has happened to you while you've been on the tour that you feel comfortable sharing? An epic blooper of sorts, perhaps? Maybe you had a stumble on stage, fell on your butt? Something like that?
SarahGrace: So, I have that exact story, actually. At the end of the show, when Meg comes back on to confront/save the Phantom, he has strewn his music on the ground. It's often right where I need to run. One night, I completely slipped and just planted right on my butt. I got up really, really fast and I made it. But it was one of those moments where my heart just started going really, really fast and it was also very funny and I could not stop laughing in this very, very serious moment. So that's happened. We love when things go wrong on stage because the audience never knows but we think its very funny to laugh at each other about those sorts of mistakes.
What would you say you have learned about yourself from being a part of The Phantom of The Opera national tour?
SarahGrace: You know, there are good days and bad days. Everyone still has their ups and downs when you are on tour. I booked this tour that is very successful. After years of not having anything, I got this job. And I love this job but there are still bad days on the job. There are still times when I doubt myself. It has been a lesson in coming into a confidence that waxes and wains sometimes. It's learning how to deal with that while being professional and being human. People make mistakes. It's kind of a dark answer, but its true. It's a real thing, just learning to trust myself and take the good with the bad and realize that I've gotten sick a lot on tour. That's been a surprise, I wasn't prepared for that. I've had to learn how to deal with that, how to sing when I'm sick. It's learning a lot of logistical things, dealing with mental health and physical health on the road and how everyone is feeling. And learning that despite what you are feeling, you still have to go on stage every night and give a show. It's pretty wild but it's all good things. It's part of learning to be a human that puts on shows.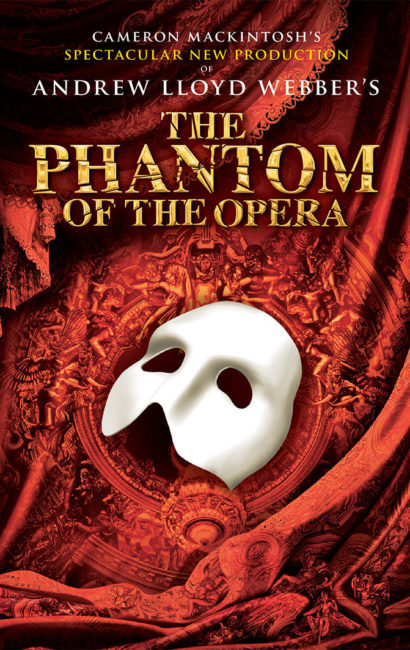 If you had a second to wear the marketing person's hat, and tell people to come and see Phantom while it's here in Baltimore, what would you say to them?
SarahGrace: To come see it! Especially if you haven't seen our version. If you've seen the brilliant original, that's great, but that means you also need to come see the spectacular new version. Because there are some new and really exciting changes in it. We have some huge technological advancements. There's lots of fire and smoke and special effects that are really, really exciting. And a lot of these effects might be effects that you've never seen before. I would entice you to come see when the chandelier drops; it's very exciting! Honestly, the show itself is just really beautiful. It will be an incredible escape for your friends and family for a night. Just come explore it and have a great time with an incredible show.
If you could be anyone— literally anyone, no barriers, boundaries, or other factors involved— in the show, other than Meg, who would you want to be and why?
SarahGrace: Oh, that's a good question, I haven't been asked that before! I say all the time that I would play Raoul because I like— not making fun of— but I like putting on a voice and pretending that I'm Raoul. But I'm actually going to change my answer here. I would love to be Buquet (stage-hand Joseph Buquet) because I want to be hung; I want to be lifted up into the air and be weird and creepy! So I want to be Buquet!
What is it that you hope people will take away from coming to see this newly reimagined touring production of The Phantom of The Opera?
SarahGrace: It's such a classic story. And it's multi-generational. So you have little kids in the audience with their grandparents who have brought them to see the show and there's this shared history there, which is pretty amazing for a show. To have all these different types of people, across all these ages, to come and be able to relate to this story that talks about compassion and forgiveness and complicated people. That's what the world is filled with today. So I think it's really special to see that played out on a stage.
Anything else you'd like to say about the experience?
SarahGrace: I'm just so grateful to be here. I know there are still a few tickets available, and I think that would be good for people to know that so that we can sell that show out in Baltimore. I'm just so excited to see everyone and meet everyone! It's going to be a great experience.
The Phantom of the Opera plays from October 6, 2019 through October 20, 2019 at Baltimore's Hippodrome Theatre in the France-Merrick Performing Arts Center— 12 N. Eutaw Street in the Bromo Seltzer Arts District of Baltimore, MD. For tickets call the box office at (410) 752-7444 or purchase them purchase them online.