Right and wrong— who's to say, which we should refuse? All we know, love survives either way we choose. Where, you ask, do we go when the world's not right? The answer here won't rhyme, because it's really hard to rhyme things with "Chesapeake Arts Center's Black Box Theatre." But when the world's not right— and there is so much not right in the world right now, Stand Up For…Theatre has an answer. The theatrical arm of How Do You Like Me Now Productions, whose mission draws awareness to bullying of all varieties in an attempt to stop it, is presenting a musical comedy that illustrates through humor and iconic characters how important it is to embrace your true self, no matter who that is, and love yourself and others for who they are. Directed by Ed Higgins, with Musical Direction by Brandon Seehofer and Choreography by Katie Sheldon and Kristen Rigsby, The Addams Family is inviting you to snap along and move toward the darkness this February.
It's an unforgiving space, the little black box studio tucked away at the back of the Chesapeake Arts Center in Brooklyn Park, both in its layout and its acoustics (or lack thereof) but Stand Up For…Theatre manages a quality production all the same. Director Ed Higgins works along Set Designer Joshua Anderson and the entire Set Construction Team to create the creepy-kooky mysteriously spooky Addams' Family house and ancestral crypt in the confines of the space. Anderson, who doubles up as the show's Lighting Designer, adds the ominous effects lighting that would be expected to accompany any production featuring those ookie-Addamses.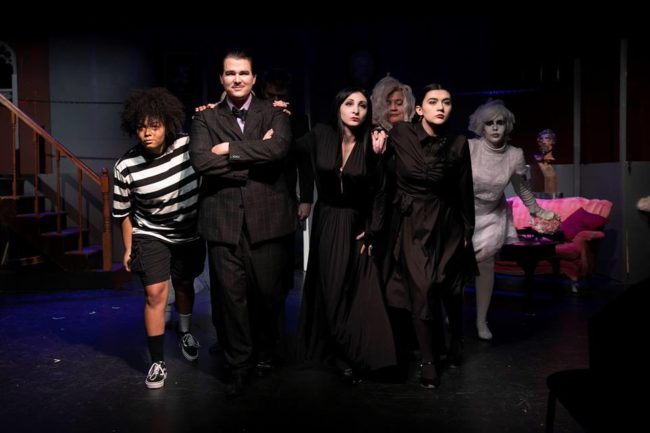 While there are a few things here and there that fail to 100% land their mark, across the board most of the stylistic and design elements are even with one another, creating a solid production. Most notable is the Cosmetic Design and Make-Up Plots crafted by Bambi Galore, whose expertise flourishes in the eerie lighting, creating ghastly and ghostly pallor in the Ancestor Ensemble. Costumes, as assembled by Producer Grant Myers and Jenifer Hollett, look the part, which is always a challenge when mounting to the stage characters that are previously known from movie and television incarnations. The basic black is all over the Addams Family characters while more, sprightly and inviting colors can be found amongst the Beineke Family. But all the white costumes for the ghostly, crypt-dwelling ancestors are most impressive, especially when it comes to capturing the era which these five ensemble players represent.
Choreographing any dance routine— even the scripted one featured during "Secrets" is a large challenge given the confines of the restrictive space. But Katie Sheldon, responsible for choreography of the principal characters, and Kristen Rigsby, in charge of ensemble choreography, put a tremendous effort into making the dance routines of this show functional for the space. Though Sheldon makes a questionable, albeit bold, choice regarding Morticia's dance moves in "Secrets" (a full-legged, high-kick for the character seems out of place considering the "legs" reveal in "Tango de Amor" though the actress executes it flawlessly) her overall approach to the principals and their dance moves is impressive, particularly Gomez and Morticia's routine during "Tango de Amor." Rigsby keeps the ancestors actively engaged as background movers, especially during that same "Tango de Amor."
Though the script calls for at minimum eight Ancestors, Stand Up For…Theatre is working with just five. Michaela Saul, Nettie Morgan, Autumn Gebhardt, Carly Winter, and Nikolai Skwarczek play the Bride, Cave Person, Conquistador, Saloon Girl, and Soldier respectively. Saul, as the Bride is particularly entertaining to watch in the background of Wednesday's solo "Pulled" as she gets funky and groovy dancing all around in celebration of the fact that Wednesday has found love. All of the ancestors find the fun in their roles, and it's well-evidenced during one of the "But Love Reprises" where they have cute little step-toe booty-kiss moves.
With powerful pipes and a real knack for being mischievous, Nyah Lampasone makes for the perfect Pugsley. With just one proper solo, "What If?" Lampasone wins over the hearts of the audience with charm and panache. Lampasone's interactions with Grandma Addams (Jenifer Hollett) are not only catalytic converters of the plot, but really give the Grandma character a purpose ever since the post-Broadway script rewrite. Hollett, who's over-the-top animated portrayal of the batty old granny is practically indescribable, definitely brings the kooky to the Addams Family mix.
Define Normal: The Beineke's think they're normal, after all. The Beineke's being the gruff and grumpy Mal (Don Lampasone), the dotty and detached Alice (Spencer Kate Nelson) and the twitter-patted and completely love-struck Lucas (Jake Schwartz.) Together the trio create one odd family, at least by Addams' standards. Lampasone doesn't really get to belt out his true vocal prowess until "Crazier Than You" a coupled duet that he sings opposite of Nelson, and the Wednesday-Lucas couple. Lampasone's overall characterization of Mal is striking and it makes his character transition hearty and rewarding. Nelson, as the saccharine, rhyming Alice, is delightfully dotty and has an abrupt character shift right at the top of the second act. Playing these polar opposing side of Alice showcases Nelson's performing fortitude and her vocals radiate through "Waiting" with great pluck.
As for the adorkable and convivial love-struck Lucas, Jake Schwartz has mastered all the angst and emotion of a young not-quite-teenage boy in love with his first ever girl. Schwartz has a strong voice, well-suited for the way Lucas' musical numbers are written. Schwartz presents the character's emotions sublimely, really letting the audience see what a Lucas Beineke is all about. More importantly, he's got good scenic-timing and a keen understanding of his scene partners, whether they be Wednesday, his primary paramour, or more imposing characters like the sword-wielding Gomez. His solo during "One Normal Night" is a fierce battle cry for love, as is his anthem-verse during "Crazier Than You." He imports a great deal of functional chemistry into Lucas's relationship with Wednesday.
Dark, deadpan, and definitely not a bursting ball of sunshine, Olivia Winter is the epitome of every incarnation of Wednesday Addams one could hope to see. She even dons Wednesday's original braided pigtails (a whole process that was literally cut from the pre-Broadway run of the show) and maintains the expressionless slate upon her face even when showing enthusiasm. Winters brings a feisty fire to the character, that itchy blaze of teenage emotional junk that blasts out whenever she can't keep it in, which in this show is often. Doing a solid justice to the number "Pulled" and her half of "Crazier Than You" Winters has the audience eating out of her dark, demented hand from start to finish.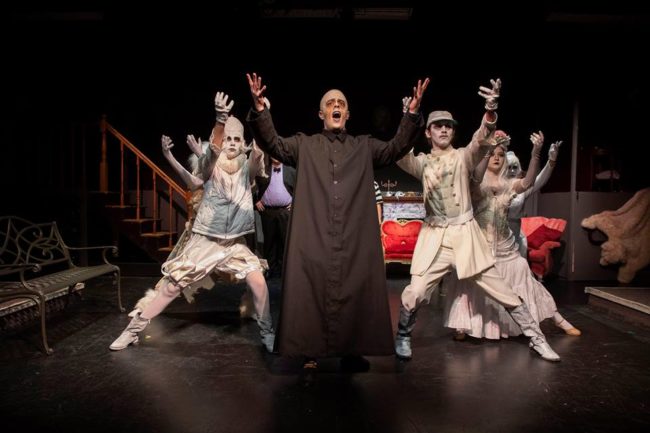 In the post-Broadway rewrite, many of the characters' functionalities were retooled, the prime example being Uncle Fester (Sean Miller.) Now seen as a guiding narrative force and overall conduit to the audience's Addams Family experience, Uncle Fester is that quirky and irrepressible ball of shenanigans that has his hand, foot, head, and nose in everything. Miller does an extraordinary job vocally affecting the character to sound as quirky and strange as most would hope to remember him. He sings delightfully, he swoons with grace over the moon, and really gets engaged with the audience all throughout the show. Miller's rendition of "The Moon and Me" makes this filler song, despite its lovely score and melody, truly worth something. And Director Ed Higgins had the good sense not to fall for the theatrical trappings of attempting to replicate the Broadway effects of this number, simply letting Fester dance simply with the ancestors. Miller is an all-round winner in this production and really brings some electricity to this performance.
The matriarch and patriarch of the Addams Family are unique forces to be reckoned with in their own rights. Morticia (Bryce Kylie) and Gomez (Joshua Anderson) have a curious chemistry that works exactly the way Morticia and Gomez ought to. They each bring their share of strengths to the table, they each brings a startling familiarity to their respective characters, and they play well off of one another, especially during moments of tense conflict. Their "Tango de Amor" dance of passion is exquisitely amorous, just as their moments of terse disagreement are laid with heated intensity.
Anderson does not demonstrate the strongest of singing voices but what he lacks in strong belts and intonation he more than makes up for with his perfect timing and spoken approach to several of his numbers. It's almost more impressive to see the way he finagles his way through some of these numbers like "Trapped" and "Not Today" with impeccably timed rhythmic deliveries in short staccato verses which are more spoken than sung. But when he does sing a number fully through, as he does with "Happy/Sad" it is quite the song, and filled with a soothing sound. Anderson should also be commended for his superb ability to improvise and ad-lib, which occurs often throughout the production, but not without due cause. Unfortunately, in this performance, a great many tech cues were misaligned and sometimes missed entirely, but all were covered with lightning-quick witty quips, primarily from Anderson. Truly understanding Gomez, he infuses these moments with the essence of the character and makes this added lines and moments feel as if they were always penned into the script. Bravo to Anderson for this impressive skill.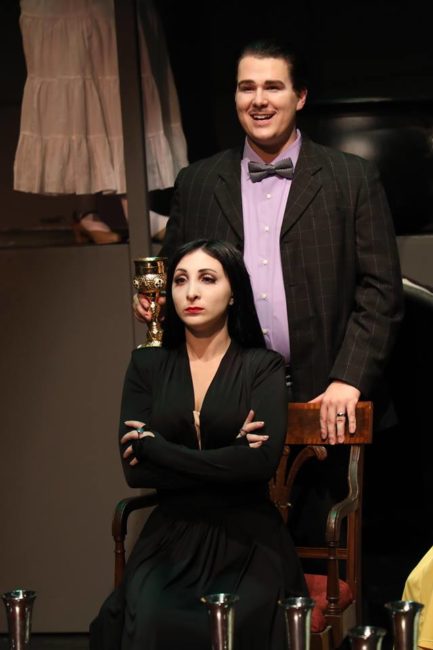 Picture perfect in her likeness, Bryce Kylie— though an insanely young choice for Morticia (though it makes that line "I'm much too young to have a married daughter" that much funnier)— becomes Morticia Addams incarnate. Statuesque facial features, an imposing sense of deadpan humor, and an overall rigid and ominous grace to her movements, Kylie is every Morticia and any Morticia all rolled intone. With killer vocals, that at times slip just a bit more modern than the score intends, Kylie masterfully delivers "Secrets" and "Just Around the Corner" and really puts a conflagration of feeling into these number. While her exterior is corpse-like and her facials follow suit, it's the subtle inflection in her voice (and those extreme belts in her songs) that really reanimate Morticia as a living, breathing character in the show.
Director Ed Higgins has assembled a strong team, both on and off the stage, and keeps the show moving, despite technical hiccups and a challenging space. Keep your eyes and maybe your ears (and possibly every other part) open for Lurch (Kyle Cardozo) as well. Higgins has given him more of the television version of Lurch, but it works just as well for this production. So do as you're told, move toward the darkness, embrace all that's good inside, and see The Addams Family with Stand Up For…Theatre this weekend.
Running Time: 2 hours and 20 minutes with one intermission
The Addams Family plays through February 3, 2019 as a Stand Up For…Theatre production in the Black Box Theatre space of The Chesapeake Arts Center— 194 Hammonds Lane in Brooklyn Park, MD. Tickets may be purchased at the door or in advance online.