In the post-modern age, people have the right to express who they are unabashedly and the freedom to experience connections with a wide variety of people – without judgment. A person may identify as cis- or transgender, non-binary, or agender – gay, straight, or bisexual – single or married – monogamous or polyamorous – or any combination of these – and this diversity is tolerated (for the most part.) It's a brave new world we live in, so it is difficult to fathom that there was once a time – not that long ago – when simply leading a "non-standard" lifestyle and/or expressing opinions that diverged from the narrow band of what was considered "socially acceptable" could cause an otherwise innocent person to be labeled as a bonafide threat to national security. This was certainly the outlook of the United States government during the McCarthy era, a time when fear of Communists was running high and being seen as "different" was not a good thing.
A Perfect Arrangement, written by Topher Payne, directed by Ann-Lowe Barrett and produced by William Powell, is set in 1950 – on the front lines of one of the most tumultuous periods in U.S. history. The show, which is being performed at the Greenbelt Arts Center through the last weekend of February, is witty at times, upsetting at others, and even occasionally anger-inducing – sometimes all at once. When the play opens, we discover three couples having a cocktail party in the home of Bob and Millie Martindale. Bob is a manager at the State Department in Washington, DC, and his wife, Millie, is a charming housewife with a winning smile. Norma Baxter is Bob's secretary, and her husband, Jim, is a school teacher who knows how to mix a mean "Baxter Special" (an alcoholic drink made with seltzer, sardines, and a secret ingredient that Norma identifies as some kind of vegetable shortening…ick! Moving on.) Rounding out the party are Bob and Norma's boss, Theodore Sunderson, and his wife, Kitty – an adorably clueless woman who is more than a little ditsy. The party conversation is light and breezy, sprinkled with witty banter, personal stories and commercial-like exchanges about various household products.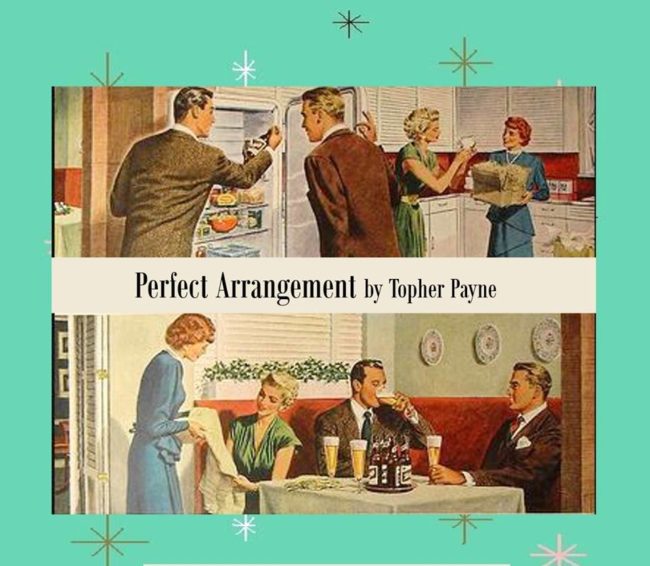 However, the mood changes abruptly when Sunderson reveals that he had an ulterior motive when he requested this gathering. For months, Bob and Norma have been working tirelessly to identify "anti-American sympathizers," but now the department wants their help to locate other potential "security risks" who might be vulnerable to blackmail – but he specifically wants to target, as Kitty so colorfully puts it, "fags." After this announcement, there is a noticeable, growing tension in the room. Bob and Norma attempt to defuse the situation by graciously accepting the new assignment and awkwardly returning to their respective spouses to say their goodnights. When Ted and Kitty finally leave, the source of everyone's discomfort is revealed. Bob and Millie don't have a typical relationship. Neither do Norma and Jim. The truth is, they are all living in the same house – as two gay couples. The four made an arrangement years before to pose as husbands and wives who are best friends and live next door to each other. That way, nobody would ever suspect a thing. But with this new mission, their secret life may be at risk. Will the four of them be able to keep up the ruse – or will they be found out?
The cast of A Perfect Arrangement is – in a word – brilliant. There are no weak links. As Bob Martindale, Jon Meeker effortlessly navigates the fine line that exists between his public persona and his private one. He steps into each role he is playing like a pair of comfortable pants. Win Britt plays Martindale's other half, Jim Baxter, and while his role is more subtle, Britt turns in a very solid performance. While Meeker has a Clark Kent kind of vibe, Britt seems more of a typical 1950's husband – that is until he lets his hair down, figuratively speaking, and then watch out. He's full of passion.
Susan Harper's Norma Baxter is smooth, refined and nuanced. You can clearly see the battle going on in her head. On the one hand, she wants to live the rest of her days loving Millie – maybe even have a baby with her. But she also wants to have the successful career she's worked so hard for. Like all the others, the double life she is leading is taking its toll. As Millie Martindale, Ronda Ansted plays this dichotomy to the hilt. In one moment, she has the appearance of a perfectly dutiful wife whose main purpose in life is to serve her husband and keep him happy. But in the next moment, you can clearly see who Millie really is once her perpetually plastered-on smile gives way to a wry scowl. When those moments happen, they are delicious.
Janice Coffey does an excellent job playing the delightfully dippy Kitty Sunderson, so named because she once tried to make friends by inviting people over to play with feral cats she had collected from the neighborhood. She points out that while most of the injuries were minor, the incident was so memorable people just started calling her Kitty, and it stuck. She is as sweet as her husband is bitter. At first glance, Bob Singer's Theodore Sunderson saunters across the stage, acting and speaking like a courteous gentleman – complete with Southern drawl. But then his true character emerges as he goes on a heated homophobic diatribe. And yet, Singer still manages to find Sunderson's humanity, which is to his credit. There is one last character in this ensemble piece who has not yet been mentioned. Joy Cecilly Gerst plays Barbara Grant, who at first appears to be the martyr of the piece, but it soon becomes clear she is a force to be reckoned with. Gerst is excellent in her role – strong, solid and shows a quiet strength under all the bravado.
All of the action takes place in the couples' living room, which – just in time for Valentine's Day – is decorated with plushy furniture in shades of red – with rose-colored walls. There are several entrances on the stage – a wide door upstage center representing the front entryway, separate egresses to the kitchen and the bedrooms on stage left, and a smaller door upstage right. We learn that this door leads to Bob and Jim's bedroom. However, when it is opened for the first time, it is obvious that it is not really a bedroom door. There are coats and other pieces of clothing hanging on a rod right inside its entry. And then the symbolism becomes clear. Bob and Jim are in the closet – literally.
And speaking of closets, 1950's fashions are generally not the most attractive, at least in this reviewer's opinion, but in this production, costumers Hilary Glass and Jeane Binney blow that notion right out of the water. The women wear some of the most amazingly gorgeous dresses I've ever seen: e.g., a beautiful burgundy frock with a large chiffon flower in the front, a flowy, earth-toned evening gown that looks like it's been trimmed with feathers, a slinky black and white mermaid-style dress, etc. – complete with appropriate jewelry, fur stoles – and of course, high heels. Even the casual pedal pushers Millie Martindale sometimes sports are 50's housewife chic. The men's costumes are also solid – very appropriate for two men posing as upper middle class husbands. At times, they look as though they stepped right out of a Sears catalog – and it really works! The set, the set dressing, the impeccable costumes – every minute detail seems deliberately designed to support the story the two couples have woven – quite successfully.
A Perfect Arrangement reminds us that while bigotry is certainly still alive and well, we've come a very long way since the 1950s. Though the subject matter may still be controversial to some, everyone should find something to appreciate about this taut, entertaining and eminently watchable production. Highly recommended!
Running Time: Approximately 2 hours and 15 minutes with one intermission.
A Perfect Arrangement plays through February 23, 2019 at the Greenbelt Arts Center— 123 Centerway in historic Greenbelt MD. For tickets call the box office at (301) 441-8770 or purchase them online.