First— there are such thing as vampires.
Second— this is the third performance in the three-show The Horror Rep with We Happy Few in residence at the Capitol Hill Arts Workshop. This is Dracula, directed by Robert Pike, adapted from Bram Stoker's novel, and devised to the stage by Grant Cloyd, Keith Hock, Meg Lowey, Kerry McGee, Robert Pike, and Jon Reynolds. This is fierce. This is thrilling. This is a racing pulsating heartbeat of vampires the likes of which have yet to be experienced on stage. This is the <silver> bullet of Bram Stoker's spooky unholy, undead living legend. This is We Happy Few and their magnificent approach to Dracula. (And their vampires do not sparkle.)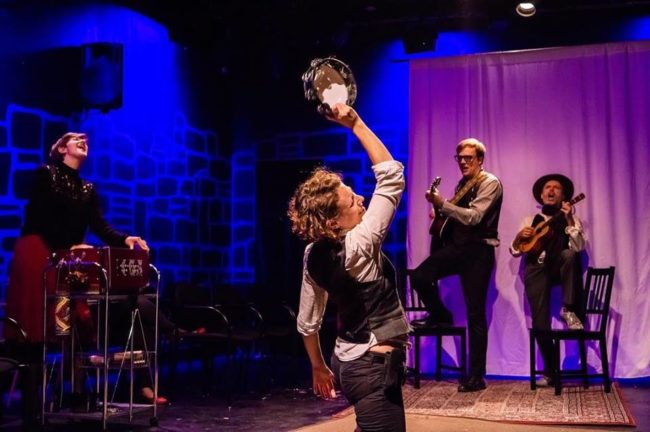 An ensemble piece, just like the other two offerings in The Horror Rep, Dracula closely follows the Bram Stoker novel in so much as the 60-minute time constraints allows. Only the We Happy Few approach is more mystifying, more chilling, and much, much more intimate. Using the black box space of the Capitol Hill Arts Workshop, the production is presented in a more traditional format than that of the audience-movement-based performance of A Midnight Dreary. Much like their rendition of Frankenstein, this production gives you the broad strokes of the narrative, with intimate character details, all while engaging the audience with a heightened sense of excitement, primarily charged by the performers' high-octane energies.
Conceptually, Director Robert Pike and the devising team create a fascinating monster out of the Count Dracula character. Any one person could be Dracula, and yet he would only be as scary or as haunting as that one person could make him be. Pike and the devising and performing team, with the assistance of Lighting Designer Dan Smeriglio, set two scrims on opposite ends of the play space, and create Dracula out of silhouette and shadow. This eerie likeness of the vampire count (voiced at times by both Jack Novak and Jon Reynolds) is charismatic and frightening in a way that one mere person could not be. This also enables the theatrical magic of Dracula's ubiquity; one moment he's on one side of the stage and in less than a blink he appears in another. This chilling effect is utilized at multiple points throughout the performance and creates that atmosphere of unease and heart-racing terror that oft accompanies such stories as Dracula.
Smeriglio's scrim-shadow-silhouette effects are used often throughout the performance in addition to creating the Count. Little handheld torches and stick-puppets create further shadow play, which is both mesmerizing and at times corny with heaps of humor thrown in for good measure. This, backed against the perpetual use of the concertina— flawlessly switched between the players as they step in and out of the scene as varying characters— creates that feel-good fun atmosphere that reminds those of us who spook easily that it is all in jest and that the dark Count will not be lurking in the bushes as we make our ways back to our cars.
The musical component of the production only serves to enhance the theatrical experience. All of the cast take turns singing and strumming or squeezing as the show moves forward, and again the mouth-sound-making comes into play throughout the show, much like it did— though to a far lesser degree— in Frankenstein. The costume work, as supervised by Paige O'Malley, is simplistic yet intriguing, adding little touches of a location that time by-stepped and a time that is far from within our grasp to the show's overall aesthetic.
The four featured performers are nothing less than stellar in this production. Jon Reynolds and Jack Novak take turns serving as the voice and shadowy figure of Count Dracula, though it is primarily Novak who serves as the titular character. His ominous vocality, his looming presence behind the scrim, and his scary seductive manner of speaking certain phrases sends shivers up the spine. Novak doubles up as D. John Seward, among others, and this characterization is compelling in its own right. Reynolds, whose primary appearance is as Gabriel Van Helsing, is all but to die for. Reynolds adapts a vocal affectation with such ludicrous melodrama that it's thoroughly enjoyable in all its humors. The overall delivery of this character is a fine example of balance; Reynolds knows how to truthfully deliver the moment against the hilarious quirks that he crafts inside of Van Helsing.
Meg Lowey is initially introduced on the concertina and appears to be the show's primary squeezebox operator despite switching off at great haste the further into the production the story gets. Lowey, playing the delicate yet determined Mina, among others, is sweet yet sound, never once letting the character slip into the gooey ingénue-esque shell in which such a character might be cradled. Kerry McGee, who takes up three such weighted roles— Lucy, Jonathan Harker, and the enigmatically unhinged Renfield— is equally animated across her three principal performances. While her Lucy is delicate, in a different vein than Lowey's Mina, there is a simplicity to the character that sets her adrift not unlike a dream. McGee's Jonathan Harker is spooked and startled, providing a great deal of the introductory exposition and experience to the tale. But her Renfield is downright unsettling; between the creepy deadest grin and the animated gestures and expressions when first being introduced, McGee makes this macabre creature most unsavory.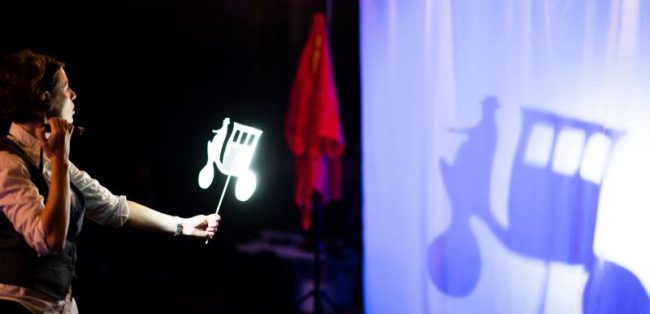 Ultimately an exquisite rendition of the tale…a tale for which there is no proof, no document, no evidence…this Dracula is as ephemeral as the monster himself. Don't miss your chance to enjoy it— and all of the other offerings in The Horror Rep at We Happy Few this autumn.    
Running Time: 60 minutes with no intermission
Dracula plays through November 10, 2018 at a party of The Horror Rep with We Happy Few in residence at the Capitol Hill Arts Workshop— 545 7th Street SE in Washington, DC. Tickets are available at the door or in advance online.
For tickets to see A Midnight Dreary click here.
For tickets to see Frankenstein click here.