What's inside the box? More like what isn't inside the box when it comes to Alex & Olmsted's latest production: Homebodies. An original devised work that is gloriously magnificent in its own right, Homebodies explores the life of two individuals and their ordinary, everyday life. Inside their box. Devised and performed by Alex Vernon and Sarah Olmsted Thomas this quaintly quirky, highly expressive, physical exploration of movement and life has a little bit of something for everyone. All wrapped up inside a single, extraordinary box.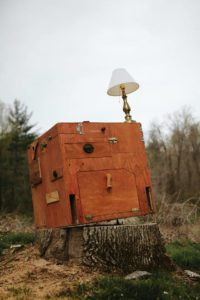 With a vast sampling of years of foregone culture influencing their work, Thomas and Vernon— as Alex & Olmsted— create a visually stimulating masterpiece that is driven by movement. The show itself is heavily grounded in physical humor, largely inspired by Buster Keaton. Vernon and Thomas excel with exuberance when it comes to their ability to play with physicality, both in gesture and in overall body work. The team possesses a keen understanding of how to use their expressive facial muscles to portray heightened comedy without its feeling over-exaggerated. There is a cleanness and an honesty to the way they play with one another, especially when they get wrapped-up in some of the more amusing physical shtick of the show.
Recipients of the 2017 Jim Henson Foundation Grant, Alex & Olmsted have crafted a vivaciously intriguing new show with Homebodies, one that is more than meets the eye, especially when it comes to the box. Inspired by The H.O. Studley Tool Chest (a wall hanging tool chest that holds 245 tools in a space that takes up 40×20 inches of wall space when closed), this marvelous machination that the pair have produced for this production is magical in a way that truly defies description. It has multiple latches, drawers, cabinets, slots, slats, switches, and then some. It even possesses the ability to fry an egg! This magical mystery chest is filled with miraculous marvels, the ingenuity of which astounds the eye, entertains the mind, and engages the imagination. After all, it isn't just a box. It's the home of the homebodies.
Vernon and Thomas take musical inspiration for their piece as early as the 1800's and move up through the mid 1950's with sounds that inform their performance. Thomas sings a lovely acoustic rendition of "We Three (My Echo, My Shadow, and Me)", accompanying herself on the ukulele at one point during the show and although it's adorably absurd, it fits well within the realm of reality that the pair has created for the performance. The scope of what they explore is deep; the way Vernon and Thomas read one another, deftly handling reactive responses from each other with great ease and consistency is truly thrilling to watch. They are reminiscent of the area's finest pair of performance mimes, Mark Jaster and Sabrina Mandell, in the way that they incorporate the art as a third character on their stage. Vernon and Thomas create something special, something wondrous to behold and experience, watching them take flight with this performance is an exhilarating new adventure!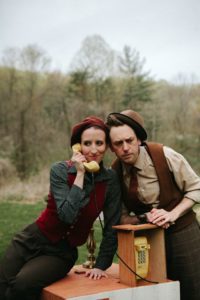 Their show would not be complete without a little bit of puppetry, inspired largely by Hansjürgen Fettig and Old Trout Puppet Workshop. The 'silent film' segment of the performance features this delightfully macabre individual, puppeteered by Vernon, and ties into the overall delicious strangeness of the entire theatrical experience. Vernon and Thomas also engage the audience through direct invitation, showing off their modified improvisational skills; the way they handle the audience is truly sublime. Their combined understanding of audience interaction to allow those watching to truly feel a part of the experience is second to none.
What's in the box, you say? Joy. Marvels. A cat?!? You'll simply have to venture out to Homebodies with Alex & Olmsted this weekend at Baltimore Theatre Project and see for yourself!
Running Time: 75 minutes with no intermission
Homebodies plays through April 29, 2018 with Alex & Olmsted at Baltimore Theatre Project— 45 W. Preston Street in Baltimore, MD. For tickets call the box office at (410) 752-8558 or purchase them online.