All theatre companies have tricks in their pockets and things up their sleeves. But Annapolis Shakespeare Company is the opposite of a stage magician. A stage magician gives you the illusion that has the appearance of truth and ASC's latest production of The Glass Menagerie as directed by Donald Hicken gives you truth in the pleasant disguise of illusion. There is a hard truth to Hicken's approach to this play in memory, and that is that the most striking and memorable thing about it is the brilliant original score composed by Mark Irwin.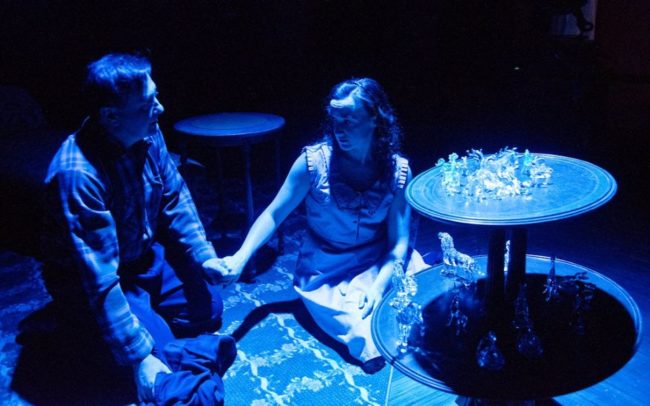 The acting in the production is as unobtrusive and unmemorable as the original score and composition by Mark Irwin is astounding and memorable. Whether or not this approach to the piece is fully intentional, a vision fully actualized by Director Donald Hicken, is unclear, but whatever its intent— muting the performances in favor of such stirring and evocative music works to the overall nature of Tennessee Williams' popular play. Irwin's score is that of nostalgia, inviting you into a world that is vaguely familiar and yet uncertain. Using Irwin's music to inform the scene above lighting (equally impressive in its intentionally dim design and subtle execution from Lighting Designer Adam Mendelson), above acting, and above all, is a curious approach that Hicken chooses for the production, but not one without merit. These indescribably evocative sounds that Irwin has composed are the living memory and reality of the play as it unfolds.
Scenic and Costume design, as fabricated by Gabriela Castillo and Sandra Spence respectively, come secondary to the show's extraordinary score. The faded interior of Castillo's set parallels Amanda's fading glory of her prime in an extraordinary fashion. Spence's costume design frames each of these characters well, crafting memories of themselves for us to uncover as we see them. Hicken utilizes these design elements to augment the stirring sensations created by the musical compositions, making this an aural experience not to be missed.
Playing tertiary fiddle to the other design elements in Hicken's production, the performances raise some questions as stand-alone entities, but when enveloped in this larger scope of sound and memory, they seem to fall into place. While Kurt Elftmann appears somewhat visually too old for the role of Tom, and showcases little difference between his exterior narrative figure— when Tom stands outside of recalled scenes addressing the audience— and his internal active portrayal— when Tom exists in live time and happening— this falls in line with Hicken's vision for the show. An individual would see himself no differently in memory even if he did look older or act differently in present time, and thus Elftmann fits the bill. That is to say nothing of his talent, however, as Elftmann possesses a natural finesse with Williams' words and manages to create places of breath between moments despite Hicken's high-pressured pacing.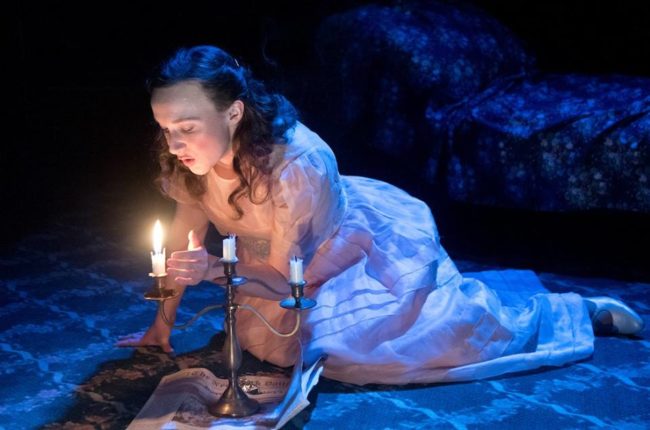 Hicken's overall forward progression of the piece sprints forward as if it were the great glass menagerie marathon. While nothing on the whole feels particularly rushed, nearly every scene of dialogue moves with such haste that the actors hardly have time to drink in each other's responses, let alone allow their words to settle upon the audiences' ears. This again may be intentional, a stretch to imply how quickly life can move by and even more briefly how it appears in the mind's eye of memory. Regrettably, this does little for character development, however, this too could be an intentional directorial focus, showing how memory is little more but shadow and outline rather than fully fleshed-out and developed characterization.
The most convivially honest characters in the production are Jim O'Connor (Benjamin Russell) and Laura (Laura Rocklyn), who both appear to defy the breakneck, breathless pacing that Hicken has set forth and appear to exist with some depth to them. Their portrayals are baffling by comparison in Hicken's overall concept, but it could be argued that the significant exchange between them stands out in Tom's memory (even though Tom was never actually present for their exchange in the front room. Remember, during the blackout, he's helping Amanda with the dishes in the kitchen.) The scene shared between the convivial Russell and the congenial Rocklyn is the most enjoyable of the performance; there is a deep and satisfying bond between them, however fleeting, and this nearly excuses all the rest of the rushing and shallowness found throughout the performance.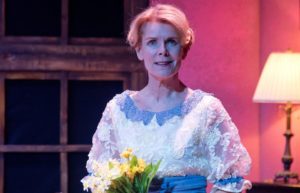 Amanda (Claire Schoonover) is a character unto herself, which defies description even in the most straight forward productions of The Glass Menagerie. Schoonover's accent is at times a bit distracting as she attempts to create the southern drawl of a belle who has passed her prime, layered with airs of St. Louis circa 1937. But the slippage in her accent is readily dismissed in character with the way the character goes off into frantic bits of memory and madness; the inconsistency is consistent with the rest of the strange concept that is featured in the production. Her interactions with Tom (Elftmann) are the most intriguing, and it is Elftmann's exchanges with her that give both of their characters the limited depth Hicken has allowed them to explore in this show.
It will be but memory before long and if for nothing else, the show should be experienced for the Mark Irwin's sensational score. The Glass Menagerie is a great classic, tried and true upon the American stage and is currently finding itself re-remembered with Annapolis Shakespeare Company.
Running Time: 2 hours and 10 minutes with one intermission
The Glass Menagerie plays through April 15, 2018 on the Main Stage of Annapolis Shakespeare Company— 1804 West Street Suite 200 in Annapolis, MD. For tickets call the box office at (410) 415-3513 or purchase them online.