This past Saturday I found myself in a church on Clinton Street, in a hall where one would expect to be voting or watching an Easter pageant rather than seeing a show. Tucked to one side of the room is a stage made of recycled flats and platforms, dressed with sustainably sourced materials; on it, four actors and a first time director mount a production of a nearly thirty-year-old play that was as moving, powerful, and evocative as if this was the first production.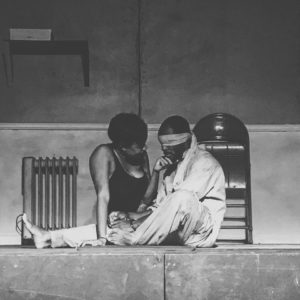 Two Rooms was commissioned by La Jolla Playhouse in 1988 and was published at the height of an already long smoldering Middle East crisis that, as this piece and production prove, hasn't changed much. We meet Michael (Jared Swain) a kidnapped professor from the American University in Beirut, who is being held in one of the two titular rooms. The second room is his home office, stateside, where his wife, Lanie (Tatiana Nya Ford) has stripped away the furniture save for a bedroll which she reverently handles as though it were her distant husband. Throughout the evening the trauma that this couple endures, on their own (communicating only in the occasional heartbreaking imagined conversation) becomes a meditation on compassion, survival, the press, and the foreign and domestic policy of the United States. Like I said… it could have premiered this past weekend!
The company's commitment to environmental responsibility makes the production all the better. Less is so much more for these designers and their director. The costumes are period friendly but timeless enough to keep us present in the world. The lights are minimal, and effective, the blindfold that shadows Michael's world applies to us, as his monologues make the audience feel like a man whose only break from the dark is the bright of his own mind. The set functions perfectly as both rooms and presents the actors with a small footprint that really gives them the opportunity to do a bit of magic.
This cast responds to this opportunity by doing a whole LOT of magic. The four actors each hold their own in this rock solid ensemble. Beverly Shannon delivers a pitch perfect 'Fed' from the State Department as Ellen, her considered pacing, clipped tone, and too perfect consonants do just enough to appear robotic but with moments that recall her humanity. The result is a vivid characterization that rings so true it is terrifying. Sherod Lane as Walker, the intrepid newsman trying to break the story of Lanie, is a pleasure to watch. His energy is infectious and he toes a tantalizing line between social justice advocate and opportunistic journalist.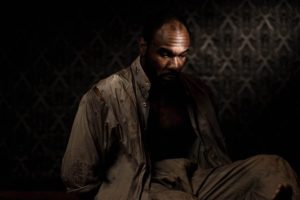 Jared Swain's Michael is a beautiful portrait of human strength and resilience in seven contemplative and meticulously prepared monologues. His tremendous work is for our benefit as he takes us on his journey and leaves us reaching for the tissues. Bravo, Mr. Swain.
Then there is Tatiana Nya Ford… a young actress who takes on the demanding role of Lanie, a wife faced with the most impossible of scenarios. Ms. Ford is the heart of the evening. She doesn't steal the show, she is too good for that, rather she brings such fire and heart that her brilliant colleagues rise to the heights WITH her and we are left to experience one of the most engaging theatrical experiences that I have seen. My companion perfectly described feeling "shook" after the show, and, she was right… Green Globe's Two Rooms will shake you, heart and mind.
The evening that Tavish Forsyth has crafted for us is one of the strongest showing of a first time director that I have ever seen. The pace is thrilling, the blocking is natural but poetic, the text sizzles as the author's words are shaped by Mr. Forsyth and his cast of masters. I am really at a loss to convey just how impressed I was by the direction, and that was before I knew that this was a maiden voyage, now I am simply blown away.
You have two performances left to see Two Rooms, and see it you MUST!
Not just because the production is top notch, not just because our local art needs your support, but also because we are still stumbling through the same political mine field thirty years later… and we aren't managing any better.
Two Rooms is exciting, touching, and thought inspiring. An excellent play that is lovingly staged and brilliantly executed.
Congratulations to the cast, crew, and company!
Go and see Two Rooms!
Running Time: 2 hours and 15 minutes with one intermission
Two Rooms plays through November 11, 2017 at The Green Globe Theatre in residence at Breath of God Lutheran Church— 141 S. Clinton Street in the heart of Highlandtown of Baltimore, MD. For tickets call (443) 963-9704 or purchase them online.