Did you know that it's less than 50 days until Christmas? It is. It is… And did you know that The Bowie Community Theatre is putting on their very own holiday production of A Tuna Christmas? They are! They are, yes they are. Directed bey Ken Kienas, this redneck holiday classic has some wild stereotypes that'll give you the jingles all over your funny bone and just in time for the coming holiday season!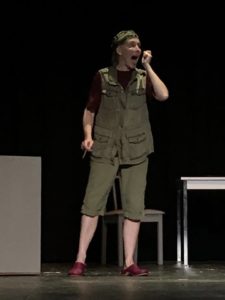 A Tuna Christmas, by Jaston Williams, Joe Sears, and Ed Howard, takes you right on back to Tuna, Texas for the holiday season and all your favorites are in tow! Traditionally staged with just two actors covering the nearly two dozen characters, Director Ken Kienas adds a 'third wheel' performer to help ease up some of the tremendous burden such a task can create for just two performers. And while having three performers does give a chance for local audiences to enjoy three talented individuals on stage, there are some moments that just quite ring true when it comes to their comedic elements and timing because of the three-way casting split. Williams, Sears, and Howard have penned specific moments featuring various characters that cover quick costume changes, adding to the hilarity of the show as a whole, that feel out of place and almost sluggish in places now that there are three performers in the production.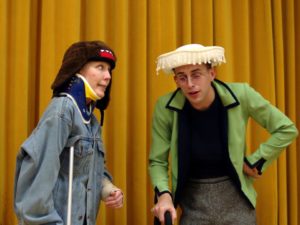 There are times when some of the dialogue exchanges feel languid and meander their way through the scene rather than burst through it with the intentional comedic speed with which the script is penned. These pacing and awkward timing issues aside, the only other flaw to BCT's production is the lack of scenic decoration. Set Designer Ryan Ronan goes out of his way to produce a minimalist set, going so far as to having the actors miming just about everything. Only this clashes with the very decorative Christmas Trees sourced and mastered by Properties' Mistresses Joanne Bauer and Terri Trembeth. Bauer and Trembeth find shotgun hulls to deck up Didi Snavely's Christmas tree and single-strand icicles for Bertha Bumiller's Christmas tree, but Ronan can't cobble together anything more than a table and chairs for the rest of the set. This seems awkwardly disjointed, but the ladies' efforts in making those Christmas trees shine should absolutely be praised.
While as a 3-legged acting unit, the three performers don't always click 100%, they each give stellar performances in their own right and each contribute something delightfully hysterical to the performance. Jeanne Louise, who takes up the roles of Didi, Petey, Vera, Helen, and Garland has her work cut out for her as the entire script was written and traditionally played by male actors. Louise rises to the challenge, however, and delivers several robust characters, all worth praising. Her Didi is crass and ornery, revving to go with that shotgun spirit that screams "Christmas in Texas" while her haughty and snooty rendition of Vera is priceless beyond compare, especially when she starts barking at the <unseen> help and her <unseen> wayward son. But it's Louise's portrayal of Petey Fisk, the lone representative of the Greater Tuna Humane Society, that really steals the show. In addition to having a unique vocal and physical affectation that packs a laughing punch, Louise unearths a sincerity in Petey and delivers the most earnest and aww-worthy moment of the show, when standing completely alone on the stage in subdued blue twilight (compliments of Lighting Designer Garrett Hyde), and speaks of the true meaning of Christmas.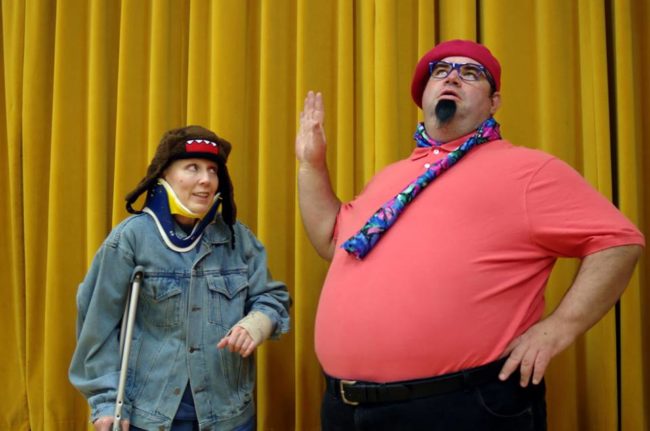 Michael Abendshein makes for one mean mother— of three, that is! The primary role for Abendshein is Bertha Bumiller and the ridiculous accent— though it leans a lil far east to the 'hon' side of things— is a great addition to his performance as this larger than life housewife of Texas. His primary interactions with every other character happen when he's playing Bertha and it's really a treat to watch. Though his Joe Bob is something else entirely! And as for Ryan Ronan, the remaining third of the comedic trio, it's hard to say whether his Inita is his most hilarious character or not, but it's certainly a memorable one, especially during the long-lived Tasty-Crème scene during the second act. Playing all three Bumiller children, Ronan finds a little something special to make them stand apart from one another (even though they're never on stage at the same time.) When Ronan gets to playing Dixie Deberry and Abendshein takes up Pearl Burras, and the pair are trying to kill blue jays, it's a real scream, it is, it is.
This show won't be playing for long, it won't, it won't, so be sure to hop on over and check out A Tuna Christmas at Bowie Community Theatre this holiday season.
Running Time: Approximately 2 hours and 15 minutes
A Tuna Christmas plays through November 19, 2017 at Bowie Community Theatre at The Bowie Playhouse— 16050 White Marsh Park Drive in Bowie, MD. For tickets please call the box office at (301) 805-0219 or purchase them online.