In a world where entertainment reigns supreme, one theatre troupe dares to do the impossible and take on America's biggest export (after weapons that is) – Movies! There is nothing new happening under the Hollywood sign and Off the Quill is ready to prove it to you in their latest show Completely Hollywood (Abridged) written by Reed Martin & Austin Tichenor, with additional material by Dominic Conti. Movie lovers will get a kick out of this comedic journey through Hollywood from Director Leanne Dinverno.

Walking into the small theater in Joe's Movement Emporium you are greeted by a bare stage and the familiar sound of movie themes to get you into the mood for what is to come. The stage remains bare through the entirety of the production with things such as chairs coming on to assist the actors through their various scenes. Costumer Katie Wanschura had quite the task on her hands finding costumes for the actors to quickly change in and out of that also fit the numerous movies the cast cover, which she did flawlessly. Lighting for the production is very simple and Dinverno uses a projection screen to add to the experience, however you occasionally find yourself waiting in prolonged blackouts while costume changes occur.
With only 30 days from idea to execution you may be skeptical as to the quality of final product, but rest assured that Director Leanne Dinverno and her actors deliver a top notch show that even Rotten Tomatoes would be pressed to find much flaw with. With 186 movies plus a movie of their own, the show begs for three actors who can pull off the quick switches and humor of the piece. This too is delivered in the three actors of the piece Andy De, Erik Harrison, and Patrick Mullen. While the show is a collaborative piece each actor got the opportunity to shine in their roles, though it is worth noting that the fast-paced nature of the lines occasionally lends itself to the actors' lines getting lost.
Andy De shows that he is like Brad Pitt, but hot, as he takes on roles like Elizabeth in Darcy's Angels and the lead in the movie the guys decide to make together. De has great instincts as an actor and hilariously breaks the wall between audience and actors several times during the show. Erik Harrison takes on the "director" role and calls for pauses for different camera angles and special effects as the show goes along. He also takes on the evil henchman role for the second act, Harrison's facial expressions are not to be missed! Rounding out the trio is Patrick Mullen who seamlessly pulls off roles from a hippie, to damsel in distress, to a tennis legend. Mullen proves that Hollywood Lesson number 7, Action Sells, is completely true as he demonstrates his training through several well-choreographed fight scenes.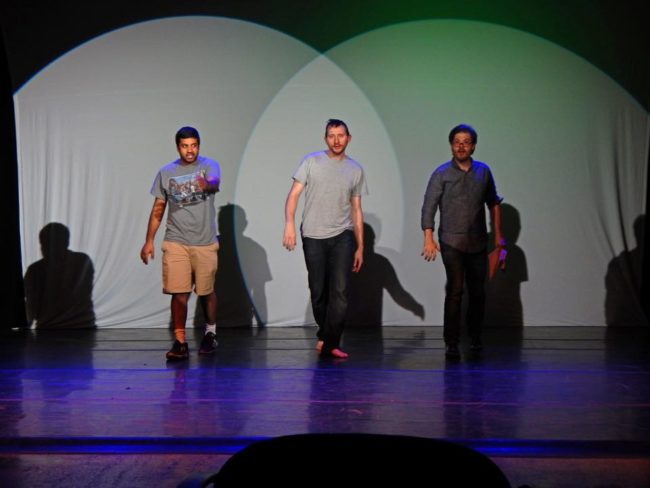 Completely Hollywood is a family show begging for large audiences to witness its hilarity and ingenuity. Off the Quill has another hit on their hands, one that will send both fans and critics home raving about their show. The show is audience interactive, so if that is not your thing you may want to give this the go by, for those that like being part of the show it's a good time for all.
Running Time: Approximately 90 minutes with one intermission
Completely Hollywood (Abridged) plays through September 23, 2017 with Off the Quill at Joe's Movement Emporium— 3309 Bunker Hill Road in Mt. Rainer, MD. Tickets are available for purchase at the door or in advance online.