No woman has just one mood. No woman likes to be pegged as just one thing. When one road leads to the forest, another to the sea, logically the third road must lead to the only professional stage in the Washington DC area dedicated to promoting the voices of women and children in theatre for a lifetime. All roads lead to Venus Theatre as they continue on their 17th season— To a T! Love Notes to a Friend!— with Claudia Barnett's latest work Aglaonike's Tiger. Directed by Venus' founding Artistic Director, Deborah Randall, this mesmerizing coming of age tale seamless wends its way into Greek mythology through the eyes of an insatiably intellectual young woman— Aglaonike. And her tiger. Potent, powerful, and provocative, a true woman's tale for the ages, Barnett's story possesses temporal ubiquity that transcends great distances, making it smart, relevant and poignant now more than ever to the modern day woman as she continues to strive for equality in her quest for knowledge.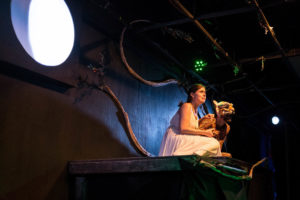 Playwright Claudia Barnett is prolific of pen, crafting words as carefully as the sorceress concocts potions and magic within the story that she's fabricated. There is a vivid use of potent language that is sagely seasoned and yet vivaciously poetic, particularly when Erichtho recites her ruminative riddles at Aglaonike. Delving deep into the many layers of this story, Barnett hones in on the unforgiving glass ceiling that oppresses women, keeping them from knowledge, power, and pursuits of life and uses Greek mythology, astronomy and sorcery as her vessel, vice, and framework. So broadly relatable are the underlying messages that Barnett has woven into this miraculous theatrical tapestry that it can easily be related to every situation. Replace astronomy and sorcery with religion and science, Barnett's message is still strikingly clear. Presenting a phenomenal mastery of potent relevancy to modernity whilst dabbling in the vast rivers of ancient Greek mythology, there is an indescribable enchantment that settles over this story, enticing audiences to hear it, experience it, learn from it.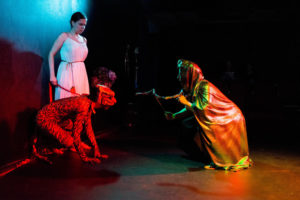 Director Deborah Randall works her own magic over Barnett's deeply evocative work, effectively drawing forth conflict, intrigue, intellect, and a great many other fascinations with just a cast of six, playing dozens of characters. Feeling like an ensemble piece, though Aglaonike is the titular character by far it is her story, Randall guides each of the performers involved in the show into a shared space of loving the craft, loving the story, and loving the message and discovery of all that these things contain. This is a palpable notion that carries strongly onto the stage, further engaging the audience in the theatrical marvels they experience as the play progresses. Her movement work with Tiger (Matthew Marcus) alone is stunning. And the vocal work she does, not only with herself (as the enigmatic Erichtho who is as mysterious as she is dangerous, with an ominous accent to boot) but with the entire cast is striking.
Echoing the solid tenets of Barnett's work, Randall focuses on Gendergy play— dismantling gender through playing with performance energies. This is most clearly witnessed with the Chorus, who not only serve as an actual narrative Greek chorus at times throughout the production, but take up a myriad of other roles throughout the show. When playing Astronomers, the three actresses drop their voices into lower ranges, and walk with a more masculine gait, exaggerating the difference between men and women in this time where women were looked down upon in the fields of science and feared in the fields of magic. Randall utilizes Gendergy play throughout the performance in a reverent but provocative manner, to call attention to the inequality of women both of the time and currently in our time.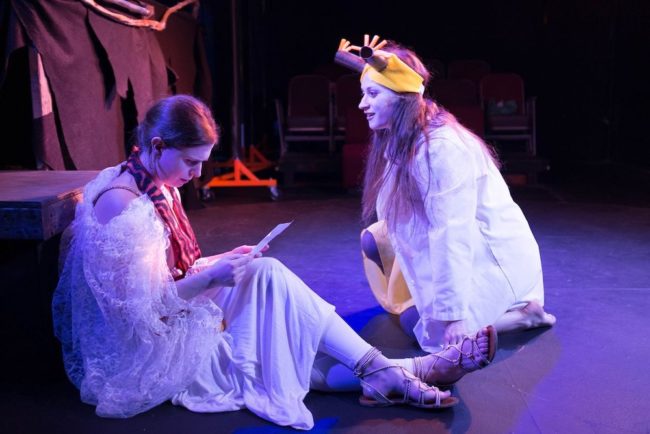 Allowing this vibrant vision of a production to thrive is the Production Team Randall has collaborated with, including her own contributions of Costume and Properties Design. The costumes fall right into the ethereal and otherworldly aesthetic that Set Designer Amy Rhodes, Sound Designer Neil McFadden, and Lighting Designer Kristin Thompson have crafted in the intimate Venus Theatre space. Liquid silver serpentine cloaks— one scaly and one pure— are fitted out for Erichtho and later for Selene, Goddess of the moon. There are great swathes of lace and darkness for the 'Witches of Thessaly', and peculiar headgear for the astronomers; all of these fashion pieces fit the mystifying nature of the play and align delightfully with the magical realism laced into the show.
Kristen Thompson keeps luminescence low continually throughout the performance relying on subdued blues and greens in her light plots to enhance the otherworldly notions of the play's existence. There is almost  a symbolic, albeit provocative, notion of femininity in the way Thompson lights and eclipses the moon, the image both beautiful and shocking when observed closely. The moods Thompson creates with shadows throughout the piece is inspiring as well. This aligns perfectly with Neil McFadden's underscoring, which hums almost perpetually beneath scenes and dialogue. McFadden has created a strange hybrid of sound, not quite music, not quite noise, but things that sound unsettling, things that are not of this world, something godly, something celestial, something ancient and unspeakable. It is McFadden's soundscape that keeps the audience ensnared in the show, allowing them to fully invest in the magical realism and ultimate astonishing performances happening all around them.
Praise to the puppet creator Matthew Pauli, who created the bones of Tiger and Snake (aptly dressed by Deborah Randall in serpentine and feline faux-skins respectively) as well as to the Mask Maker, Tara Cariaso. The detailing on the Tiger masks is striking; the way it covers the face completely transforms Matthew Marcus— the actor playing Tiger— into this rogue beast of the jungle.
Watching Marcus' performance as Tiger is breathtaking. The animalistic behavior and movement patterns he has adapted for the show are wild. The way he drops his shoulders while loping across the stage, the playful nature with which he imbues the character, especially when responding in kind to Aglaonike. Often these responses and interactions are humorous, creating a subtle sense of levity in the production. But the most impressive thing about Marcus' performance is not how majestically he prowls about the stage, or how cheeky he can be when responding to Aglaonike, but rather the impressive noise that he makes as Tiger. Sounding like an authentic jungle roar and hiss, without any trace of human in the sound, Marcus creates a sound— solely with his mouth and voice— that is the epitome of a jungle cat, and this authenticates his sentience in a curious fashion. The dances that Marcus' tiger performance— first with a Tigress (Katie Jeffries Zelonka) and later with Aglaonike, are sensual and intimate, choreographed brilliantly by Alison Talvacchio (with McFadden's ingenious score selection surging beneath them), further making his character one of the most intriguing facets of the story.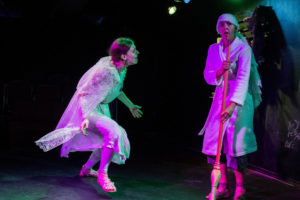 The Greek Chorus (Katie Hileman, Katie Jeffries Zelonka, Amy Rhodes) take turns sharing multiple roles, whether it be as Astronomers, Witches, or Warriors. Zelonka plays both moon Goddess Selene and the play's ultimate symbol of hope, Hesper, a young woman who wishes to study the moon through science. Her characterizations of both are enlightening but contrast like sun and moon. Hileman, taking the everyman approach to her characters, is noted for her performance as the initial Astronomer, while the audience falls in love with the sagely Yia Yia and later the warrior king Hegator, both played by Rhodes. The striking profundity in casting the same actor to play both grandmother and father is not lost in Barnett's work, and Rhodes handles them both exceptionally well, particularly when it comes to their contrasting physicalities and vocal resonances.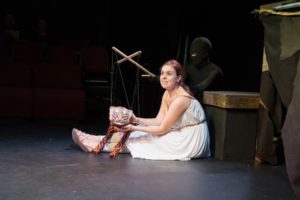 Curious, innocent, determined, honest, perplexed, sincere; and further still could go the list of things that Ann Fraistat unearths and discovers in Aglaonike. In earnest, Fraistat approaches the character and takes heart in her thirst for knowledge, her pleas to understand the lunar cycles and the way things work. The difference between science and magic is but words, is it not? And this potent discovery is something that changes Fraistat's character in a phenomenal fashion, which is reflected readily, albeit subtly, in the way she phrases her questions and continues her pursuits. Exploring the character thoroughly, so that the coming of age tale can properly come full circle, Fraistat understands the inner workings not only of Aglaonike but of how she fits into the world of the play and the world of now.
A remarkable piece of theatre for the times, Barnett's work in Randall's hand is a potent combination of fantastic and fierce, ready to invite the world to step forward with the way women discover themselves, intellect, science, and magic. A must-see show of the fall season, Aglaonike's Tiger is a show for everyone and does not disappoint with its rewarding conclusion.  
Running Time: 1 hour and 50 minutes with one intermission
Aglaonike's Tiger plays through October 1, 2017 at Venus Theatre— 21 C. Street in historic Laurel, MD. For tickets call the box office at (202) 236-4078 or purchase them online.