TheatreBloom rating:


She Stoops to Conquer lives halfway between the comedies of Shakespeare and Oscar Wilde. Its mistaken identity plotlines bring to mind As You Like It and Comedy of Errors, while the class conflicts mirror both the contrasts of The Merry Wives of Windsor and The Importance of Being Earnest. It's a bit like a Jane Austen novel, if Jane wrote comic plays rather than satirical novels.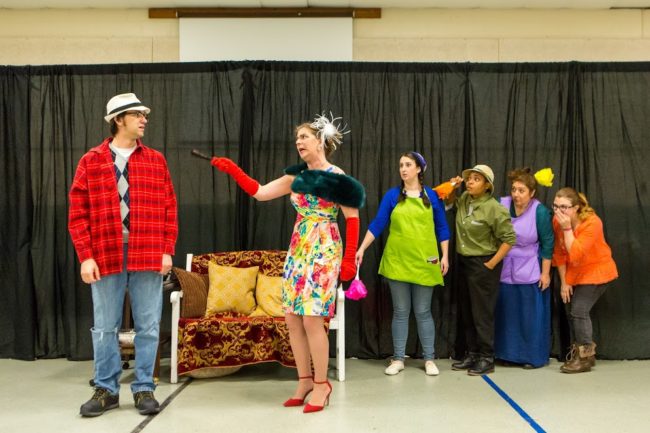 Director Melissa Jo York-Tilley has given it an early-20th-century spin, reminiscent of both Vaudeville and the 1960's. Especially delightful is Amy Griffin as Mrs. Hardcastle, like Margaret Dumont in a Marx Brothers film. Running through the background of each scene is a continual comic play by the Hardcastle family servants, silent Harpo-esque inspirations from Betsy Ryan Katie Scott, Mara Sherman, Connie Ramsey, Caty Nicholson, and AnuRa Harrison. The last two stood out especially, with Nicholson's rubber-faced antics and Harrison's arch, bold performance. 
Griffin is marvellously dressed out of the 1920's, a period which echoes the late-18th-century class distinctions (pointed out so vigorously in shows like Downton Abbey). Jason Foster plays Griffin's husband Mr. Hardcastle, the owner of the house: perhaps not quite a castle, but certainly a manor which has fallen on sufficiently hard times that it can be mistaken for an inn. And mistaken it is, by George Hastings and Charles Marlowe (Tim Caron and Sarah Pfanz, splendid and cool in aviator shades), and the three get great comic mileage out of mistaking him for a man of much lower class than he is.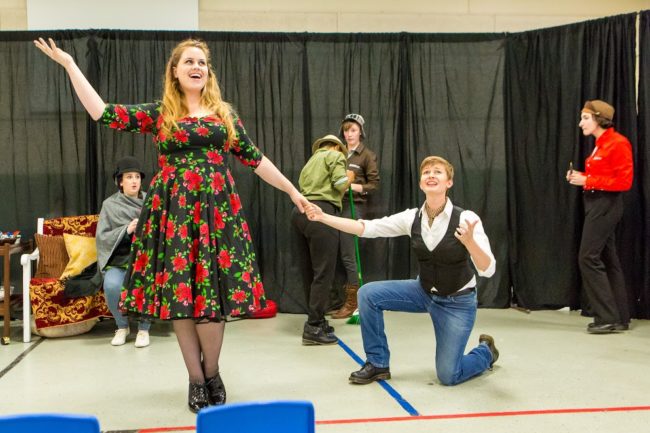 The title refers to the romantic plot-line: daughter Kate Hardcastle (Rachel Dickinson) and niece Constance Neville (Brittany Williams) are wooed by the two men. Or rather, Kate woos Marlowe by playing to his fetish against the upper classes, so she plays the barmaid. Echoing Shakespearean comedies, it takes only a bit of an accent (charmingly managed by Dickinson) to fool exactly the person it's meant to fool (and, of course, nobody else). Williams' Constance is the brightest and most ingenious of the group: Williams is confident, light, and charismatic. Serving as the agent of chaos through all this is Tony Lumpkin, played by Dave Joria in a diamond-checked sweater as a Harlequin. Joria is hilariously louche, cracking all of the witticisms with perfect timing.
The play could use a bit of a trim: running north of two and a half hours is a bit much for a comedy with two centuries of cultural change weighing on it, and a bit more weighed down by its community-center-gym location. Overall, it's a charming revival of an important bit of theatrical history, still fresh and funny in the capable of hands of Britches and Hose Theatre Company. The play's introduction was written for David Garrick, the most prominent Shakespearean of the 18th century: perfect far for the B&H Shakespeareans.
Running Time: 2 hours and 40 minutes with one intermission
She Stoops To Conquer plays through June 25, 2017 with Britches and Hose Theatre Company at the Green Acres Center— 4401 Sideburn Road in Fairfax, VA. Tickets are available for purchase at the door or in advance online.