I can feel it! Anticipation in the air— something just beyond compare— to any other show I swear— there's just something about this show that I cannot express! Maybe it's the wonderment of pure theatrical magic or perhaps the fantastical imaginative journey that sparks the soul alive, but whatever it is, there's something about this show— this Finding Neverland— that mere words cannot express with any hope for justice! Arriving at The Hippodrome Theatre in Baltimore to close the 2016/2017 theatre season, this striking and beautiful musical— with Book by James Graham and Music & Lyrics by Gary Barlow and Eliot Kennedy— is pure faerie dust! Wild, whimsical, and wondrous— this musical unleashes the inner child within us all, touching the heart and soul in the process, all while reminding us how very important it is to believe in the imagination. Directed by Diane Paulus, be prepared to discover the adventure, excitement, and boundless emotions that await you inside Finding Neverland; you won't be disappointed!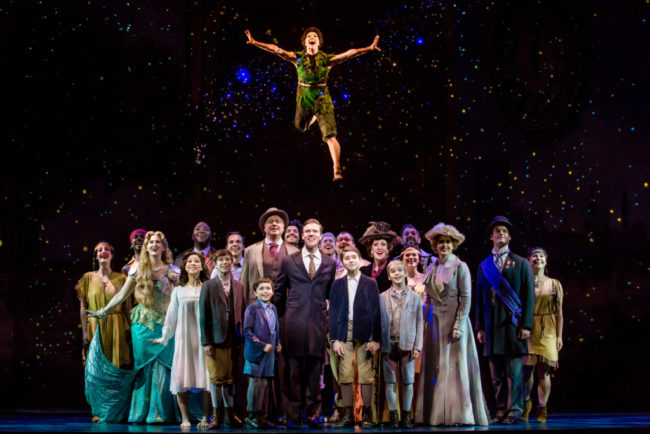 Fanciful fantasy and fantastical illusion await at every turn of this marvelous production. Spearheading the creative team with these imaginative creations is Scenic Designer Scott Pask. With Projection Designer Jon Driscoll and Lighting Designer Kenneth Posner fortifying the team, there's limitless possibilities to the wonder that is seen on the scene. Indescribable magic is in play once Posner's luminary tricks get under way against Pask's backdrops and Driscoll's projections. A simple nightmare in the park becomes an enormous roaring pirate ship in just the blink of an eye and it's all much too fantastical for proper words! Mixed into this creatively clever clutch of designers is Illusion Creator Paul Kieve and Air Sculptor Daniel Wurtzel, who conceive the most stunning and emotionally evocative effects of the show. The moment when Kieve and Wurtzel's effect unfurls there is a cathartically rewarding emotional release that draws forth a bittersweet series of tears straight from the heart.
Polishing the show's aesthetic, Costume Designer Suttirat Anne Larlab and Hair & Makeup Designer Richard Mawbey achieve the essence of London in 1903 in addition to the iconic whimsical look for the show of Peter Pan. Larlab creates a sharp contrast between the play clothes the boys wear out and about in Kensington Gardens and what those of posh society wear to the dinner party. The sartorial selection showcases splendidly the fashions of the time while not overtaking the appearance of any of the characters— except of course when it's meant to, like for the authentic Captain Hook and his rather lavish red-coated and heavily accessorized affair.
A true storyteller's musical is what James Graham, Gary Barlow, and Eliot Kennedy have fabricated with their musical staging of the Miramax Motion Picture (written by David Magee, based on the play The Man Who Was Peter Pan by Allan Knee.) Rich and luscious, full of emotional heart and stirring moments, this trio of creatives have fabricated something exceptionally special; they have created a musical for everyone, children and children at heart, to remind us all of how much more we can experience and enjoy from life if we just let ourselves play, if we just let ourselves believe. Enhancing the magic of this tremendously brilliant and beautiful story, Choreographer Mia Michaels sets the scene early on with the bouncy and bubbly nature of the movement she encourages during "Welcome to London." This same thrilling excitement and motivated style of movement follows the dance moves throughout the course of the production, maintaining the spirit of childlike happiness as it grows.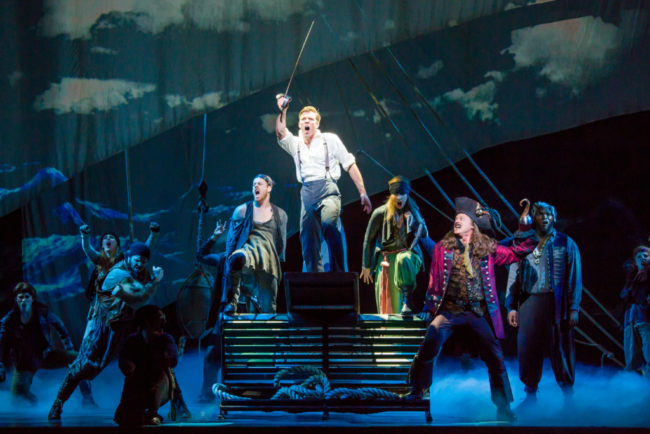 There are little performances from the talented ensemble that just tickle the funny bone in a fondly reminiscent fashion; perhaps there is something to be said for watching adults embody childish gestures and behaviors as it really seems to be the cause of a great deal of laughter. Elliot (Thomas Miller), the stage manager, and Albert (Corey Rives), the Barrie household man servant, are prime examples of this humorous approach to characterization. Miller, who is often seen with either five chairs or four children ganged upon his person as he struggles to lift them off stage all at once, has a sharp of sense how to respond and react to a situation, which adds humor to what's happening around him. Rives takes a much more physical approach to his comedy with a skittish shuffling mincing movement every time he enters and exits a scene. And let's not forget the arrogant Lord Cannan (Noah Plomgren), whose toupee is as ridiculous as his accent, which is as ridiculous as his facial expressions once he's become incensed.
The little performances of comic purport grow exponentially once the troupe of actors becomes involved. The two that take the notion of flamboyantly melodramatic acting over the top are Dwelvan David as the pompously theatrical Mr. Henshaw, and Matt Wolpe as the fussy and equally overly dramatic Mr. Cromer. Wolpe unleashes his inner child in full tantrum at various points throughout the performance and its hilarious. Equally as hysterical is the way David carries on with his character, particularly once he learns he's been cast as Nana— the dog— in Peter Pan. David all but stops the show with his delivery of a line in response to the question, "Do you believe in faeries?" and the uproarious response from the audience is well warranted.
Sharp and scaly of attitude and countenance, Mrs. Du Maurier (Karen Murphy) is sour and disagreeable at the best of times. Much like a ticking bomb waiting to erupt in her next fit of attitude, Murphy is a battleax when it comes to playing the stern and unyielding mother of Sylvia. With severe posture, and rigid facial features, one might be tempted to smile at her in hopes of— well, you know what they say…never smile at a— oh, nevermind. In all seriousness, Murphy is ripe and well suited for the role, particularly her change of heart near the production's end. The same too can be said of Kristine Reese, playing the haughty and rather vile Mary Barrie. With a shrilling soprano sound, she fits Part 2 of "The Circus of Your Mind" with a harrowing chill. That number, which features Reese, Murphy, and the Charle Frohman character, is by far the most unsettling musical number featured in the piece, though deliciously so.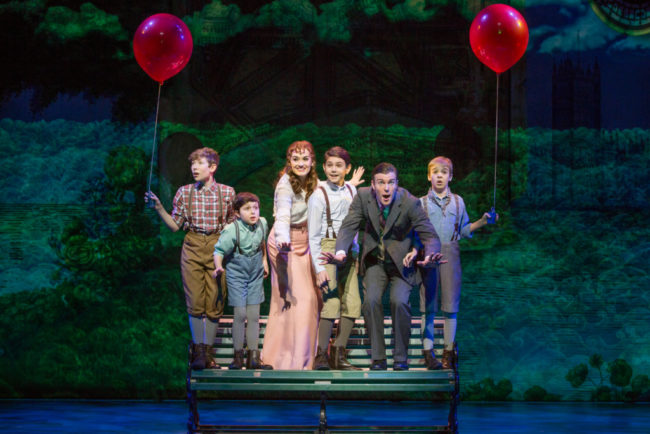 They are the pirates of Kensington Gardens, the Llewelyn Davies children: George, Peter, Jack, and Michael (at this performance Colin Wheeler, Connor Jameson Casey, Turner Birthisel, and Tyler Patrick Hennessy respectively.) And what a rowdy and spirited bunch of youngsters they are! Wheeler, as the oldest, has his moment to shine when he starts off "We're All Made of Stars", strumming his little string instrument and encouraging the others to join in. This quartet of young performers is exceptionally exuberant, radiating hope and light all throughout the production, even if it does take the Peter character a while to join the others. Connor Jameson Casey, as the aforementioned glum and sullen Peter, is quite the versatile performer, giving a strongly grounded performance when it comes to emotional fortitude and certainty. With a cherubic sound, Casey accompanies the J.M. Barrie character through several duets, including "When Your Feet Don't Touch the Ground", arguably the most moving number in the performance.
Tackling the role of Charles Frohman with gusto and vigor is John Davidson. There's something exciting about the way he guides the character through choppy waters, rising and falling over crests and swells of turbulent action when it comes to J.M. Barrie's latest play. But the real decadent delight of Davidson's performance is getting to watch him become Captain James Hook. Masterfully balanced between comedic and frightening, Davidson puts a piratical attitude forward and owns the moment when thundering about as the villainous knave. "Hook" and "Stronger (Part 2)" are robust numbers that explode with tenacity from Davidson as he blusters and blows his way through them. But Davidson provides the perfect balance as a performer on stage, making his Frohman a wildly different yet uniquely parallel construct. When he takes to "Play" there is a youthful exuberance that spreads like infectious wildfire from his lips through to the entire acting troupe, igniting a fun-loving and free-spirited blaze during this song.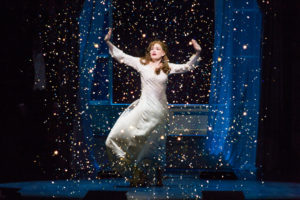 Simple and sweet, Sylvia Llewelyn Davies (Christine Dwyer) is a delicate character not unlike the fading light of a faerie once a child stops believing. Dwyer is remarkable in the role and the chemistry that she creates playing opposite Billy Harrigan Tighe, as J.M. Barrie, is astonishing. Sweet and honest, in both emotional expression and in vocal exclamation, Dwyer brings Sylvia to life with an imagination all her own. "All That Matters" is a torch song for Dwyer, carrying an unyielding flame of love in her heart for what's lost, channeling it into the strength to carry onward for her character's children. When featured in duet with Tighe, especially during "What You Mean To Me" their electrifying chemistry seizes their voices and makes the song as brilliant as white hot lightning.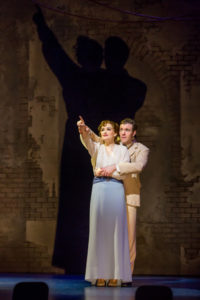 You don't need spectacles to see the fundamentals of Billy Harrigan Tighe's approach to J.M. Barrie; it's all heart. Tighe creates this imaginative man torn between reality and his own fanciful imagination with nothing but raw, honest heart. Emotionally present and exposed from the beginning, there is an earnest sheen to the character that radiates brighten than even Tinkerbell. Traversing the tumultuous waves of emotional upheaval that perpetually spiral him forward through this story, Tighe delivers a gripping performance as J.M. Barrie, leaving the audience shocked, amazed, and clinging to every word he says, every imaginative creation that he shares. "My Imagination" is bursting with feeling, like so many other songs he sings. "Stronger (Part 2)" becomes a life-affirming, emotionally explosive number that carries the audience with hope eternal through the intermission and into the second act. Tighe is J.M. Barrie and Peter Pan and the boy who never grew up and the inner child living in us all; this remarkable performance is beyond words— you'll have to use your imagination to picture such a thing!
Life is too absurd to be taken seriously. You need only to believe to use your imagination and once you do, you can find your own way to Neverland. But in the meantime, imagine yourself procuring a ticket to Finding Neverland while it's here in Baltimore so as not to miss all the wonder and magic that this production has to offer for every child— and child at heart. Theatre is for everyone and never was there a show that more readily proves it than this one does.
Running Time: Approximately 2 hours and 35 minutes with one intermission
Finding Neverland plays through July 2, 2017 at the France-Merrick Performing Arts Center— 12 N. Eutaw Street in the Bromo Seltzer Arts District of Baltimore, MD. For tickets call the box office at (410) 752-7444 or purchase them purchase tickets online.