Every girl should first understand herself. And in order to understand herself she must fully understand herself, inside out and all throughout. After all, what's the point of sinning if you can't tell a good story about it? Playwright Monica Byrne crafts up quite a good story with What Every Girl Should Know, even if it is set 100 years prior to when she penned it. Appearing as the other half of the #NastyWomenRep at Forum Theatre, What Every Girl Should Know is a scintillating and evocative piece of work that forges strong tethers to modern women's issues. Directed by Jenna Duncan, this intriguing drama, swaddled in dark humor and feminist hope, is a deceptively simple exploration of what it means to be a young lady.
Dramaturg Laura Esti Miller's research is well reflected in Paige Hathaway's set design as well as Heather Lockard's costumes. 1914 is threaded beautifully into the stitchery of the girls' undergarments; Lockard makes them pure white not only because it was the standard of the era but as a subtle reflection of their purported innocence, despite who they are and why they are where they are. Hathaway's set is a snapshot of history frozen before the audiences' eyes; the epitome of an inner city Catholic home for wayward women in the tiny dormitory of four aforementioned females.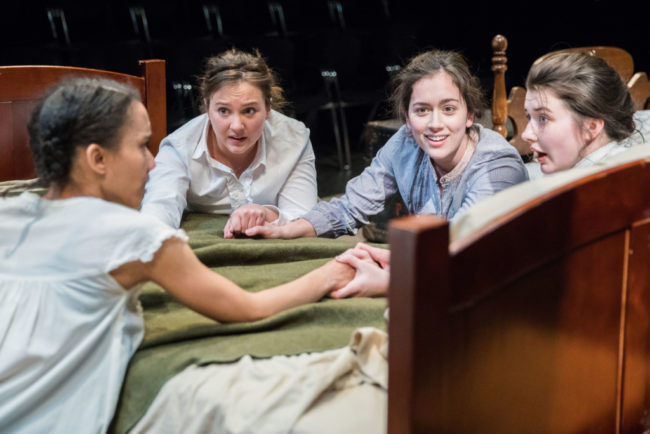 Sarah Tundermann's use of light becomes an intrinsic part of the exploration. Tundermann fabricates light into a fifth character, essentially using it as a guiding presence that shapes and molds each of the performers in their scenes. The use of utter darkness in the beginning and subsequently throughout, combined with real candles and varying levels of dimness are visually striking as well as symbolically inviting when it comes to the thematic approach to the play. Tundermann carefully introduces light into certain scenes with a languid grace and other times it as sudden as a biblical miracle, snapping into existence like a spark of creation.
The slightly off-putting choreographic interruptions, by way and design of Choreographer Paige Hernandez, are at first a bit jarring and knock the play out of its 1914 New York locale. But as they progress, in the guise of spiritual happenings via the deity St. Margaret Sanger, their abstract movements grow to be representative of the shifts which the girls are undergoing. Hernandez' choreography is polished and rather impressive all things considered, but it's initial placement feels abstruse and it is quite some time into the play before its representative nature grows clear. Sound Designer Sarah O'Halloran infuses modern waves of music, something caught between the genres of house and electric with hints of found-sound welded into its soundscape for the moments, which broadens the potential for slight confusion, though the music itself is catchy.
The dynamic and perpetually turbulent relationship among the four characters is navigated smoothly by Director Jenna Duncan. Ensuring that the connections established are authentic, the emotional expressions are genuine, and that nothing reads as contrived, Duncan delivers an exciting spectacle with this production. Focusing on speech patterns and cadences, particularly where Anne and Theresa are concerned, Duncan further grounds the girls in the reality of their temporal and spatial location so that when these miracles from St. Margaret Sanger occur they feel even more absurd and otherworldly than they might normally.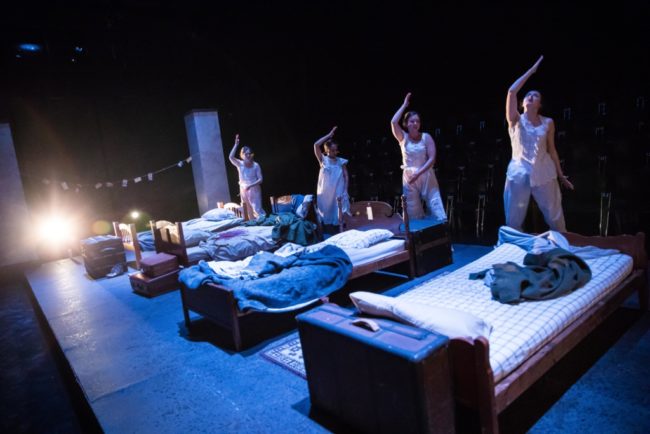 Lucy (Yakima Rich) is the proverbial innocent in the group. With a sweet temperament and naïveté that fuels imaginative journeys throughout the story's narrative, Rich portrays the baseline of purity by which the other girls are compared. By stark contrast, Anne (Thais Menendez) is possesses a brutish temper and shows her street grit both vocally and physically. Menendez has a mean-spirited nature when it comes to the way she plays with others and this is well suited to the character. Emily Whitworth, as the well-articulated Theresa, is the maternal governance of the group. While not strictly motherly, there is a sense of gentle leadership that flows freely forth from her, particularly when addressing their studies in the log book. Interloper Joan (Lida Maria Benson) stands no chance infiltrating the dormitory, but holds her own against the tightly knit clique of friends. Benson, who can be just as savage as Menendez, is congenial in her approach to the newcomer character, adding a balance to the well-established group mentality in the dormitory.
The show delves deep into the issues of religious corruption, female freedoms, and sexuality, among other things, and is handled in an aggressively open format, but is informative, entertaining, and well-done all the same.
Running Time: Approximately 90 minutes with no intermission
What Every Girl Should Know plays in rotating repertory with Dry Land as a part of the #NastyWomenRep through April 15, 2017 at Forum Theatre in residence at The Silver Spring Black Box Theatre— 8641 Colesville Road in the heart of downtown Silver Spring, MD. To purchase tickets, call the box office at (301) 588-8279 or purchase them online.
To read the TheatreBloom review of Dry Land, click here.