You've gotta be— sincere! You've gotta see it here! Cause when you see it here— at Artistic Synergy of Baltimore— you're honestly going to see— sincere! If you're seein' it here— at Artistic Synergy— then it's really sincere! And if you're seein' it here— Bye Bye Birdie that is— then it's gonna be right, oh baby! Directed by Jeff Baker, this fast-movin' 50's feel-good musical is showing the east side of Baltimore that there's such a lot of living to do! With an enthusiastic and energetic cast chock full of eager and talented performers of all ages, this production of Bye Bye Birdie is crazier than the loop-de-loops and the moonlights swims!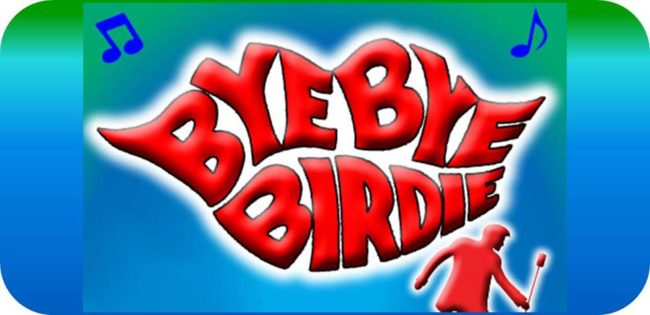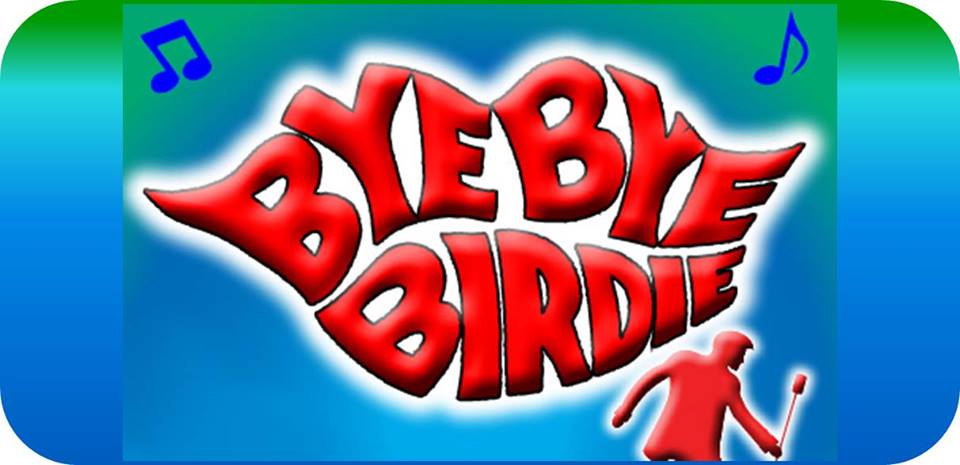 Bubble gum pink is the perfect color for Kim MacAfee's bedroom and her walls are lined with album covers from the era all thanks to the Set Designers Colby Areford, Daniel DeJong, and Stanton Zacker as well as Scenic Artists Ana Pallanck and Amy Rudai. Pallanck and Rudai put their paintbrushes to work for the periaktoi creating a trio of bricks, ticket windows and autumnal park. Again the pair works with Areford, DeJong, and Zacker to create the MacAfee house interior— complete with avocado cream interior wallpaper striping and wooden counters— as well as the stark wood paneling inside the offices of Almaelou productions.
Rudai doubles up as the show's Costume Designer, putting tremendous efforts into crafting a unique couture that fits the cast as well as the 1950's feel of the musical. The high-waisted plaid skirts with cinch-belts to complement the long flowing hair ribbons give the girls the classical 1950's school girl look while the adult costumes are a bit more subtle. Rudai pulls the costuming for Conrad Birdie in a "greaser" direction, giving him that hardened bad-boy appeal with the leather jacket and sharp denim jeans. Rudai's finest work, however, is perhaps all of the flavors of red featured on Rosie— between her opening number button down dress and the various party outfits she dons during the second act— there's definitely a dash of spicy heat to be found.
A nod of recognition should be thrown in the direction of tag-team Lighting Duo Sarah May and Daniel DeJong. May takes great pains in getting the simplistic indoor lighting focused with precision before each rehearsal and performance ensuring that the large cast is visible for all of the big numbers, while DeJong works the spotlight for solo features, many of which involve Rosie. The pair work together to help ensure that the scene fades and blackouts occur with accurate timing to better impact the overall pacing of the performance.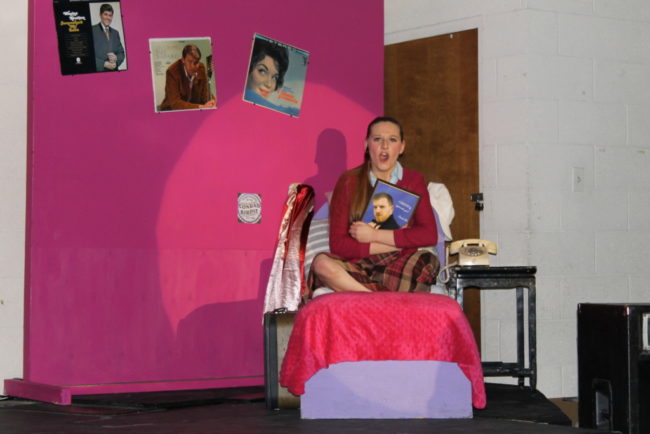 Director Jeff Baker puts forth a Herculean effort to make the scenic transitions as smooth as possible. Despite their laborious and cumbersome executions, they move as quickly as possible considering just how much is being shifted to take the musical from interior to exterior and vice versa. Baker creates clever moments throughout the production to allow the natural talent of the cast to truly radiate and shine. He plays with the sentiment of the show, like during "How Lovely to Be a Woman" where he has Kim dress down into tomboy clothes or during the Ed Sullivan scene cutaway where he uses Rudai's wild costumes to make the MacAfee family look like the epitome of an All-American family, including the Betsy Ross-esque stars and stripes affair seen on Kim.
The ensemble dynamic is strong; their voices are solid and fully energetic, and on the whole they do a solid job of keeping pace with the pre-recorded musical tracks that are used in the production. What's most impressive about the ensemble is not, however, their spirited voices, but their fun-loving and free-wheeling dance routines that are put into place by Choreographer Suzy Hasselbusch. Watch the footwork closely during numbers like "A Lotta Livin' to Do" and "Normal American Boy." Hasselbusch employs a series of fantastically fleet-footed moves all throughout the production that fully capture the spirit of the 1950's. Her dance routine during "Put On a Happy Face" is particularly impressive, featuring all sorts of twirls, spins, and moves reminiscent of old Hollywood dance musicals. This number also features Olivia Lockett dancing alongside the Albert Peterson character with Margaret Hamilton joining in toward the conclusion of the number. Jennifer Otero also deserves a nod for showing off Hasselbusch's impressive choreography with her tap routine as Gloria Rasputin. Otero puts quite a pep of pizzazz into not only the dance seen in that scene but for the whole character portrayal as well.
Whether its dancing or singing, these excitable kids are sharing their enthusiasm all throughout the production, but none quite so strongly as the spastically invested Ursula (Olivia Winter.) Like superglue that even Goo-B-Gone can't unstick when it comes to throwing herself at Conrad Birdie, Winter fully invests herself in this hilarious character work, stealing the scene every chance she gets. Gushing and fawning all over the singing heartthrob, Winter's character work is a brilliant example of dedicated commitment whose result is sheer theatrical brilliance. Other cameo pop-ups of note include Dorian Smith as the adorably whiny (and hilariously 'drunk-on-milk') Hugo F. Peabody, and Mike DeNicolis as the nerdy yet delightful Harvey Johnson, featuring during "The Telephone Hour" (and later as a great many other characters.)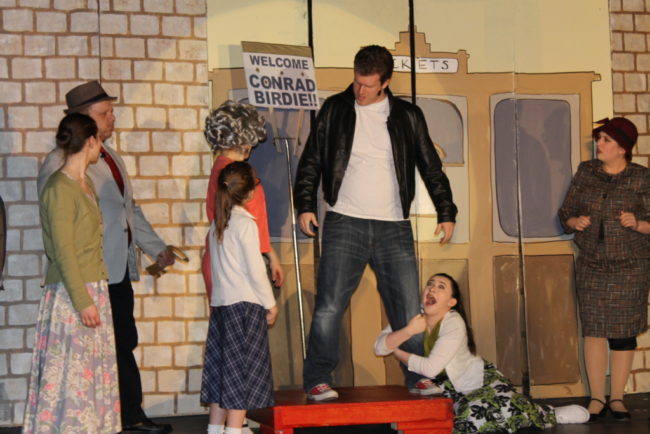 When it comes to the MacAfee family, curmudgeonly father Harry (Stanton Zacker) and doting mother Doris (Jennifer Hasselbusch) are just out to show that they're a fine, upstanding, patriotic, healthy, normal American family. Hasselbusch is the balance to Zacker's character, which oscillates between deadpan delivery on the crotchety countenance of the character and total melotheatrical shenanigans when he's on live television trying to get the attention of the disembodied Ed Sullivan. Watching Hasselbusch and Stanton play in this scene is another moment of scene-stealing glory as it happens mostly in the background of "One Last Kiss." The pair share a duet later in the show, "Kids!", which features some lovely dancing as well.
Hands down the person stealing the show, hoping on a train to anywhere but Sweet Apple, Ohio and running away with all of the theatrical shenanigans is Melissa Broy Fortson taking on the larger than life character of Mae Peterson, Albert's mother. Though this production does not feature any musical numbers for Mae, Fortson works with all she's given and milks every moment for belly-busting laughs that will burst your bladder in sheer buffoonery. An honest hoot, between the physicality and vocal affectation that she presents in the character and the raw chutzpah that she puts into delivering her lines, Fortson takes the cake for being the lone character who doesn't sing or dance in the musical.
Of course the titular character holds his own when it comes to being the center of attention, like the moment Conrad Birdie (Matt Peterson) struts downstairs into the MacAfee kitchen in his ridiculous cheetah-print bathrobe, chugs a beer from the fridge, belches, and wanders off. Peterson is rocking the epitome of the brainless heartthrob who simply wants to pop his pelvis, sing music, and hook-up with all the hottest chicks in town. Channeling a hint of Elvis into that pelvis-pop, Peterson takes the character in a much 'cooler' direction by giving him more of that bad-boy appeal. "Honestly Sincere" becomes a number that has the whole ensemble screaming, shrieking, and fainting!
For sweet, cherubic Kim MacAfee (Hunter Lubawski) life just won't ever be the same now that she's going steady with Hugo F. Peabody but is also going to receive Conrad Birdie's farewell kiss before he departs for the army. Lubawski has a gloriously mature sounding voice that has a surprising soprano strength and resonance to it, which she adjusts to still perfectly articulate the immature nature of 15-year-old Kim. Affecting a nasally sound to her speaking and singing voice, without compromising the tonal or lyrical integrity of the songs she sings, Lubawski delivers numbers like "How Lovely to Be a Woman" and "What Did I Ever See in Him?" with tremendous vocal clarity and a strong emotional tether to the overall construction of her character.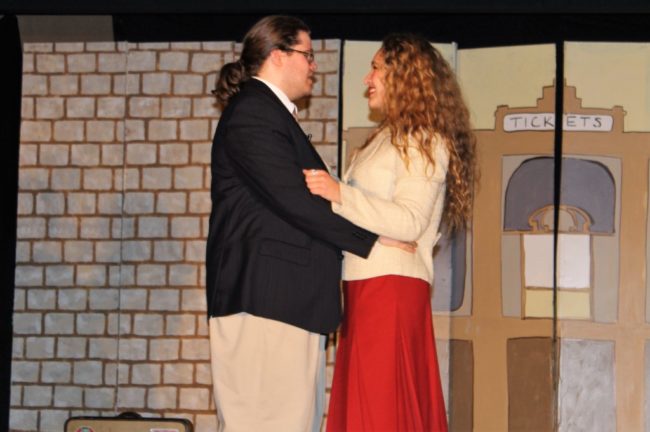 That defrocked bum of a would-be English teacher Albert Peterson (Seth David) may be no good at standing up to his mother or getting out of debt and away from the music business, but Seth David is a pretty darn good performer, why he's just swell! Spastic in the moments where the character work calls for it, but meager and mealy otherwise, David crafts Albert Peterson in a humorous vein, allowing for the text and jokes to work in his favor. Easy on his feet for the numbers where he dances and firmly smooth of tone and pitch when he sings, numbers like "Put On a Happy Face" and "Baby, Talk to Me" are delightful little jaunts into the musical side of the world. The stirring emotional connection that David puts forth for his finale number, "Rosie" is sugary sweet, making his overall performance rather admirably adorable.
Watch out for that hot, saucy, and sassy Rosie Alvarez (Alana DiSabatino) who is bringing the heat no matter which scene she's in. Whether it's big Broadway beltress style sustains and belts during "An English Teacher" or "What Did I Ever See in Him?", DiSabatino has a stellar voice, which carries both pitch and tonal clarity with pristine accuracy but also delivers an emotional punch that'll knock the audience straight out of Sweet Apple, Ohio and clean into Pumpkin Falls, Iowa. DiSabatino isn't just blessed vocally for the performance but crafts a smart and snappy edge to her character work as well, making Rosie a fully dynamic individual, the heroine of the story as it were. Her shenanigans featured during the Shriner Dinner scene is hysterical but her solo "Spanish Rose"— where the outrageously overt accent overtakes her speaking and singing voice— is a true show-stopper. DiSabatino alone is worth the price of admission in addition to the tremendously talented cast she has performing alongside her all throughout the evening.
So if you're really sincere— then you'll come see it here— at Artistic Synergy— before Bye Bye Birdie up and flies the coop and you won't be able to put on a happy face because you'll have missed out on your chance for all that fine livin' you've got left to do!  
Running Time: Approximately 2 hours and 20 minutes with one intermission
Bye Bye Birdie plays through March 19, 2017 at Artistic Synergy in the basement of the Prince of Peace Lutheran Church— 8212 Philadelphia Road in Rosedale, MD. Tickets can be purchased by calling the box office at (410) 833-5181 or by purchasing them online.