Everybody has a right to their own troubles; some people ain't made for small town life. The quintessential all-American play about the daily doings of small town life, Thornton Wilder's Our Town, marks the inaugural production of Annapolis Shakespeare Company's new home at 1804 West Street. Directed by Sally Boyett, this theatrical chestnut settles into the turn of the 20th century in Grover's Corners, New Hampshire with a whole mess of Gibbs' and Webb's and other small town folk whose stories are important to no one but themselves. A textbook production, Boyett's judiciously edited and swiftly moving presentation of the classic is sure to please any literary purist, entreat newcomers to a fine version of America's tried and true slice-of-life drama, and overall please the audience with its dulcet simplicity.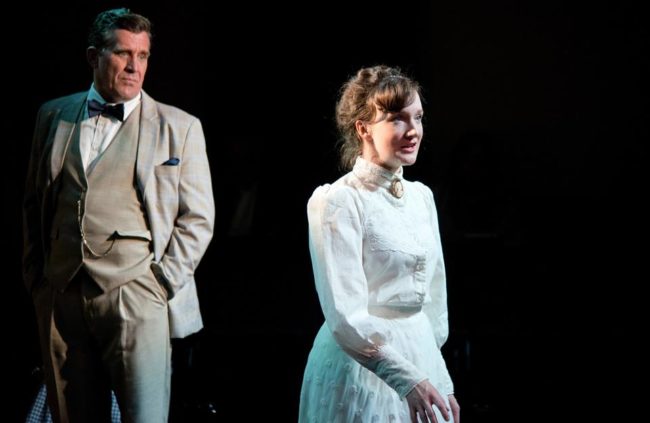 Per the character of the Stage Manager, there isn't much by way of scenery, as the play is meant to take place in an almost imaginative or recollection-type state of existence. This lets Scenic Designer Jack Golden off the hook for the virtually non-existent scenic design, though the tennis-court layout is by far an appropriate choice that serves as a great vehicle for the overall production. Where true scenic involvement comes into play is with the work of Lighting Designer Adam Mendelson. As the Stage Manager character addresses the audience in live time, and then allows the scenes of Grover's Corners to play out before their eyes, lighting cues become pivotal pieces of design work as they trigger the difference between actual reality and the reality of the performance. Mendelson's work is simple, following Wilder's initial intention, and the lights work exceptionally well to articulate this notion.
Threads are kept equally ordinary, though are perfectly suited for the New England lifestyle of the early 1900's. Costume Designer Sandra Spence keeps the color schemes non-descript, the patterns basic, and the overall aesthetic as unobtrusive as possible. This allows for the focal point of the play to be the story itself, though Spence does make clear distinguishing choices in her sartorial selections when it comes to the fancier suits featured during the wedding scene.
While the play's overall aesthetic is an uncomplicated one, Sound Designer James Hanrahan crafts a much more complex and rich soundscape for the show. Though the effects are subtle, Hanrahan includes authentic moments of aural expression that draw the audience into a more complete reality of Grover's Corners. A cockcrow, quiet church bells, the rumble of a distant train rolling through the depot, all of these simple sounds are a grounding tether for the show's reality; they serve as the one true beacon of theatricality that pulls Our Town into its dramatic existence.
The production itself has only minor flaws that impede its stellar existence, the main one being the lack of focus to the mime and gesture work delivered by the actors. To varying degrees and with shifting inconsistency there are multiple moments throughout the work where these task-oriented gestures feel haphazard and inarticulate. This is only mildly distracting when natural lulls in the dialogue exchanges occur. The other minor blemish to the production is the inconsistency with accents, which really seems to only occur with two of the performers, namely Brian Keith MacDonald and JC Payne, playing Editor Webb and George Gibbs respectively. Dialect Coach Nancy Krebs proves that she has a handle on how to correctly guide the New England accent circa 1900 as it reads quite cleanly on other performers, but Payne's wavering in and out of it and MacDonald's virtually non-existent take with it detracts from the performance when the others succeed with it so well.
Director Sally Boyett has made smart cuts to the script to keep the pace clipping along, justly keeping the audience engaged with Wilder's work. The cuts are not particularly noticeable except in the sense that the running time of the performance is swiftly truncated while still feeling full. Fashioning an 11-person performance ensemble, doubling up character roles, is a bold yet impressive choice, showcasing a variety of talent among a great many of the company members. The only misstep in casting appears to be that of MacDonald in the role of Editor Webb and Sam Craig as he delivers no distinguishing differences between either character and his overall performance with the former is somewhat flat, lacking in mindfully present energy. To his credit, however, MacDonald does deliver the sagely scene shared with George Gibbs the morning of the wedding in quite an honest fashion; the tangy quip loaded at Mrs. Gibbs immediately following this exchange is timed with comedic perfection.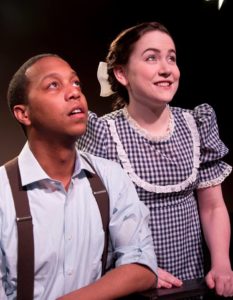 Colton Needles makes a nice cameo appearance as Joe Crowell early on, with an overly pronounced New England accent that perfectly befits his character's age. There is a simplicity to his delivery of this character, so too when later he takes up the role of Wally Webb. A similar praise can be given to Amber James for her genteel portrayal of Rebecca Gibbs. Boisterous and rowdy, Kecia Campbell, playing Mrs. Soames— among others— gets her voice heard, to the point of obnoxious overload, at the wedding scene, adding a questionable sense of comic relief to the otherwise reverent scene.
Bill Dennison is arguably the most versatile performer in the production not because he takes on five different roles, but because each one is thoroughly articulated and distinguished in vocal affectation as well as physical presentation. His milk-man routine is quaint yet subtly comic, a far cry from the heavy, weighted role of Simon Stimson, who even turns a shade vulgar with his mean streak in the third act. Dennison's work is consistent, each character feeling thoroughly developed and delivered with dynamic intention.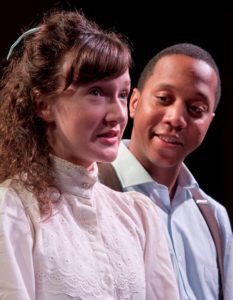 The ingénues of the piece, or young lovers as it were, are quite the pair in the production. Emily Webb (Laura Rocklyn) being the leader with George Gibbs (JC Payne) being more of a supporting player in their dynamic relationship. Rocklyn is earnest, delivering her character with a naïve sense of congeniality that blossoms into a deeper understanding as the play progresses. There is a naturalness about her overall portrayal that fits the dialogue of Emily Webb like a tailored glove. Her main scene leading up to the soda shop encounter with George is one of the most emotionally vivid moments in the production, seconded only perhaps by her breakdown late in the third scene. Payne, who feels a bit modern at times, does sport a nice earnestness about his portrayal as well, making George an honest character that is well-matched against Rocklyn's Emily.
Olivia Ercolano, despite looking a bit too young to play the part of Mrs. Webb, with Rocklyn looking to be a similar age but playing her daughter, is mindful and fully present in all of her exchanges. Whether they are with her daughter Emily or Mrs. Gibbs (Renata Plecha) from across the way, Ercolano brings a liveliness to her portrayal of Mrs. Webb, particularly in the third act with the edgy pacing that drives home the harrowing realization of that scene's ultimate climax. Plecha, who plays opposite Will Cooke in the role of Dr. Gibbs, delivers an equally impressive performance, with the firmest handle on the New Hampshire accent of anyone in the production. Both Cooke and Plecha have their moments that draw the eye, sometimes together and other times not, but the pair play well together and really create a balance of understanding between them when it comes to their stock-type characters and the way they fit into the grander scheme of life in Grover's Corners.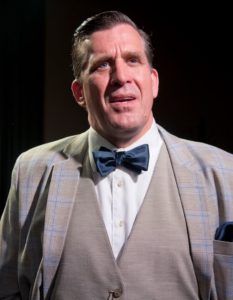 It's a nice town, Grover's Corners, and nice too is Patrick Ryan Sullivan playing the Stage Manager. It seems like such a dismissive word— nice— but given the particulars of Thornton Wilder's work, it's a perfectly suitable and banal adjective that functionally serves its purpose here, just as Sullivan does in guiding the audience through the experience that is Our Town. Finding and maintaining the delicate balance of narration and engagement, Sullivan manages to traverse the denser passages of description in a visually fluid fashion without waxing too heavily in the vein of purple prose. With a narrative sound that almost mimics the docile and calming tones of Fred Astaire (from his S.D. Kluger role in Santa Claus is Coming to Town), Sullivan lulls the audience into an almost hypnotic trance. There is a candor in his cadence that rings true when illustrating a scene. Sullivan's quick character work as Constable Warren and the Soda Jerk Clerk is spot on as well, just subtly different enough to keep the audience's disbelief suspended and interested in the narrative character outside of these other roles. Remarkably mindful in his spoken delivery, Sullivan creates a lasting impression upon the audience that lingers in the memory as the show concludes.
This is the perfect opportunity to experience Our Town at its purest, whether you've read it and seen it or are brand new to Thornton Wilder's masterwork; Annapolis Shakespeare Company is giving a solid production of the performance and presenting a good afternoon of an American classic on its brand new stage.
Running Time: Approximately 2 hours and 10 minutes with two ten-minute intermissions
Our Town plays through February 26, 2017 at Annapolis Shakespeare Company— 1804 West Street Suite 200 in Annapolis, MD. For tickets call the box office at (410) 415-3513 or purchase them online.