Are you ready to experience the magic of Pumpkin Theatre? It's an experience, not just a place, and that's for sure! Come on down to the farm where there's birds a plenty in their waterfowl regalia just waiting to entertain you! Flying through the 49th season with flying colors, Pumpkin Theatre is proud to present their 16th for-kids-by-kids production: Honk Jr. Directed by Erin Confair with Musical Direction by Mandee Ferrier Roberts, this fantastical retelling of The Ugly Duckling features all sorts of birds, some fun song and dance numbers, and an enthusiastic and talented cast of young performers that will really engage young audiences for the length of the show.
We're going right to the edge of the pond with Set and Properties Designer Ally Cribbs. With cute scenic decorations we get the sense that there might actually be water beneath these ducks' feet as they paddle along thanks to some clever placement on Cribbs' behalf. The real scenic magic, which transforms the set into something imaginative, slides into play via the illuminating design work of Lighting Designer Helen Garcia-Alton. Using shimmering blue gobos to create the illusion of water and some spinning green lights to mimic the lily pads in the frog's pond. All of these things are tied together brilliantly with the simplistic yet creative costuming of Kendra Svach Shapanus. With some electric yellows for the ducklings, some full skirts for mother duck, and an appropriate amount of grey and feathers for ugly, the costumes fit perfectly into the world of play pretend that Honk Jr. has to offer to these young performers and young audiences.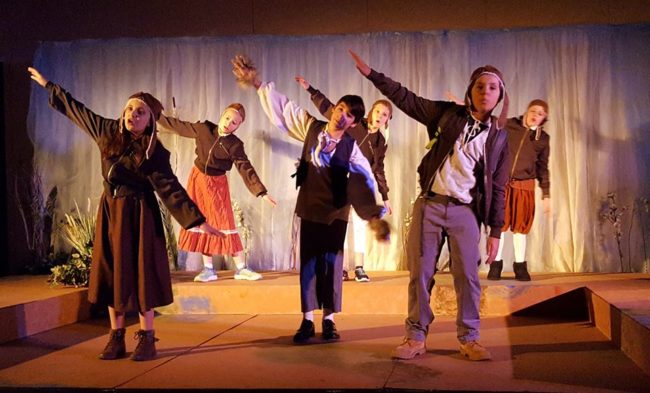 Musical Director Mandee Ferrier Roberts does a fine job of getting the musical flow of the show set in a steady pace, giving it a fine rhythm to keep the production running smoothly. She even lends her Yeehaw-yokel-ified voice to an unseen character, hollerin' from her keys in the corner, which gives the audience a good and thorough laugh. Add to Roberts' musical skill and seasoning the vision and talent of Director Erin Confair and you've got a production that'll go down in the books as a soaring good time for all. Confair gets good use out of all her young performers, even keeps the dancing lively, but simple, so that everyone can enjoy doing it whilst having it still look clean!
Everyone has a part to play out on the pond— from Turkey (Luke Strand) to Maureen (Payton Goldsmith) whether it's a quick line at the end that gets a whole bunch of laughs or a solid duet early on— and everyone fits perfectly into the show, giving a quackin' good performance all throughout big ensemble numbers like "A Poultry Tale" and the finale presentation of "Warts and All." Bullfrog (Sabrina Thaler) gets the initial rendition of this number and really jazzes it up. Trust me, Thaler is a classic with her bubbly infectious enthusiasm, hopping all through the song with a great big smile on her face.
Greylag (Graham Rifkin) and Dot (Carly Dagilis) lead the way through "Wild Goose Chase" a really entertaining number at the midpoint of the show, which showcases the accent abilities and character strength of both Rifkin and Dagilis. And let's not forget Grace (Sadie Lange) who lives up to her namesake by doing the right thing as the play draws to its conclusion. There's also Jay Bird (Henry Strand) and Penny/Snowy (Lindsay Reamer) to keep an eye on during the production as well.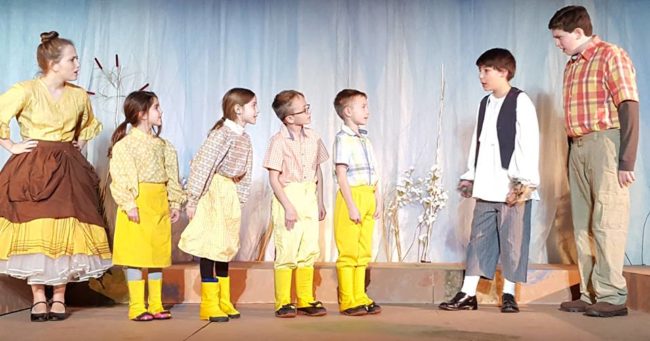 The adorable four little ducklings, who double up as Froglets, Billy (Soren Lange), Beaky (Amber Holt), Downy (Liam Lange), and Fluff (Lina Cordero) are too cute for words. Precocious and precious, their comic timing couldn't be funnier and the way they whine and tease poor Ugly (Nick Dimitriades) is just downright mean! Playing the parts perfectly, Lange, Lange, Holt, and Cordero are adorable and make for a fine quartet of feathered siblings. Dimitriades, as the Ugly Duckling, has a lovely voice and a sharp sense of growing as a character. But he best watch out for that darn Cat (Reese Bruning) who is just sneaky and vile! A true villainess, Bruning puts a punch of panache and pizzazz into her performance, making the Cat the villain we love to hate!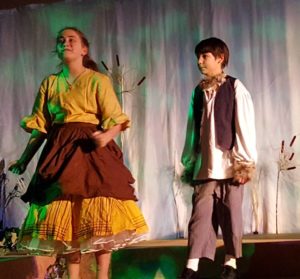 Drake (Jules Einhorn) opens the show with his gorgeous clear voice, and although he's not featured often, the character simply isn't written that way, Einhorn makes the most of his moments on stage and his comic exchanges with Ida (Raquel Hyatt) are exceptionally well-timed and delightfully delivered. Hyatt, as Ida the mother duck, has an equally beautiful sound that resonates resplendently through numbers like "The Joy of Motherhood", "Different", and "Hold Your Head Up High." Affectionate, tender, and loving when interacting with Ugly, Hyatt brings a lively and maternal spirit to the character of Ida that serves as a reminder that there is no stronger force in all the world than a mother's love for her child.
So don't be a stranger, come and visit these free-rangers, all hanging out here down at Pumpkin Theatre's pond!
Running Time: Approximately 70 minutes with no intermission
Honk! Jr. plays through February 12, 2017 at The Pumpkin Theatre located at Har Sinai Congregation— 2905 Walnut Avenue in Owings Mills, Maryland. For tickets call the box office at (410) 902- 1814 or purchase them online.