What is Urinetown? Urinetown is here. It's the town wherever people learn to live in fear. A surprisingly powerful and accurately poignant statement arising from one of Broadway's darkest satirical musical comedies has taken up residence in Alexandria in the Black Box Theatre of the Ainslie Arts Center at Episcopal High School under the fine production of Monumental Theatre Company. Directed by Jenna Duncan with Musical Direction by Bobby McCoy, this vivaciously vigorous version of the show, which is noted for its three Tony Award wins including best book and best score, delivers a much deeper meaning than its comedic intentions given the relevancy of the subject matter. Calling attention to the parallels between a myriad of politically relevant subjects— political corruption, police brutality, and the water crisis in Flint just to name a few— Monumental Theatre Company's production is an innovative and refreshing way to make a stand and carry on these pressing debatable issues using the musical as a conversational conduit.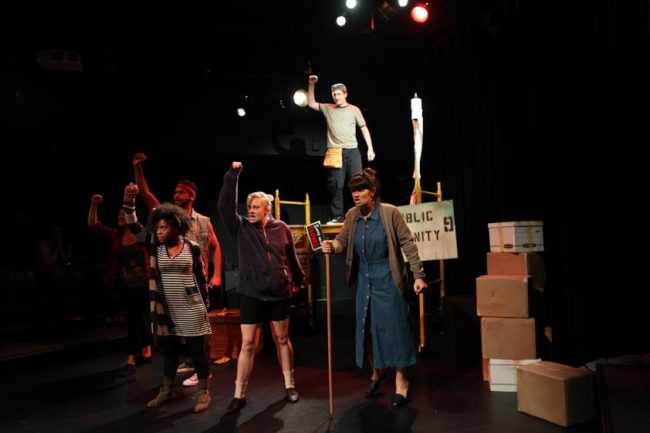 Stripping down to the essentials, Director Jenna Duncan even goes so far as to frame the production around the fourth-wall factor, calling the players in as players to acknowledge the meta elements that Book and Lyricist Greg Kotis has penned so perfectly into the show. This lens of acknowledgement invites the audience to partake in the gritty world that is about to unfold around them (quite literally as the diagonal tennis-court seating includes pop-ups behind both seating banks.) Duncan presents a tightly trimmed cast in addition to this focal framework, a daring choice that serves the show surprisingly well. With just 11 performers and the ensemble doubling over themselves in clever casting choices, Duncan has set a masterpiece in motion with the caliber of vocal and performance talent evenly distributed among the cast.
Following in the vein of simplicity, where less is often more, Lighting Designer Rob Siler, Costume Designer Kelsey Sasportas, and Set Designers Tim Nielsen and Ryan George, stick to the basics. There's nothing overly elaborate or flashy about Sasportas' costume designs, though the mall-security style uniform for Officer Lockstock and the junior-grade boy-shorts and knee socks for his deputy Officer Barrell are quaintly humorous touches. Siler's lighting follows suit, though is exceptionally well timed to pop on and off at the command of the aforementioned lead officer.
Visually striking are the barebones structural pieces that George and Nielsen create to align with Duncan's vision. The towering cooperate ladder, which Cladwell sits upon, is a beautifully blatant symbolic representation of the classist struggle, particularly when juxtaposed against the derelict— and wider but shorter— scaffolding of the Public Amenity. Duncan crafts a moment that sends shivers up the spine and awards goosebumps to the skin during the Act One Finale where both structures are in motion.
Musically speaking the show is astonishing. A cast of eleven echoes in strength roles that could easily be filled by two dozen or more individuals. Musical Director Bobby McCoy takes this cast of leading-level talent and focuses on the lesser recognized harmonies so that the musical genius of Music and Lyricist Mark Hollman radiates through like a big bright heart shining in the sky. Full company numbers, like "Urinetown", "Act One Finale" and "I See a River" surge with full-volume and overt emotional connection.
The show's only rough patch, if one can even call it that, is the dancing. Choreographer Rachel Leigh Dolan has high aspirations for the engaging and up-tempo music of the performance but often falls just short of these bench markers. What the dance routines lack in synchronization and form they more than plentifully makeup for in energetic enthusiasm and overall animated motion, with numbers like "Snuff That Girl" reading like a jazz party where everyone just cuts loose. Ultimately these choreographic moments of off-kilter action are forgivable because they are still exceptionally entertaining and the rest of the performances— both acting and singing— are woven together so seamlessly with Duncan's overall concept of the show.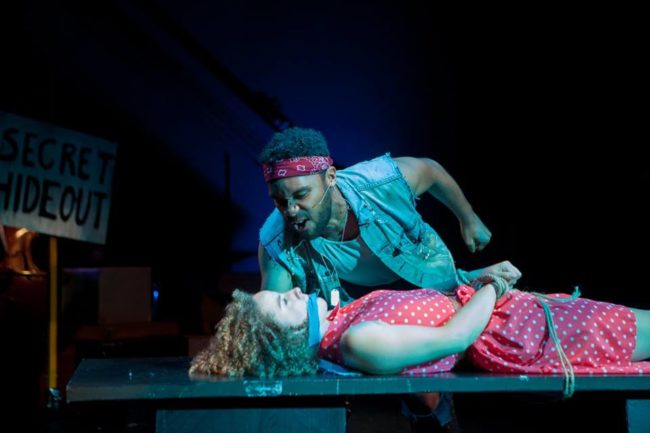 When every member of the cast is lead-talent quality, it makes for a sensational show and Monumental Theatre Company has exactly that with their current cast of Urinetown. Whether its Sarah Anne Sillers as Little Becky Two-Shoes bursting out with Kamau Mitchell as Hot Blades Harry for "Snuff That Girl" or the nasally affectation that Sarah Frances Williams finds for her characterization of Ms. McQueen, these performers deliver highly nuanced portrayals each and every moment that they're on stage. RJ Pavel needs to be noted for the duality of his Tiny Tom and Officer Barrell split portrayal. While the characters are similar in their meek nature, Pavel creates a sharp delineation between the pair and makes "Cop Song" a true duet where he holds his own against Officer Lockstock rather than just perform assists and backup to the number as it is so often played.
Scene stealer Kaitlin Kemp is channeling two completely different energies when it comes to her dual portrayal of Senator Fipp and Josephine Strong. With a monstrous hybrid of Kardashian self-importance and bimbo-brained flirtations, and a hint of Fran Drescher flavoring her vocal affectation, Kemp is a hoot as the corrupted politician. The way she advances on Hope during their initial encounter makes it unclear as to whether she wants to eat the poor girl alive because she's into her or because she's jealous of her; either way it results in an uproarious scene well worth praising. But her portrayal of 'Ma' Strong is what really takes the cake. Delivering quippy and zesty off-handed zingers in the background of various scenes, her ignorant-by-class approach to the character is hilarious. Adapting two sharply contrasting physicalities furthers the disparity between these characters and showcases her stark ability to differentiate, often quickly from one scene to the next.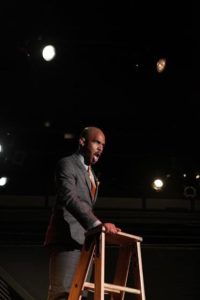 A similar flip occurs with Ian Anthony Coleman, who although he spends far less time as Old Man Strong than he does as Caldwell B. Cladwell, is still distinctively present in both characters. With a robust voice that works exceptionally well, particularly in its lowest range, for numbers like "Don't Be the Bunny," there is a sense of fetid villainy burbling inside both Coleman's voice and posture early on. Swanky and unctuously charismatic, Coleman lends his rich vocal abilities to transitioning the character from one of congealed sleaze to that of a boiling hot bad-guy by the time act two unfolds. Cutting an imposing figure riding astride his ladder tower, Coleman is a pillar of fear and a force to be reckoned with when it comes to keeping the rabble poor in their place.
Playing opposite of Coleman in the villainess slot, Rachel Barlaam takes the role of Penelope Pennywise to task and belts her heart and soul out for "Privilege to Pee." With pipes strong enough to hold even the most heinous overflowing spillage, Barlaam does not shy away from her vocal prowess in that song, any of her songs, or the role in general. Downplaying the character's overtly crass nature, Barlaam focuses instead on the humanity of Pennywise, a rare gift to be found in a show where the principal characters are essentially constructed as caricatures of stereotypes. A strong addition to the cast as a whole, Barlaam sets out to impress in the role and does so with gusto.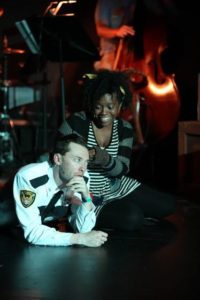 Though she be but little, Little Sally (Sakile Lyles) be fierce in every sense of the word. Precociously playing the pip of a preschooler, Lyles makes Little Sally loveable and easily one of the most entertaining characters in the production. But beneath the sickeningly sweet saccharine exterior of the character's naiveté and inquisitive nature lies a tremendously powerful voice as witnessed in "Tell Her I Love Her" and at the top of "We're Not Sorry." Watch out for one of the most hysterically adorable moments in the performance, which happens early on, as Lyles can be found alongside Officer Lockstock (Alan Naylor) being too-cute-for-words in that exchange.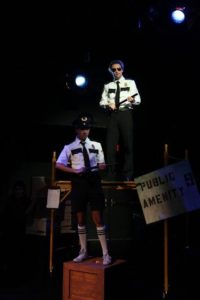 Naylor, who takes point on being the show's front-man, is a vocal sensation that delivers excellence on multiple levels. With a keen vocal understanding of when to blend his voice into the ensemble and when to pulse forward to be heard among them, Naylor provides an invigorating surge of vocal clarity, which catches like wildfire across the cast, and leads the show to glorious victory. Between his perfect patter for "Cop Song" and his hearty and well-trained vocals for "What is Urinetown?" there is no mistaking that Naylor is the perfect fit for the role of Officer Lockstock.
Gooey-eyed gal Hope Cladwell (Suzanne Lane) and Dream-Headed Bobby Strong (Chris Rudy) are a match made in the heavenly sewers of the water crisis. Lane and Rudy are dynamite in the production, with Lane's Hope providing the ditzy-bubbleheaded balance to Rudy's more pragmatic and goal-oriented Bobby. With a level of unapologetic earnestness in their duet "Follow Your Heart", both Rudy and Lane succeed in winning over the hearts of the audience with their certain-to-be-doomed romance right from the word go. Lane, who has a glorious voice, particularly once she exercises it to its fullest potential in "I See a River", goes head to head with Rudy and the rest of the cast throughout the performance to make it truly remarkable.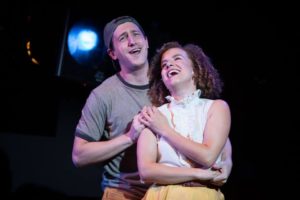 As for Rudy, leader of the rabble, he defines Bobby not through the camp which is written into the character but through a genuine sense of human vulnerability, allowing the audience to truly cheer him onto victory. Sparking a conflagration that blazes bright with the hope of revolution as he leads into "Look at the Sky", Rudy showcases his impressive vocal abilities, including a higher range, and sound sustaining abilities. "Run, Freedom Run!" becomes a show stopper as he all but smolders down the tent-revival style song with a superb voice, unstoppably energetic enthusiasm and a roaring burst of compassion. Stellar in every sense of the word, Rudy takes hold of Bobby Strong and delivers a tremendously impressive performance.
Don't miss your chance to catch the water crisis in action this summer at Monumental Theatre Company! In addition to being highly entertaining, MTC is taking up donations at the conclusion of each performance for the "Live United Flint Water Fund" to further the connection of what they're doing on stage to real world outreach. You can contribute at the performance as well as by visiting MTC's donate page.
Running Time: Approximately 2 hours and 10 minutes with one intermission
Urinetown: The Musical plays through August 1, 2016 at Monumental Theatre Company in the Black Box Theatre of the Ainslie Arts Center on the campus of Episcopal High School— 3900 W. Braddock Road in Alexandria, VA. Tickets are available for purchase at the door or in advance online.