Misery. Grief. Despair. These are the ailments with which English housewife Charlotte Wilson finds herself plagued in the suffocating confines of dreary, rainy London. She needs a break. She needs to bring purpose into her life, which she feels like she is fast losing. One day, as she is contemplating this, she reads an advertisement in the paper, and Charlotte Wilton finds herself swept up in the enchantment of an up-for-rent village on the coast of Italy, a much-needed adventure on which she embarks with a ragtag crew, the unlikely company of three strangers.
Laurie Simonds does a wonderful job as the cheerful, upbeat, chattery sweetheart Charlotte "Lottie" Wilton, taking over the stage with her bright optimism, adorable demeanor, and lighthearted charm. Simonds brings warmth, understanding, and an insatiable charisma to a story that thirsts for it, touching the hearts of the characters and audience alike. Simonds is commended for her brilliant and believable performance.
A lonely wife whose marriage is falling apart, Rose Arnott harbors a held-fast sense of doubt, solitude, and general poorly-disguised resentment. Straight-backed and proper, Rose Arnott refuses to relent and consider that maybe there is more to life than rain-ensconced London. Until she meets Charlotte Wilton. The two instantly connect, Charlotte filling Rose's head with wonderful imagery and a sense of adventure, which Rose cannot resist. Caity Brown, as Arnott, brings to the stage a prominent juxtaposition with Charlotte as her opposite, bringing to light a very "odd-couple" element, which very much fits with the theme demonstrated in the show that some things are just meant to be. Differences aside, the two become fast friends in their hurdling journey towards self-discovery. 
Lady Caroline Ramble is a fun-loving party girl who lives a lavish life of luxury, travel and excitement. Jenn Robinson does a fantastic job in her portrayal of the high-living lady with a dark, painful past. As the story unravels, it becomes clear that Lady Caroline has more to her than meets the eye. Their final companion, the prim, proper, and unlikeliest of travel companions, Mrs. Graves, seems as welcome as a walking stick in the mud at first, with an outer shell as hard as that of a chestnut. Mrs. Graves volts herself into the story with a strong disapproval of the other ladies. Pamela Northrup is praised for her believability and versatility in the role of Mrs. Graves, and her dynamic shifts make it seem like Mrs. Graves is a completely different character by the end of the show than she was at the beginning.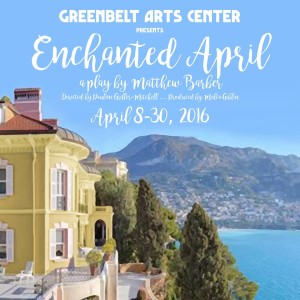 These four women make their way to a sunny seaside villa in Italy just wanting to get away. Lottie, running from her disapproving husband Mellersh (Jason Damaso), and Rose fleeing from a crumbling marriage with her husband Frederick (Tom McGrath). They retreat alongside two women they've recruited to journey with them for financial aid, Lady Caroline and Mrs. Graves. Once they arrive, they meet the warm and maternal Italian-speaking servant Costanza (Carleigh Jones), and the adventurous landlord Antony Wilding (Rich Koster.)
 In a magical quest full of self-discovery, sisterhood, and magnolias, the four women learn to let go of their painful pasts and begin new chapters in their lives and in the process prove that you can find solidarity, sisterhood, and salvation with the unlikeliest of people. With an absolutely stunning scenic outfit Designed and Created by Maggie Modig and beautiful era-appropriate costumes by Linda Swann, Enchanted April, Directed by Pauline Griller-Mitchell, is a must-see if you're looking for a lighthearted, optimistic comedy.
Running Time: Approximately 2 hours with one intermission
Enchanted April plays through April 30, 2016 at the Greenbelt Arts Center — 123 Centerway in Greenbelt, MD. For tickets call the box office at (301) 441-8770 or purchase them online.