Blood may spill and spines may chill but that's not a good enough excuse to skip town during the run of A Gentleman's Guide to Love and Murder now appearing live— until poisoned, pushed, dispatched or otherwise— in the Eisenhower Theatre of The John F. Kennedy Center for Performing Arts. Based on the novel by Roy Horniman, with Book and Lyrics by Robert L. Freedman and Music and Lyrics by Steven Lutvak, this Tony Award-Winning musical will delight even the dreariest of theatregoers with its madcap mania. A screaming good time is guaranteed for all as the audience watches Monty Navarro tackle the D'Ysquith family one estranged relative at a time! Comedic genius with a brilliant score, exceptional visual spectacle, and a deviously delicious plot that's twisted in all the right places, A Gentleman's Guide to Love and Murder takes a surefire stab at being the best show in town this January.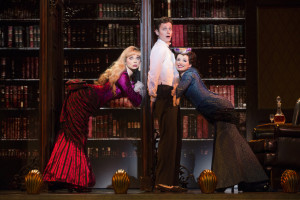 Scenic decadence of a yesteryore Vaudeville gracefully glides into the Eisenhower Theatre under the skilled craftsmanship of Scenic Designer Alexander Dodge. A gloriously rich red velvet tapestry with proper dripping ruffles is draped from above and ensconces the proscenium, which is equally grandiose in its decorative nature. Dodge's moving platform that extends the interior of the mock-stage into a thrust is perfect for scenic shifts and adds to the humor of the scenes as they unfold. Coupling Dodge's scenic design with Aaron Rhyne's projection designs creates lively scenery— everything from the elaborate interior of the Highhurst Castle to the wind-swept tower of the church— though the most striking scenic work may be the gloomy family plot experienced at the top of the first and second act.
Taking on the posh drawing room Edwardian-era British fashion styles of the show, Costume Designer Linda Cho works the aesthetic to the show's advantage, delivering a breakdown in social status as well as character importance through the outfits she places on parade. Sibella Hallward's character is dipped in various baths of pink, each dress more absurdly elaborate than the one before it, all appearing in her signature color. Cho focuses the era's style intensely across the ensemble costumes, particularly for the mourning blacks that appear at the top of the show and again at the start of the second act. The style fits the bill for the play's level of excellence and keeps the audience fully immersed in the world of musical as it unfurls.
A well-deserved tip of the hat is signaled to Sound Designer Dan Moses Schreier for his cleverly comedic sound effects, which are both exceptionally well-conceived and placed with perfect timing. Wind, cracking ice, buzzing bees, jungle drums— all of the instruments of murder are thoroughly captured in Schreier's underlying audio design of the show, making murder and mayhem a madcap delight every time a sound effect reflects another delicious death.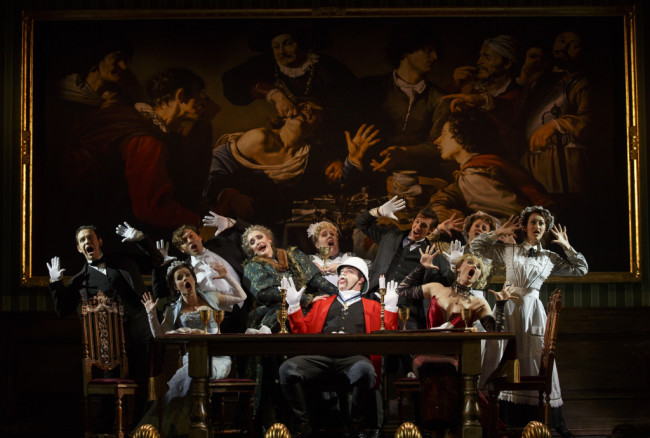 Director Darko Tresnjak, working with Choreographer Peggy Hickey and Musical Director Lawrence Goldberg, executes a flawlessly hysterical show that blends the elements of comedy and musical theatricality into a fine concoction perfect for sharing with anyone who enjoys live entertainment. The show moves quickly, but without rushing, a sense of urgency and immediacy underscoring each scene, particularly when it comes to some of the more dramatically articulated moments delivered near the show's end (and dutifully highlighted in resplendent luminescence, compliments of Lighting Designer Philip S. Rosenberg)
The exceptionally talented ensemble (comprised of Christopher Behmke, Matt Leisy, Megan Loomis, Lesley McKinnell, Kristen Mengelkoch, and Ben Roseberry) under the eloquent guidance of Musical Director Lawrence Goldberg, create brilliant operatic sounds that are blissful to the ear. Numbers like "A Warning to the Audience" and "A Warning to Monty" capture the ominous and foreboding tone of the lyrics, while more lively numbers like "The Last One You'd Expect" rings out with a full robust spirit.  This Act I finale number is much more lively and engaging than the more morose tunes, like "Why Are All the D'Ysquiths Dying?" though the ensemble delivers each of these numbers with practical perfection.
Kristen Mengelkoch takes a step out of the unnamed ensemble in the second half to don the role of Lady Eugenia, a powder-keg of a hot-tempered character that blasts ferociously at Lord Adalbert D'Ysquith every chance she gets. The exchanges between Mengelkoch and the Earl of Highhurst are nothing short of comic genius, particularly the way she growls and all but comes across the space at him, face fully enraged, snarling lips at the ready. An honest scene-stealer during the banquet scene with her boisterous barking and raging-bull approach to the character, Mengelkoch will have guts bursting with laughter the way she all but shreds the Earl to pieces.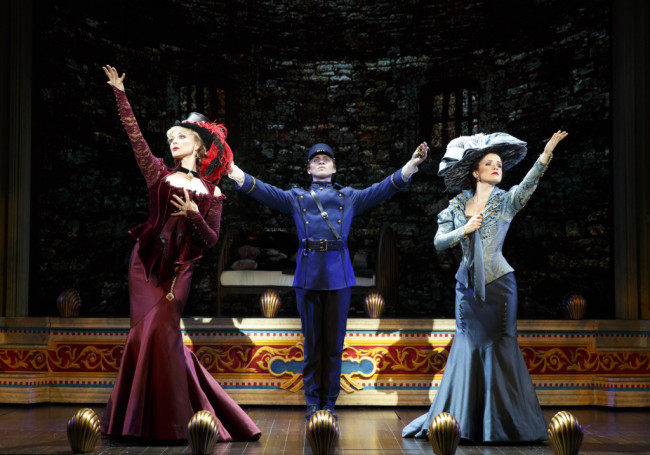 When it comes to leading ladies, in a play whose plot is thick with murder and foul with comedy, only the finest will do, and Gentleman's Guide makes no exception to that rule by bringing in Kristen Beth Williams and Adrienne Eller, playing Sibella Hallward and Phoebe D'Ysquith respectively. With operatic echoes in their voices, particularly that of Williams, the two dueling diva-ingénues are top-notch performers in their roles. Eller, who plays the delicate and demure Phoebe, brings a sprightly spring to the character, particularly when it comes to her nasally affected vocal delivery. "I've Decided to Marry You" fully reflects her eager enthusiasm and delights the audience with the comic hijinks that unfolds therein between herself, Williams' character and Monty Navarro. A more serious and somber, yet strikingly beautiful, sound resonates from Eller's voice during "That Horrible Woman" a quintet gloriously shared with Williams, as well as Ben Roseberry, Matt Leisy, and Christopher Behmke. Eller's ability to harmonize with both males and females alike is best expressed during her duet "Inside Out," a wistfully romantic number shared with Monty.
Williams, who is the aristocratic love interest of Monty Navarro, holds her own consistently throughout the performance as the featured female. "I Don't Know What I'd Do" showcases her rich range and formidable sound as well as her ability to properly intone emotions into her singing. "Poor Monty" is a secondary solo number that reflects similar qualities, but delves further into her lower range. An utter delight when it comes to her jealousies and sensual involvements, Williams is as strong a character actor as she is solo soprano. Make careful note of her scene shared with Monty just moments before entering the trio of "I've Decided to Marry You" and her solo asides that occur during the number as they are both hysterical and inspiring.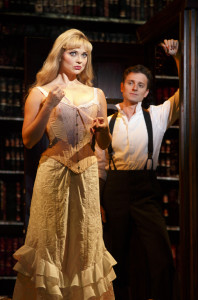 Monty Navarro (Kevin Massey) is a charming young chap with eager ambitions sparked to life by love. Massey's warm and welcoming baritone sound is full and well-developed, with a vastly impressive top range perfectly suitable for some of the higher orchestrations in the piece. His comic timing golden, his articulation divine, particularly when it comes to the patter numbers like "Poison in My Pocket." "The Last One You'd Expect," showcases his spirit and determination, while "Stop! Wait! What?!" is a rolling run of emotions, critical thought analysis and singing all amalgamated into one. His comic spirt soars throughout the performance, particularly when it comes to little asides and moments of self-appreciation. Massey plays exceptionally well with the talented John Rapson, the man responsible for no fewer than eight D'Ysquith family members; their stage comradery despite Monty's murderous intentions, being sublime.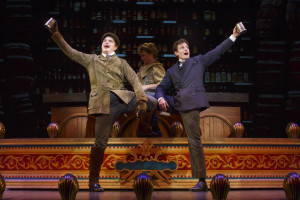 John Rapson delivers a magnificent performance as the entire D'Ysquith family. Hilarious, uproarious, insanely impressive, Rapson brings a thoroughly unique and hysterical approach to each D'Ysquith he tackles throughout the performance. Most memorably, his finely honed comedic shtick comes into play as Lady Hyacinth D'Ysquith during "Lady Hyacinth Abroad," where the introduction of each new travel destination supersedes the last, and grows exponentially with melodramatic flare. Rapson's physical investment for each character is tremendous— whether it's the squirrely chipmunk like behavior or Reverend Lord Ezekial with his tremors and twitches, or the popinjay prancing of the far too excitable Henry. Delivering the duet "Better With a Man" opposite of Massey, Rapson makes this one of the epic highlights of the show.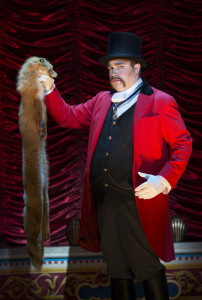 His fusty barking nature as Lord Adalbert is completely contrary to the kindly old notions of Lord Asquith D'Ysquith Sr, which is in turn completely opposite of the boorish nature of Lord Asquith D'Ysquith Jr. Rapson possesses a tremendous talent for character work and never more perfectly has a showcase been constructed to display such talent than this production. Rapson's work is astonishing and highly amusing, delivering laugh after laugh with his affectations across voice and body for each member of the aristocratic family of Highhurst.
A show that mustn't be missed, so long as your name isn't D'Ysquith, A Gentleman's Guide to Love and Murder will treat you to the funniest thing to hit the stages of Washington in years. A feel good comedy on the two things that humans need in their life, love and murder, this show will have you laughing until you're rolling in the aisles with delight.
Running Time: 2 hours and 25 minutes with one intermission
A Gentleman's Guide to Love and Murder plays through January 30, 2016 in the Eisenhower Theatre of The John F. Kennedy Center for Performing Arts— 2700 F Street NW in Washington, DC. For tickets call the box office at (202) 467-4600 or purchase them online.