"Nobody puts baby in a corner." Johnny Castle's immortal line repeated like a wave of mantras through the pre-show audience, ranging in age from people who have older siblings who have the film memorized to people who were teenagers during the play's setting of the summer of 1963.  Now appearing in musical form, Dirty Dancing, with Book by Eleanor Bergstein and Music and Lyrics by John Morris, takes to the stage at Baltimore's Hippodrome Theatre at the France-Merrick Performing Arts Center as a part of the Broadway Across America— CareFirst Hippodrome Broadway series. Directed by James Powell, with Musical Direction by Alan J. Plado, this show will have you dancing and singing along in the aisles.
The set, conceived by Stephen Brimson Lewis,  seems to border on the minimal at first; just a scrim with Dirty Dancing in its famous glaring pink script surrounded by a series of wood-slat walls painted a mottled grey medley.  As the show begins that grey is swept aside by colorful and sexy costumes seemingly ripped from the Hollywood vault that they went into after the film was shot.  Costume Designer The bright hues of red, yellow, green, and patterns of the costumes are carefully lit and shadowed by a multitudinous array of lights enhancing every dancing form to seamlessly blend the mood of the scene with the visual feast on the stage.  From the dancing shoes worn thin by hip grinding, cha-cha, and mambo to the hot pants and form-fitting tee shirts, the costumes by Jennifer Irwin, bring a sex-charged power cantilevered to harmony with Kellerman's stark suit, and even Baby's iconic denim shorts and short-sleeved blouse.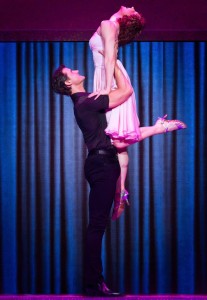 A feast with tantalizing hors d'oeuvres, in the manic forthright performance by Gillian Abbott as Frances "Baby"  Houseman, you are fed to bursting with her energy and synergy with the cast. Her physicality is contagious, rippling from her curls to the tips of her boat shoes like a wave crashing into the audience again and again.  Her arc and transformation is clear, and ever present with a hat tip to Jennifer Grey, but a fresh take on Baby's indomitable spirit.  There is a deep innocence in her performance; a pleading rather than a pushing, a yielding rather than demanding.  When she confronts her father near the end of the play about lies and truths and dreams you are with her right there making that bold and dangerous choice to disagree with and at the same time try desperately not to lose her parent's love.  Miss Abbott is beautiful both in appearance and in movement taking on the extraordinary challenge of dancing poorly in Baby's early attempts, right through to the stunning grace and confidence of the finale.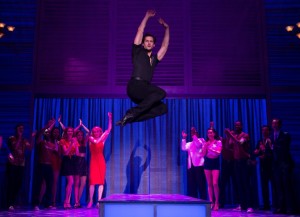 Samuel Pergande as Johnny Castle had a rough time with his words tonight due to an illness, but when he moved and danced the stage came alive.  His talent is complemented by pervasive good looks and sex appeal.  In his early scenes the Lighting Designer, Tim Mitchell, had Mr. Pergande bathed in deep red light making him scorch the stage with every high flourish and hip swivel, but juxtaposed that heat in the sweet moments of Baby's first time.  The sultry scene steamed and simmered even wrapped in a sheen of deep blue.  Overall we see a smoother, stronger, and brilliantly talented Johnny Castle because ballet superstar Samuel Pergande brings a magnetism that constantly vibrated sending heart quivers and dreams through his dance partner, lover, and the audience.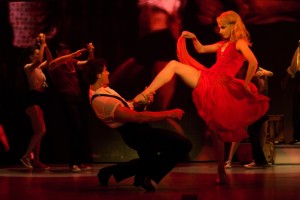 Jenny Winton as Penny Johnson felt the most put together of the leads.  Her physicality in dance and blocking, appearance divine from dancing dresses in deep red, to black warm ups, to a stark white nightgown showed a great synergy with both director James Powell and Costume Designer Jennifer Irwin. Her vocal rich vocal quality and character-driven emotional choices radiated from her making it near-impossible to see anyone else on the stage while she acted, danced, or even moved a set piece.  She took the audience's breath away in the opening dance with Johnny and continued to sap the room of air with every acidic word, swing of her leg, or death defying lift. Miss Winton's dancing, lithe and acrobatic, was complemented by strength of character showing close work and attention to detail.  Watch this one carefully there is a star bursting at the seams here.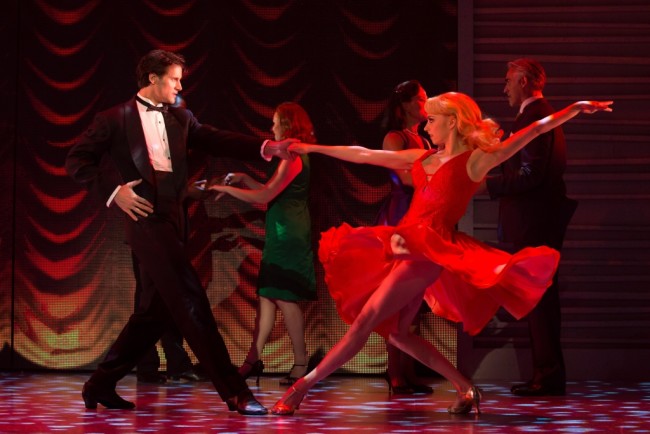 If you had to ask what the play is about the answer would be dance.  The dance ensemble made up of John Anthony, Rachel Boone, Amanda Brantley, Josh Drake, Rashaan James II, Joshua Keith, Alexandra Matteo, Phoebe Pearl, Virginia Preston, Michael Thomas Pugliese, Jennlee Shallow (who understudied in this performance) Nicole Spencer, Christopher Tierney, and Paul Victor sizzle and pop owning the space they are in with bebop talent and formidable grace.  Vocal powerhouses dominate the ensemble as well.  Alexandra Matteo's languid vocals drive the show with a sensual rhythm.  Though an understudy, Miss Matteo brought her own sensibility to the vocals especially in "De Todo Un Poco" drawing the audience in with her hip swaying, leaving them begging for more. Doug Carpenter, who embodied Johnny's cousin Billy, carrying watermelons and shouting out ridiculous family games has pipes that capture and shatter your heart.  His rendition of "In the Still of the Night" still resonates on the skin long after he has caressed the last note into the past.  Together with Matteo for "I've Had the Time of My Life" these powerhouses bookend the tumultuous action framing the sheer joy at the end of the play with soaring notes and driving passion.  If you love musicals for the exquisite vocal performances alone these performers do not disappoint in the least.  
Ryan Jesse and Scott McCreary, respectively playing Neil and Robbie, dive deep and wear these characters like a second skin.  You get the same cringes you get in the film when Neil presses about Johnny stealing wallets and when Robbie hands The Fountainhead to Baby in a patronizing attempt to "explain how life works" to her. The drama is riddled with comedic breaths and Gary Lynch, playing Max Kellerman, and Herman Petras playing,  Mr. Schumacher, never fall short.  Mr. Petras' rendition of "Besame Mucho" was exuberant and irreverent pulling the audience to the side for a moment to giggle like a best friend at a party.  
Baby's parents, played by Mark Elliot Wilson and Amanda Brantley, have a palpable chemistry that in my opinion is mostly lost in the film.  There is a tenderness and strength in both performances. Miss Brantley takes the lead in helping baby come to grips with love, life, and growing up.  Dad faces his demons with aplomb, though at points he did seem to be directed to look and speak upstage which pulled away from his performance.  Emily Rice, playing  Baby's sister Lisa, swims synchronously with her role smacking the audience hard in the heart and the funny bone as she arcs her way across the stage in prissy majesty.  Her "Hula" brilliantly choreographed by Michele Lynch is performed with perfection and brought the audience to its feet in rolls of laughter and joy.  
The music is as intoxicating as it was in the film and is made even more so by consummate live musicians. If the aisles were wider we would all be dirty dancing with the cast in the audience. This production makes the best of limited space and the limitations of live theater by using projections and gobo effects flawlessly.  I found myself thinking, staring at the curtain warmers, "How are they going to do the lift in the water?" The technical effects blend like a perfect margarita; navigating the film's locale, weather, passage of time, and even driving a car, all done smoothly. On multiple fly and scrim set pieces projections take the audience to the story and never lag in transition.  The set has multiple platforms that light up, move, and become everything from a dance stage at the Shelldrake Hotel to Penny's recovery room.  The blocking between numbers worked well with the projections to create the illusion of movement, and even pulled off that infamous water lift scene.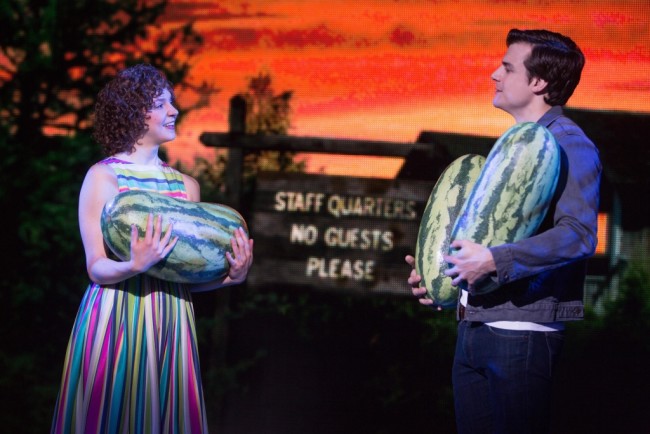 There were some awkward moments when actors were facing upstage to deliver lines but it could not break the spell that this production of Dirty Dancing casts on its audience.  The show uplifts the film to an interactive event inviting the audience to dance in their seats, sing along, and shout the lines before the actors even have a chance to deliver them. Even if somebody put you in a corner you could not help but laugh, applaud, and even wipe away a tear or two at this mesmerizing and energetic homage to a film that connected so many generations.  
Dirty Dancing plays through May 24, 2015 at The Hippodrome Theatre in the France-Merrick Performing Arts Center— 12. N. Eutaw Street in Baltimore, MD. For tickets call the box office at (410) 547-7328 or purchase them online.