Golf if not a game. It's a way of life. And for the spring season at the Reston Community Players, golf is all the rage as they present the hysterical Ken Ludwig comedy Fox on the Fairway. Directed by Adam Konowe, this uproarious farcical piece of comic greenery will chip away at your funny bone for the full 18 holes of the course. With outrageous characters, insane situations that only the audience can see as they unfold, and hideous golfing outfits, this production is sure to please the almighty golf gods and theatergoers alike. Ludwig's wit and physical farce, laced with his clever plot twists keeps the audience laughing right at the edge of their seats until the final shot is sunk.
Golf is nothing but a good walk spoiled. At least Set Designer Maggie Modig will ensure that your walk through RCP's production will be aesthetically pleasing. Outdoing the simplest of notions behind a country club-esque lodge house interior, Modig spruces up the place with hints of the green absolutely everywhere. Combining an aristocratic and rustic wooden look with the more modern trappings of a fabulously elite clubhouse, Modig is right on par of the caliber of production in her design work.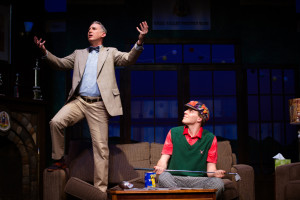 Golf is the most fun you can have with your clothes still on. Though in the case of Dickie Bell's hideodeous sweaters, some might prefer that he simply take them off. Hold the golf claps for Costume Designer Judy Whelihan, who truly deserves an outstanding ovation for those disgusting and garish threadworks of obnoxious color and design. For as gag-worthy as she makes the sweaters— an earnest perfect fit to the character's exceedingly obnoxious and ostentatious personality— is as wonderfully as she does when crafting the finer evening wear for the ladies. Whelihan shows more than a modicum of refinement when it comes to dazzling dresses, particularly used to swankify Pamela Peabody. But never fear, Whelihan does not disappoint when it comes to golf attire— for both Justin and Louise— she's right back on the path of plaid atrocities, resulting in a great deal of laughter every time one arrives in the scene.
Golf spelled backwards is flog. Between Director Adam Konowe and playwright Ken Ludwig the audience is in for a brutally esoteric evening of golf, green, and that third ubiquitous thing that makes every comedy that much funnier: love. Konowe demonstrates an acute knowledge of Ludwig's comedic style and executes precision when advancing from scene to scene. There are a few minor moments when the pacing does lose its momentum, but these happen early on in the production and are quickly forgotten about by the time act two rolls onto the green. No traps or penalties should be assessed to Konowe, he strokes a practically perfect game with a sturdy cast all of whom exude unflappable and engaging comic timing.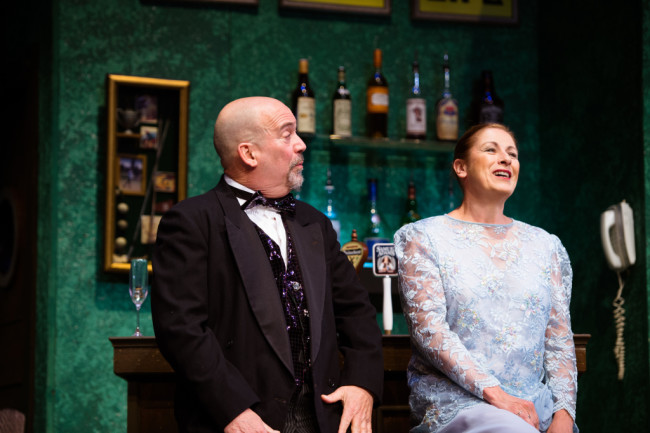 Golf is a game whose aim is to hit a very small ball into an even smaller hole with enormous clubs. Muriel Bingham (Kelly Thompson) might be the clunky club swinging about in this meticulous game of well-crafted shots and pars, but Thompson's cameo portrayal is to say the least uproarious. Thundering onto the set like an honest Sherman tank ready to bulldoze a path right through the clubhouse, Thompson makes her few moments of fame felt as she really sparks up a barking personality with skin and demeanor tough as nails. Her burly nature is brutish and masculine, and there is simply no accounting for the sycophantic affinity, which Thompson radiates with brilliant ease, when it comes to Dickie Bell's disgusting golf sweaters.
Golf is an expensive way of playing marbles. All-time Snake-in-the-Grass Dickie Bell (David Segal) is as slippery as a fox on the fairway! Childish in his petulant outbursts wit Henry Bingham, Segal's character portrayal is unctuous and disgustingly charming in that backwoods back-lot car salesman fashion. His slight southern drawl makes the character that much more unsavory. Segal has a way around the character's unabashed butchery of clichés and colloquialisms that scintillates the sense of humor like no other. His interactions with Henry are some of the most frustratingly funny in the production.
Golf and sex are the only two things one can enjoy without being good at them. Pamela Peabody (Dina Soltan) may be dreadful at golf but her sexual prowess is easily a hole in one. Soltan's sassy in-your-face attitude compacted with her sultry British accent is a game-winning team. Her titillating shenanigans that occur with Henry late in act two are a scream. Easily a scene-stealer from the moment she struts across the stage, as all eyes quickly gravitate toward her, Soltan really lands her mark in this production. Her charisma and general air of ripe sexuality drive home the subtler quirks of her character. True to form, when she rages, she rages in full force, though it's equally as hilarious as when she's raging drunk and can hardly stand straight.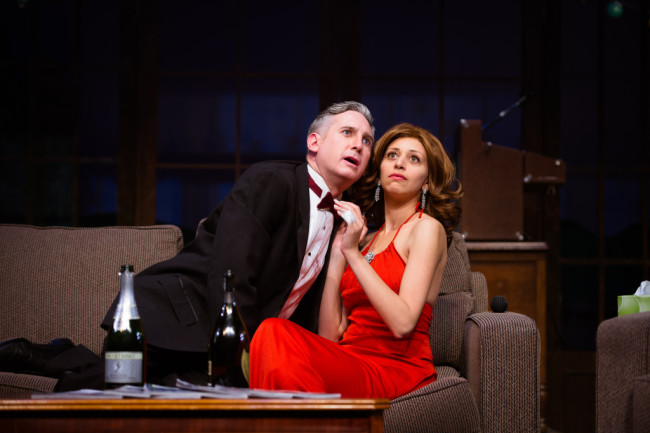 Golf is named golf because all the other four-letter curses were taken. Henry Bingham (Zell Murphy) does an exceptional job of expressing such curses and frustrations with vibrant and vivid facial, and occasionally full-bodied, expressions throughout the performance. Murphy, albeit slower on the initial momentum of the show, warms up nicely after a few practice strokes in the first scene. With an invigorated energy that grows exponentially as the show progresses, Murphy lands joke after joke and makes scenes with both Pamela and Justin hilarity that borders on the point of drawing tears from laughing so hard. His chanting mantra in the clubhouse up on the couch while meditating is a hoot. But it's his drunken shenanigans in the second act that really tee off the viewers.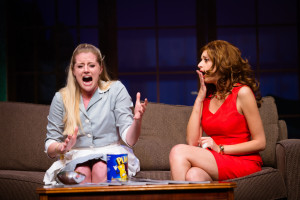 Golf is a man's game, invented by women to get men out of the house on cleaning day. No better way to clean house than to have an ace in the hole. Louise Heindbedder (Stephanie Walsh) is the crying queen of the show. Walsh is the hammiest character actor on the stage, falling fitfully into flights of melodramatic histrionics that are often inconsolable and downright hilarious. Between her squeaky voice and infinite levels of cheery chipperness, it's almost impossible to swallow such a saccharine character without gagging a little. Walsh owns the stage, particularly during the chase scenes, her uncontrollable sobbing never faltering not even when she's collapsing or fleeing. True to the character's nature, she rolls through emotional outbursts of joy and sorrow almost as quickly as the ball rolls toward the hole.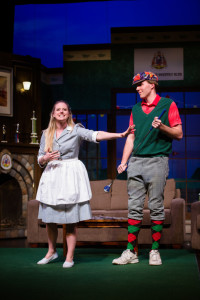 Golf combines America's two favorite past times: taking long walks and hitting things with a stick. Justin Hicks (Brad Dressler) takes a long walk around all the issues in the play and once he starts hitting— his punchlines and character nuances— he's unstoppable. Dressler, though often offstage and written as a supporting character, really nails the game and the show with his dopey, albeit devoted, portrayal. Showing a vast versatility in his performance scope, Dressler plays the straight man, the comic flake, the whacked out emotional traumatic, and several other stage stereotypes to a perfect tee. The near-end of the show alone uncovers his physical comedy and all throughout his witticisms are spot on; a true stage delight.
Golf will not last forever. Just like the game, the show running in Reston only has 18 holes, or three weekends, whichever makes more sense to the readers. So don't miss out on your chance to really enjoy a game well played with a great hilarious intake of comic gold this spring season.
Running Time: Approximately 2 hours with one intermission
Fox on the Fairway plays through May 9, 2015 at the Reston Community Players on the Reston Community Center Centerstage— 2310 Colts Neck Road in Reston, VA. For tickets call the box office at (703) 476-4500 ext3 or purchase them online.