They say life is for the living so live it or you're better off dead. A quote that may sound harsh especially in the face of the dying, but it's the honest reality of living. Life interrupts life, even the life of the dying, and that's a fact. Baltimore-based playwright Mark Scharf captures the essence of humanity at its most simple— living life— with his new play Fortune's Child, making its premier through the Actors Equity Association Members Project Code at The Baltimore Theatre Project.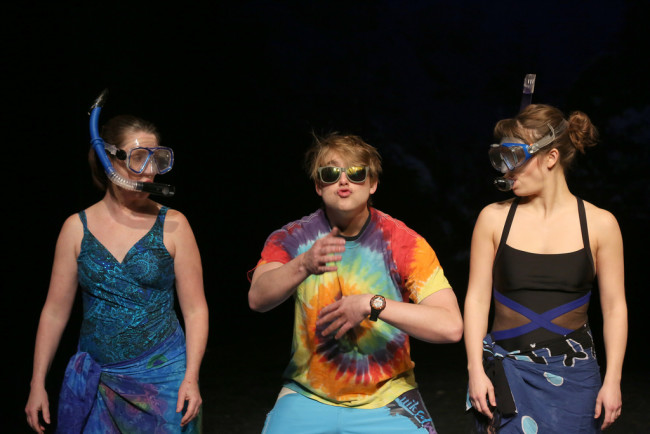 Directed by Yvonne Erickson, this perfectly balanced new work expresses life as it is; honest and at its fullest without contrivance or device. A stunning new work that epitomizes a burgeoning new genre of "realistic drama" wherein emotions are hyper-sensationalized and the stories of the characters are earnest and relatable without heavily constructed artifice; Scharf's work stirs the sensations of daily existence to a rich and fulfilling purpose.
Four exceptionally well articulated characters are what Scharf has created within the confines of this play (not to exclude the minor character encounters— played by principle actors in repertory— that are met along the journey.) Each of Scharf's creations has their own distinctive voice. The father, Mike, confused and upended by all of life's losses and how they've impacted him, the wayward teenage daughter, Sarah, who lashes out in a stereotypical adolescent fashion; all of the pieces of these characters' lives falling into place in a messy but realistic fashion that illustrates the core of real life not as fiction but as actuality.
Scharf's ability to create convincing dialogue is what drives the authentic feeling of the performance. The conversations carried on, particularly the arguments between father and daughter and the father and his dying sister; encapsulate the speed and patterns of realistic banter in the here and now. Scharf does not overburden the play with gut-wrenching emotional outpours, tragic speeches laid heavy with feelings, or the overwhelming gravity of the situation but simply presents life as it is; natural. This makes the play relatable to everyone; a fine mark of a playwright that understands the human condition: living, dying, existing.
Visual Designer (responsible for lighting, setting, and projections) Terry Cobb brings strikingly accurate visual imagery to the mix. The willow tree in Mike's front yard, which serves as a symbolic reflection of both happier times in life and of the un-killable cancer that's eating Susan, is a startling yet serene image that catches the eye whenever it is in focus. Cobb also finds imagery of the exotic locations that Susan and Sarah encounter on their whirlwind world tour that really bring the marvels of the world to the audiences' eyes; sharing with theatergoers the wonders to be seen through the eyes of the living and the eyes of the dying.
Working in tandem with Cobb, Sound Designer Ann Warren adds the soundscape for these getaway destinations, completing the effect, although her wild Irish coast shoreline underscored sounds are identical to the tropical tranquility of Hawaii. Warren composes original music that introduces scenes and fills them out as they draw to a close with an emotional ease. These compositions are like shadows to Scharf's words, mimicking the motion of the scene they are preceding. But Warren adds strange sounds to the performance as well; creating a vocal response from an unseen mother character that would have been better served in silence. Having the native voice calling answers to Susan's powerful confessions detracts from the message laid into the scene and it shifts the focus of the production, causing questions about family heritage and whether or not there is a hidden identity crisis with nationality lost somewhere among the character interactions. This scene is best served as written, in silence with only Susan's character delivering sound.
Director Yvonne Erickson works a great deal of energy into the performers, though there are scenes that seem to move just a hair under-paced. The natural flow of Scharf's dialogue is interrupted by unease or uncertainty and this causes little inadvertent pauses that feel out of place. Those moments aside, Erickson lets the chemistry between the characters arise naturally; particularly the moments of upheaval. Dialect Coach Leo Erickson is worth mentioning for the Irish accent and "Island chill" sound achieved with the extraneous characters played by Travis Hudson; both sounding strongly authentic.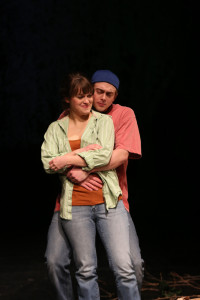 Hudson, who takes on the main character of Brian as well as two other minor characters throughout the performance, is a grounded performer with a solid presence. His multitudinous emotional approach to the character of Brian is the epitome of an overly involved 18-year-old male; confused by his feelings and unable to express them without causing himself great frustration and his partner great consternation. His physicality reads perfectly into that role as well as the two 'guide' characters he plays later in the production. Hudson makes three distinctive appearances, solid and different accents, physicalities and energies for each character. The irony of Scharf's triple casting, however, is still carried as a subtle undercurrent in Hudson's portrayal— even when Sarah is away from her problems she still sees the face of Brian, the person with whom her heart is currently entangled.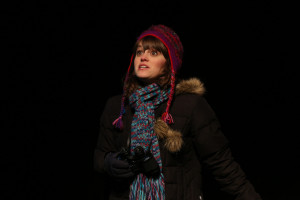 Sarah (Kathryn Zoerb) is the poster child for defiant teenager. Despite also being 18, her attitude and extreme level of petulance and insolence sits right on the pre-teen/young adolescent borderline. Zoerb is emotionally provocative, simultaneously internalizing and externalizing the emotions of the character. Her body language screams confused teenager and her vocal delivery matches that notion with perfection. It's the exuberant energy, though perpetually shifting its form, that really makes Zoerb's performance worth noting as her excitement takes the faces of exhilaration, frustration, fury, and fascination.
Both Zoerb and Marianne Angelella, who plays the calmly focused Susan, have vividly fantastic physical expressions for their journeys. Not only do their faces read with the excitement and exhaustion and trepidation of these adventures, but their body language captures these activities with a smack of raw realism. Angelella and Zoerb ride horses across the coast of Ireland, a scene done entirely mimed gesture and the rapture and fearful excitement they exhibit in their bodies while they execute these motions are fascinating.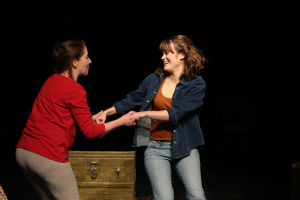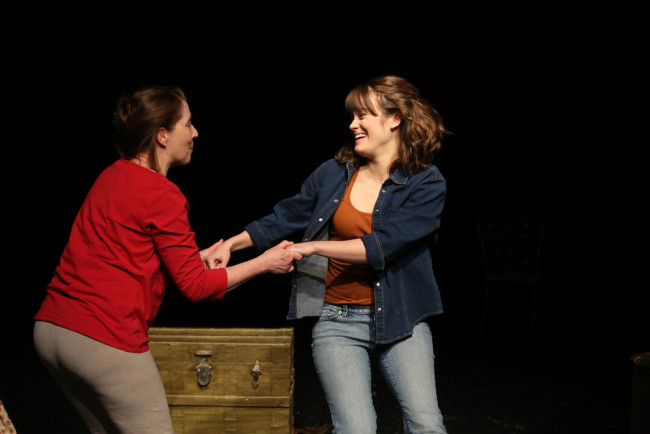 Angelella is responsible for a great deal of the witty one-liners and zingers that populate Scharf's dialogue. Her character, though serious and at times a bit stoic, carries a clear conscience of actively dying and refuses to deter her agenda of living by letting something like death get in the way. There is a balance actualized here in Angelella's performance that a character can be living and dying in the same moment and maintain internal peace over that notion. Angelella is on point for the entire performance, never faltering with her lines or her precision delivery when things are articulated with a hint more severity than levity.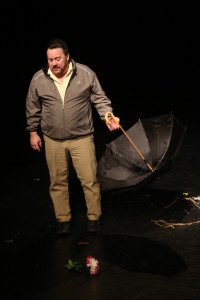 Mike (Lance Lewman) is perhaps one of the most complex characters with a slightly underdeveloped story. Scharf hints at Mike's religious bonds but that is never fully explored, nor is the relationship with his dead wife, his dying mother, or even really the wayward daughter or dying sister. A conundrum of a character, Lewman sets to task with the structure he's given, leaving the framework a bit blank. Scharf has in essence created a character to be filled by a personality; letting the nuances of Mike's plight be filled by whichever actor takes on the role.
The play itself is striking in an understated way.  It allows you to process the message without forcing it down your throat; a true cross-sectional of life with the balanced emotions of how reality truly exists. Scharf's work is compelling in a simple fashion. A remarkable work that should be experienced by anyone who has ever experienced living or dying.
Running Time: 2 hours with one intermission
Fortune's Child plays through January 18, 2015 at Baltimore Theatre Project— 45 W. Preston Street in Baltimore, MD. For tickets call (410) 752-8558 purchase them online.